FIND AN OBITUARY
Service information is posted on our website only with approval from the family.
If you are seeking information not listed below, please contact us.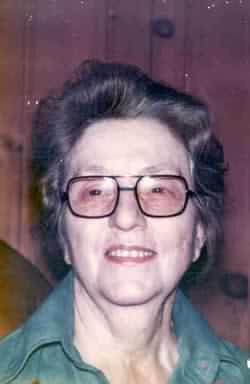 Audra Bryant Beckner
03/29/1905 — 05/14/2001
From Pasco, WA, US | Born in Summerset, Kentucky
Audra Bryant Beckner
Audra Bryant Beckner passed away Monday, May 14, 2001, at 96 years old. Ms Beckner was born March 29, 1905, in Summerset, Kentucky. She attended a one-room Elementary school at Vernon, Colorado and graduated from Yuma Co. High, class of 1924, Wray County.
Audra worked for awhile at Remington Arms during the war then returned to school and graduated from Colorado State College, Greeley, Colorado with a Bachelor of Arts degree on December 11, 1957. Her major was Music Ed with a minor in Elementary Education. Audra attended Greeley College for a number of summers during vacation time to stay on top of her teaching career.
She married Orvel O. Beckner June 26, 1926, in Wray, Colorado.  They were married 60 years before Beck's passing.  Audra and Beck owned and ran Beckner's Café in Wray, Colorado.  Orvel, a World War I veteran, was transferred to Richland in 1944 and worked for General Electric Co until retiring.  He and Audra brought their two children with them.

In 1948, the Beckner's purchased 15 acres in Finley. Audra went to work teaching school at Hover in Finley. She then taught in the Riverview Elementary School, mostly 6th grade, until she retired after 20 years.
The Beckners had race horses for many years, owned registered Angus cattle which they showed at the fairs for over 26 years, and owned Beckner's Blue Columbia Angus Ranch.
Audra was a member of the Finley Methodist Church and then attended the Finley Baptist Church  which took over.

Survivors include daughter, Kathlynn "K-Lynn" Bogart and husband, Rod, of Pasco; son, John L. Beckner of Whitesboro, TX; 3 grandchildren: Audeena Faubert of Richland, Leasa Beckner of Spokane and Amy Beckner; one great granddaughter; numerous nieces and nephews; special, special loved ones and special friends to us, Francesca Bush, Rhonda Tarbox and Maria Mendoza of Multi Care Home Health whose help and love and kindness was unsurpassed in order for our family to cope with the difficulties during this last year; Audra's Angels and K-Lynn's extended family.  The family also wishes to thank Dorn and Anita Hamblin for their long time friendship, guidance and support over the years.  We are richly blessed.

She was preceded in death by her husband of 60 years, Orvel O. "Beck" Beckner; mother and father, Lillian O. and John M. Botkin; sister, Kathlynn Elliott; and brother, John M. Botkin, Jr.

Funeral services will be held at 2:00 p.m. Friday, May 18, 2001, at Einan's Funeral Home.  Audra will be laid to rest at the Hillside Cemetery in Fort Lupton, Colorado.

Your mother was a nice lady, and we enjoyed having her for a neighbor on N. Williams St.
We send our sympathy to you.
I have many good memories of working for Mrs. Beckner for serveral years taking care of cows, lawn, animals and whatever else needed it. She had a very kind heart and she will be missed.
Mrs. Beckner was my 6th grade teacher near the end of her carrier. I can say that we didn't always see eye to eye but I am sorry to see that she has passed away.
What a wonderful life she was granted. How can we be selfish and have our friends stay. Surgery kept me from the funeral. Please accept my condolences.
Marian Blumer Personett
Lynn & John
You are both in my thoughts. You mom was a neat person and I am sure very loved.
With deepest sympathies
Pam Blumer Martin
K-Lynn & Rod,
My thoughts & prayers are with you & your family.
Kalin & Loretta
Please accept my sypathies for your loss. I have great
memories of showing her cattle at many fairs and
setting her irrigation pipe. She was a great help
to many of us kids in the area. She will be missed.
Lynn & John;
It was with great sadness to hear of your mothers passing. She was not only a great teacher to me but also a good friend. She will be greatly missed by all. I still remember all of the times I spent at your house and all of the talks that I had with your mom.
My prayers are with you both as you go through this time of sorrow.
All my love and sympathy
Your friend
Lotus