FIND AN OBITUARY
Service information is posted on our website only with approval from the family.
If you are seeking information not listed below, please contact us.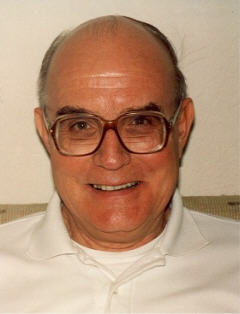 Richard "Dick" Lee Tomlinson
07/16/1929 — 06/30/2007
From Richland, WA, US | Born in Bensenville, Illinois
Richard "Dick" Lee Tomlinson
Richard Lee Dick Tomlinson passed away on June 30, 2007, at his home in Richland, WA. He was born on July 16, 1929 in Davenport, Iowa, and spent his childhood there, and in Bensenville, Illinois, where he graduated from Bensenville Community High School in 1947. He received a scholarship to Lake Forest College, Illinois, and graduated from there in 1951, earning a triple major in Physics, Chemistry and Mathematics in four years.
In June of 1951, Dick was recruited by General Electric to work at Hanford, Washington. There, he was put on a rotational program and given a choice of jobs. His work there included radiation monitoring in health physics, which took him to all parts of the old Hanford nuclear reactors, D, DR, B, F and H. D and F made the plutonium for the 2nd atomic bomb dropped on Japan, and the core of the third bomb, had it been used.
After 4 years at Hanford, Dick attended graduate school at the University of California at Berkeley. While there, he studied under 5 Nobel Prize-winning professors: Edward Teller, Luis Alvarez, Emilio Segre and Glenn Seaborg.
Following this, Dick went to work for Atomics International in Canoga Park, California, where, among other things, he oversaw the design, construction and operation of the SNAP Systems for Nuclear Auxiliary Power test experiment reactor and facility. The SNAP satellite was later launched, using Dick's shielding calculations. In 1962, he went to work for Aerojet General in San Ramon, California. Here he began working in the newly developed field of neutron radiography and did work in this area under contracts with Explosive Technology Corporation.
In June 1970, Dick began working for Aerotest Operations, a company formed by Dick and 4 other former Aerojet employees. This small company was at the cutting edge of the neutron radiography field, using a reactor designed by Dick. Their work was soon in demand nationally and internationally, due to its unique clarity, including radiography of the Apollo 11 Moon Lander guillotine, which separated the Command Module from the Service Module, allowing the astronauts to return safely to earth. Another contract was for radiography on the explosive devices for the ejection system of the Navy F-14 fighter jet. The December 1970 test flight of the jet resulted in a crash, with both pilots ejecting safely.
Dick returned to Hanford in 1978 to manage the TRIGA nuclear reactor for Westinghouse Hanford Company. During his lifetime, he was responsible for the design and startup of 6 nuclear reactors. He retired in 1989, then worked for three years as a consultant. He was a member of the American Nuclear Society for more than 25 years, a member of the Society of Non Destructive Testing, and a member of the college and local chapters of the Sigma Pi Sigma National Honorary Physics Society in Lake Forest. He authored many publications and research documents, and appeared in the 1968-69 publication of Leaders in American Science, and the 1984-85 publication of Who's Who in Frontier Science and Technology.
Dick is survived by his wife, Carol Nyre, whom he married in 1959. He is also survived by his daughters, Kari Leggett and Kyle Dixon, and sons-in-law Ben Leggett and Brian Dixon, as well as 4 grandchildren, Kendra and Jansen Leggett and Jacob and Zachary Dixon. He was preceded in death by his parents, Ayliffe and Thell Tomlinson.
Dick was a wonderful husband, father, grandpa and friend, and will be greatly missed by all who knew and loved him.
There will be a memorial service honoring Dick's life at 2:00 p.m. Sunday, July 8, 2007, at Einan's Funeral Home Chapel, 915 By-Pass Highway, Richland, Washington. Memorials may be made to the Multiple Myeloma Society or Hospice at the Chaplaincy. The family wishes to thank all who gave Dick such good and loving care.
Kari, Ben, Kendra and Jansen……we are so sad for you. Words just don't seem good enough to express how much you are loved and cared about right now. Just know that you are, though, and that we pray that the Lord will be both your comforter and your strength. Kari, your dad was an amazing man and has left his legacy here with you and your family to be a part of you always. What a blessing to have the countless memories of his precious life; hold fast to them.
Your friends,
Troy, Liz, Colin and Sydney
What an amazing man! The write up on his life/accomplishments is impressive. Our prayers are with our friends, the Dixon family.
In our many conversations, Dick always made it clear that he loved his wife and daughters very much by his frequent sprinklings of Carol, Kari and Kyle in the chit chat. He is missed.