FIND AN OBITUARY
Service information is posted on our website only with approval from the family.
If you are seeking information not listed below, please contact us.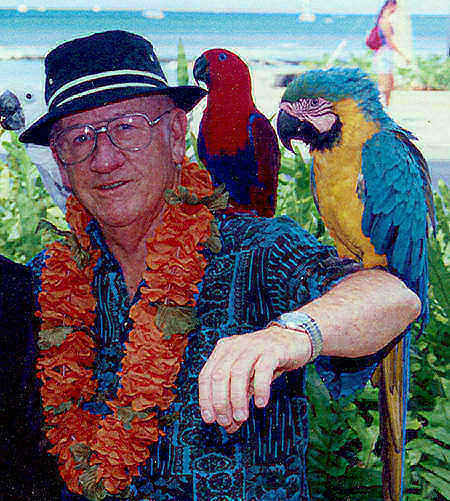 Robert Edwin Horne
02/23/1925 — 05/18/2008
From Pasco, WA, US | Born in Pasadena, CA
Robert Edwin Horne
Robert Edwin Horne 83, loving husband and father went to be with his Heavenly Father on May 18th, 2008. He was born on February 23rd 1925 in the town of Pasadena, California to the late Jack and Loretta Horne who had five sons, Robert, John, Don, Art, & Bruce. He served in World War II in Naval communications and worked and retired from Hanford in Richland Washington as a graphic artist. Robert is survived by his wife of 61 years Pat, and his 11 children; 6 daughters, Pam, Joan, Patty, Kathy, Michelle and Shannon, and 5 sons, Steve, Dave, John, Dan, Mike, 31 grand children and 8 great grandchildren.
Bob's love for his wife Pat and their mutual love for dance sparked a career in teaching that produced over 30 years of dance instruction in the Tri-Cities, and over 60 conventions in Washington and Oregon. His favorite song was" Begin the Beguine "disco style" and his motto was "Life's A Dance…Don't Miss A Step."
Bob was also an avid gardener who took great pride in creating beautiful landscapes. He is remembered by his family for his healthy sense of humor, how he lived his life with such integrity and mostly for being a devoted Christian man who always put his wife and children first.
Funeral Mass Service for Robert Edwin Horne will be held at 11am, Friday May 23rd, at St Patrick's Catholic Church, 1320 W Henry St. Pasco Washington, followed by a reception at St Patrick's Annex building. A private burial for immediate family only will follow the reception.
A special thank you to all of the "Gotta Dance" volunteers for your service to Bob. He will be missed, but his love for his wife Pat, his children, and many friends will reside in our hearts until the day we dance with him again.
Dear Pat and family,
John and I were saddened to see the sad news of Bob in the Herald. We have enjoyed the few dance classes we have taken and do hope that you carry on to spread Bob's passion for dance. We do think of you often and wish the best for you. We would like to stay in touch.
Aunt Kathy and Gary Fisher are out of town but send their condolences.
Dear Pat, Michelle, & family of Bob, This is a difficult time for all who loved Bob Horne!! I think of all the giving of himself to dance and the expertse to tender students learning the joy of dance. I believe that "people who dance together, stay together"! I remember fondly the dinners out with the dance crowd and Bob's telling of stories of his military service in China. He was also interested in history and was a wonderful, curious person about life. His menory will live on in our hearts.
You were the best Dad your kids could have ever wished for! I miss you terribly but to know you have gone to be with the Lord is reassuring. Loving memories always!
Pat,
Bob was an amazing man. I worked at the Red Lion in high school and would see the two of you there often.
You both showed such love for one another.
Bob is waiting until he can dance with you again.
God Bless You,
Denise
Pat & Family,
We recall with a smile dance lessons at the Community Center and the Eagles with Pat calling the moves and Bob demonstrating how to get a specific four-count swing or cha-cha step just right.
We feel so blessed to have had the opportunity to experience the enthusiasm and passion for dancing that Bob & Pat so obviously shared for so many wonderful years together.
Our thoughts and prayers are with you.
"Too many times we stand aside
and let the waters slip away,
till what we put off till tomorrow
has now become today.
So don't you sit upon the shoreline
and say you're satisfied.
Choose to chance the rapids and
dare to dance the tide."
Garth Brooks/The River
All of us here at Cousins Restaurant in Pasco, would like to express our heartfelt sorrow for the passing of Bob. He will be greatly missed by all of us. Pat, you and Bob have been gracious guests of mine for many years, I have enjoyed knowing both of you and hope to see you again soon.
Chris & I will greatly miss Bob. One of a kind he was. The spunk will always be there. Pat, God Bless you both. Our prayers to you.
Dorian & Chris Desparte
What a man…an example to others. Pat, you have been blessed with a truly exemplary husband, he cherished you! I will miss his sense of humor and, of course his dancing. I look forward to dancing with/for him in heaven.
Pat, we are sorry for your loss. After sixty-one years together it must be extra difficult. Your loss is not only felt by you and your family but many, many more.
You, as a couple, have given so much of yourself. Bob and you have shown others how to enjoy life through dancing. We feel privileged to have been in that group.
I guess this means I'm no longer mayor of Benton City.
Among a multitiude of reasons that Bob will be greatly missed are his sense of humor and his love of dance.
Our thoughts, prayers, and love are with you in your time of sorrow.
All our love,
Chet and Glenna Ely
Dear Pat,
We have fond memories of you and Bob teaching us the Swing and Salsa. We send our deepest sympathy to you and your family.
Pat & family I am so sorry to hear of Bob's passing. We have known each other for many years and it has always been a blessing. I have attended your dance events for almost as long as you have had them I believe. We all have to face the inevitable at one time or another unfortunately, and it is not pleasant. My sincere prayers for your loss Pat. Pat I always enjoyed you & Bob, and your lessons, but I guess you know that. Much love to all at this time of grief.
Lee
Dear Pat
We are so sorry to hear about Bob. As countless others, it was Bob and you who taught us some fun and fancy dance moves.
When we started, Bob was still up there leading the way and I could tell he certainly had lots of rhythm and tried hard to get some of us slow learners to get it just right. What a wonderful dance partner he must have been! Of course, he had to keep up with your touch of classy additions.
Our busy lives have gotten us away from dance for a little while, but we do plan on getting back into it and I know everytime I dance from now on I will think of Bob and you.
Thank you!
Nancy & Doug Baxter