FIND AN OBITUARY
Service information is posted on our website only with approval from the family.
If you are seeking information not listed below, please contact us.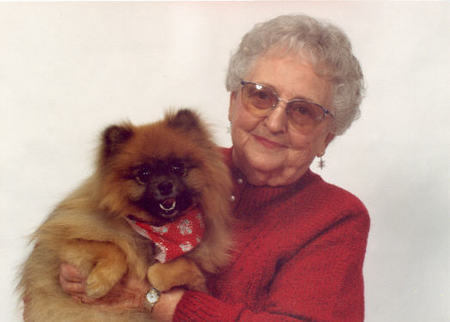 Ruth Wilma New
02/04/1920 — 06/01/2008
From Richland, WA, US | Born in Winterset, Iowa
Ruth Wilma New
Ruth W. Miller New was born on February 4, 1920, in Winterset, Iowa, and passed from this earth into the arms of her Heavenly Father on Sunday, June 1, 2008, after a courageous battle with cancer. Ruth married Gus Miller in 1938 in Missouri. In 1946, Ruth and Gus, along with their young daughter, Marcia, moved from Carthage, Missouri, to Richland, where Gus was employed at Hanford. She has been a resident of Richland since their arrival, 62 years ago, and was a long time member of the Richland Church of Christ.
Ruth was employed at Kadlec Hospital in the kitchen, where she worked her way up to a cook position. She later worked for Rockwell Hanford, where she was a custodian in the 200 areas until her retirement.
Ruth was preceded in death by her first husband Gus in 1961, and by her second husband, Bob New in 1989. Ruth was made welcome by this extended second family of Bob's and loved them all dearly. She also was preceded in death by her father and mother Roy B. and Della P. Hole, one brother Everett, and three sisters Susie, Helen Marie, and Ester.
Surviving Ruth are sister Maxine Stephens, of California, daughter Marcia Doug Neff, of Hockinson, Washington, grandchildren Richard Amy Neff, and April Neff of Vancouver, Washington, daughter Brenda Rick Herrington, of West Richland, grandchildren Amy Jon Scott of Prosser, Washington, and Amanda John Muenks, of West Richland, Washington, and many wonderful great grandchildren, nieces and nephews.
Ruth enjoyed visiting people, cooking, her special coconut cream pie was a family favorite, spending holidays with family and mends, and spoiling her dog Kodi. She, with much help from her friend Jeff, kept her home looking as a small showplace with various flowers and shrubs, with roses being her favorite.
Although Ruth will be missed, she no longer is in pain, and now has been reunited with those who have gone before.
Funeral services will be 4:00 PM Thursday, June 5, 2008 at Einan's Funeral Home, Richland. Visitation will be Wednesday the 4th from 5:00-8:00 PM, also at Einan's.
I will always love you Goggie.
Brenda and Marcia –
I am very sorry for your loss. My thoughts and prayers are with you and your family. I have several memories of "Auntie Ruth".
Grandma,
We all miss you but know you are in a better place. I have so many memories, as you were one of my best friends. I will never forget talking about those Mariners, going to yard sales together, or just popping in for visits during the day. I will always work on making your meatloaf perfect, and my children will continue to grow up on "Grandma toast". We miss you and love you lots.
Brenda
We are so very sorry for your loss. You and I have shared many conversations and will share many more. You were there for me when I needed it and now I am here for you when you need me. We are keeping you and your family in our hearts and in our prayers.
Dear Brenda, Marcia, and family of Ruth,
I came to know Ruth at Richland Rehab in Dec of 2007. My mother, Annette Cudmore, shared a room with Ruth for a few months, until my mother was taken to the hospital, when she returned, with great sadness, she was no longer able to share a room with Ruth.
What a joy it was to meet Ruth at a time that was very difficult for our family due to my mom's stroke. Everyday when I came to visit mom Ruth greeted me with such a contagious smile, delightful conversation, and laughter. She brightened my days, and we became fast friends. She will be missed, but I am certain she is brightening heaven as I write this message. She was free to share her faith in Jesus Christ and I look forward to seeing her in heaven someday. Even though our time of friendship here on earth was short it will never be forgotten.
With fond thoughts and love,
Joani Chapman and the family of Annette Cudmore
Brenda and Marcia,
I am so very sad to hear of your mom's passing. Over the years, I have thought many times of growing up with you and your folks. I still remember wringing chickens in the backyard. Your mom really brought a lot of laughs for everyone. It is really great to have friends like you. I am sorry I cannot be there for the funeral, but I pray for all of you a blessing of peace at this time. Thanks for wonderful memories.
Sincerest Regards,
Adrian
Brenda,Rick,and Family,You are in,Our Prayers.May God comfort all of you, at this time.Friends,Linda & Pat Martin
Marsha & Brenda: My dear childhood friends. Your mother was a beacon in the night when tragedy hit my family in 1955. Caring for my month old baby brother after mom died was above and beyond friendship…it was pure love. She had a heart of gold. It was always a pleasure visiting her. She will be sorely missed by all. My prayers to both of you and your families. The world has lost a beautiful woman, but heaven has gained a true angel.
Brenda and Marcia,
Your mom will be missed so much! All of us over on the ALF side miss our little Ruthy! Thank you so much for your kindness, and know that Ruth will be missed by us all!