FIND AN OBITUARY
Service information is posted on our website only with approval from the family.
If you are seeking information not listed below, please contact us.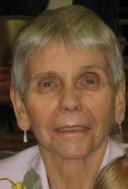 Carol Powell
07/23/1923 — 03/23/2009
From Richland, WA, US | Born in Fountain Green, UT
Carol Powell
Carol Hansen Powell left us quietly Monday afternoon, March 23, 2009. She lay down for a nap and woke a few minutes later in heaven. Oh how we will miss her! Mother was born the second of six children on July 15, 1923 to Ida Llewellyn Hansen and Edward M. Hansen in the beautiful little Utah town of Fountain Green. Two sisters and a brother – Joyce Memmott, Lawena Nielsen, and Doyle Hansen – still live in Utah. Mother married Dean Powell of Nephi, Utah at a rather young age but grew into the roles of loving wife and excellent mother. She and Dean moved to Richland in 1944. They had ten children: Carol Ann, Ronnie, Larry, Jody, Julie, Janice, Sharon, Sandy, Marilyn, and Lanette. They leave behind a great legacy of family including nine sons-in-law, 52 grandchildren, 43 great grandchildren, 1 great-great grandchild, and others on the way. Her family loves her dearly.
Mother was an active member of the Church of Jesus Christ of Latter-day Saints and served many years teaching children in the Primary organization. In spite of her shyness with adults, she also served several times in the Church's women's organization – the Relief Society. She loved the gospel of Jesus Christ and worked at living His teachings.
Our mother was a much quieter person than our father. She stayed in the background of many activities, but had a good heart and was a consistent source of gentle support and encouragement. She taught us to make bread and to be patient while waiting for the finished product. She taught us to iron and to be diligent about getting the wrinkles out. She taught us by her actions that love has no measure – that there is more than enough love to go around no matter how large the family becomes. Mother was wonderful, but of course she wasn't perfect, and we learned from her faults as well. We learned to be tolerant, not to take offense, to let hard feelings go, to forgive quickly.
As we've become parents and grandparents ourselves, each of us has turned to our mother for the blessing of her wisdom and perspective on life. We loved the times that we could stay with her for a few days or even for a few minutes because her home was a place of peace and calm. We honor Mother and feel blessed beyond measure to have been her children. We look forward to her loving greeting when we meet her again in our heavenly home.
Death is God carrying us in one arm while the other flings aside Heaven's door to welcome us back to the blazing hearth of our first home, while those inside having arrived before us, rush to the door like glad children shouting, "They're here!"
Death has a bad name on earth but in heaven it's a homecoming party every time the door opens. God does not forget those earthbound children, sad and left behind. God leaves the party early to enter into their sorrow and to get them ready for their own parties someday.
Jean Formo
A viewing will be held Friday March 27 from 5 to 8 p.m at Einan's Funeral Home in Richland, WA. The funeral will begin at 11 a.m. on Saturday the 28th at the Church of Jesus Christ of Latter-day Saints on Thayer Blvd in Richland, WA. There will be a brief viewing at the church Saturday morning before the funeral from 10 to 10:30 a.m.
I wanted to let your whole family know how sorry I am to read about Mrs Powell passing on and yet I agree she is in heaven with your dad and my mom and others.I can remenber the love your mother showed me growing up and the slices of hot bread right out of the oven that we could smell a mile away and come running in hope of getting a slice. You were right when you said she showed love by example and I can remenber one time where she sat me down and talked to me scolding me but loving at the same time to where today I was able to do the same for my daughter, Rachel. Your mother as well as your father were very special and will be missed. May God Bless all of you , Linda
Sis. Powell always made me feel welcome in her home along with Bro. Powell…thank you for letting me be an "extra Powell girl" so many times. Although I haven't seen her too much over these past years I will miss her presence. My thoughts and prayers are with all of her family.
Sorry for your loss. Hope all is well with you and your family
Was saddened to hear of the loss of your mother. You had remarkable parents that had a positive impact over the years. I still remember your father's funeral and can only imagine the patience of your mother. My thoughts and prayers go out to your family at this time.
Melinda
I was sorry to read about your mother passing. I too remember with great fondness not just the heavenly smell of her fresh baked bread but her generousity to us neightbor kids. She was a special person as you know.
Sorry to hear about the loss of your mother, grandma, and great grandma. I use to live next to her and Mr.Powell and I enjoyed the visits with them.
Grandma –
We will all miss you so much! Say hello to Grandpa for me. :
Love you always,
Bill Olson