FIND AN OBITUARY
Service information is posted on our website only with approval from the family.
If you are seeking information not listed below, please contact us.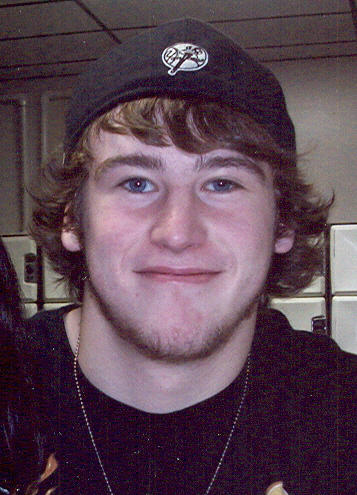 Jordan Thomas Manthei
11/08/1990 — 05/28/2009
From Richland, WA, US | Born in Pasco
Jordan Thomas Manthei
Our hearts are broken by the tragic loss of Jordan Thomas Manthei, 18 years old, and a senior at Richland and Rivers Edge High Schools, who died on May 28th.
Jordan was born to Tom and Wendy Manthei on November 8, 1990.  He took great pride in being the big brother to his five younger siblings. He had a special ability to make everything fun and as each would testify he also loved "picking on them."

Jordan was an intelligent and driven student attending Gateway Montessori Pre-School, St. Joseph's Catholic School, Jason Lee Elementary School, Chief Joseph Middle School, and Richland and Rivers Edge High Schools.

Determination and natural talent helped Jordan to excel at many sports, including soccer, basketball, and baseball.  However, Jordan proved to have an exceptional talent, giftedness and enthusiasm for the sport of wrestling at a very early age.  Jordan began wrestling at the age of five with the Washington Little Guy Wrestling Association WLGWA.  He wrestled with the WLGWA for 10 years, continuing on to wrestle at Chief Jo Middle School for three years, and then he proudly became a member of the Richland High School RHS Varsity Wrestling Team as a freshman.  As a sophomore, Jordan was nominated "Wrestler of the Year" by his fellow RHS teammates, and was selected to the "Big Nine All Conference Wrestling Team."  Additionally, that same year Jordan fulfilled one of his life long dreams and felt thoroughly honored to represent the Richland High School Bombers at the Tacoma Dome for the State 4A Wrestling Competition, 2006.

Jordan consistently expressed gratitude and a strong admiration for his coaches and fellow teammates. As Jordan matured as an individual and an athlete, he willingly and graciously contributed to the growth and development of both the sport and younger wrestlers by taking on the role of mentor, and coaching along side his dad and younger brother Payton for the Richland Mat Rattlers. The bond he shared with his dad and Payton extends far beyond their love for wrestling. Jordan's most recent wrestling accomplishments include competing at the Reno World's Wrestling Tournament in April and placing 1st, 2nd, and 3rd at the 3-style Washington state tournament.
Over the past few years, Jordan also discovered a passion for drawing. Jordan approached his artwork in the same way he approached each and every endeavor that he chose to set his mind to. Striving for excellence and perfection in self expression through drawing, it became readily apparent drawing after drawing that his sketch books capture the essence of Jordan.
Jordan will be forever missed and always loved by his parents, Tom and Wendy Manthei, his sister Jessica, "Jekke," his only brother Payton, younger sisters Madeline and Gracelyne and baby sister Isabella.  He was the oldest grandson to Sharon and Edward Manthei and Jolene and Gary Gangl; loved by multiple aunts and uncles including his Godparents Mike and Carrie Manthei, Mark and Brenda Manthei, Dave and Wendi Manthei Adam and Danielle Gangl, and Mike and Elizabeth Cox; cousins Kaila, Alyssa, Tyler, Tanner, Parker, McKenzie, Madison, David Jr., Savanna, Alyssa, Madison, Nathan, Allie and Abigail; his two great grandmas Loretta Griffin and Irene Hughes; and many loving and involved family members from Spokane.  Jordan will be missed deeply by his girlfriend, Ashly Beauchene, from Wenatchee.  As our home and cul-de-sac multiply with friends of Jordan, it is apparent the he has touched so many people's hearts and will be missed greatly.

Jordan was greeted in heaven by his grandparents, Myron and Molly Manthei, Stan Griffin, Jim Hughes and Marcela Gangl and his baby cousin Alyssa Manthei.

Jordan was humbled, yet proud to have completed Sundowns Rehabilitation Program in March.  Again, his determination, strength and love for his family guided him through his struggles.

Donations in Jordan's honor can be made at any US Bank towards Metro Drug Task Force.

We invite you to join us celebrate Jordan's life Wednesday, June 3rd at 11 at Christ the King Catholic Church in Richland. A graveside burial will follow immediately at Sunset Memorial Gardens. Visitation is at Einan's Funeral Home Tuesday, June 2nd from 5-8pm. Vigil will be held at 7pm.
I always saw jordon and jessica as on of the family i loved them both and i havent seen jessica ever since i miss seeing him walking or driving around with heidi i miss see his face light up when he say heidi everyday i just wanted to say i miss to him and wish he was still here
Wendy, Jolene, Gary & family – we are thinking of you and sending our love & support.
Sharon and Butch: My thoughts and prayers are with you as a result of this devasating loss. May God bring you both peace.
Manthie Family,
I pray for the Peace of God in your time of hardship. I can't understand how such a horrible thing can happen to such an outstanding family. I wish I would have known this before now.
Jordan, the 'family' we have all become a part of through the sport of wrestling will miss you deeply. I will never forget the first time I saw you wrestling at Matt Rattlers practice. You were the only kid there who challenged my son Giovanni. You were so tough and full of energy. I loved for you two to spar together at practice because YOU made him a better wrestler. We love you and will miss you.
The Pina Family
Urbie, Gloria, Giovanni, Sisto & Jr.
Our Heart felt sympathy to all Jordan's family and friends.
You are in our thoughts and prayers.
Tom and Wendi,
Jordan will be truley missed, He was a true hero to any of the young boy's that looked up to him that have wrestled on the Richland Mat Rattlers team including my son Jake. I am sure you are very proud of his accomplishments at such a young age. Our deepest sympathies to you and your family….The Hanson's
Tom
My deepest condolences to you and your family. I am truly sorry for your loss, no parent should ever have to lose a son at such a young age. You are in my thoughts and prayers.
Butch & Sharon…..our thoughts and prayers are with you. Hold your family close. You will get through this together.
I remember Jordan best as a happy, smiling, energetic 8 year old. He made me laugh and I loved watching him with his siblings and grandparents. My most sincere condolences to his parents and siblings, and my heart breaks for his grand parents. He will be missed by all who loved him so much.
Jordan's Great Aunt Phyllis
Jordan was really a great kid and I remember him as being funny and intelligent. His death was so unnecessary and took me by surprise. I'll keep the Manthei family in my prayers and everyone affected by his passing. There's no way anyone can replace Jordan and his prescence will always be with us.
Tom, Wendy and Family,
Words can not express the sorrow and pain we are feeling for you and your family for the loss of your son, Jordan. Our hearts ache for you during this very difficult time.
Although I have never met this young man, I impressed with his love of life and family and his accomplishments.
Butch and Sharon, please know that you and your entire family will be in my prayers.
I am so saddened to hear of the death of Jordan. He was such a fun loving little boy and young man. Even though we hadn't had the opportunity to frequently spend time together, I appreciated his pride in his family and respect for family, even those of us from miles away. Know that my heart and thoughts are with you every moment of every day. Much love comes to you from ND.
Tom and Wendy
I think back to when are kids were little and all the memeories I have of Jordan and Hunter from them dressing up as power rangers to there days on the football field as the Rams they are such special cherished memories!!! He was so kind the night of prom when he stopped by to take pictures had such great things to say about his family and was thrilled to be driving the Navigator!!!
I am just so sorry for your loss he will be truley missed. My boys and I were truley blessed to be aprat of his life growing up.
We are here if you need anything..
Love always JJ BRAD HUNTER AND TANNER
Dear Jordan,
Speaking for much of your beloved friends we miss you more than you could ever know, you were an awesome friend and the coolest person we could have ever met. We all hope to see you some time in the future, peacefully in the gates of heaven. We all will miss you greatly Jordan Thomas Manthei and are proud to attend the celebration of your life on June 3.
Manthei Family
Our wrestling team would like to express our deepest condolences for your loss. The wrestling community has lost one of its family members; a great competitor on the mat and better person off Jordan, a cross-town rival had several friends that were members of the HHS team and he will be greatly missed!
Hanford Wrestling
Coaches and Wrestlers
Wendy, Tom and Family,
Our hearts are pained to know that you have experienced such a great loss. We pray that each of you will be carried in the Lords loving arms at this time. While we may not have known Jordan personally, reading about his life gave us insight into his wonderful personality. Our prayers are for each of you now.
Jordan,
You will forever be missed by us but never forgotten. We have so many wonderfull memories but some of our favorites start when you were about 10 years old you, we were at a wrestling tournament in cheney where you climbed on the roof no fear, then you and Josh running around under the bleachers, the many summer nights skateboarding on our home made ramp, always being there for us when we moved many, many times, racing the quad on the beach and taking a sharp turn right into the Pacific ocean fully clothed and laughing! Always laughing and making us smile. Thank you Jordan for all of the wonderful memories.
We love you,
The Siekawitch Family
Glenn, Cindy, Josh and Glenn Jr.
May God, who watches over us give the family strength and comfort today and always as you go through this difficult time. I am so sorry for your loss.
Wendy & Tom~
I am so sorry to hear about your oldest son Jordan. I never did get to know him but having the pleasure of going to school and becoming friends with you and Tom, I know he was a very loved and special person. My heart aches for you and your family. May God Bless you all during this difficult time.
Tom,
I wish that I could be there for you as you were for me when I lost my brother. However, I want you to know that my thoughts and prayers are with you and your family. The last 20 years seem to have flown by, we need to get together more often. Your Friend,
Wendi and Tom,
I remember Jordon at our soccor games with Jessica and Abby. He was just like you described, hurding the other children and having fun. I am so sorry for the loss of your child. I think of you all often, and always will. Thank you for all the kindness you have shown my family.
We are very sad to hear of Jordan. I hope I can speak for most all of us parents how important, loved and a part of each of our lives our kids are and when a child passes on how it is so hard to understand, asking why mine. We are very sorry and he will be truely missed especially by my Ashlee!
Kathee, Ashlee, Emylee Hirsch
We were sorry to hear of Jordan's passing. We remember him as a unique individual and a good person with great athletic talent. God's blessings to all the family.
Tom and Wendy, one of my favorite memories of Jordan was when he and Randell wrestled when the Russian all stars were here. It seems so long ago and like it was just yesterday! My heart aches for you, I send my deepest sincere condolances! I also send love and prayers for you and your family. Dell and Randell Burton
Tom,
My thoughts and prayers are with you and your family during this difficult time. We have been friends most of our lives, so know that I am here for you now.
Jordan,
I know this guestbook signing is a little late, but believe me you've been in my thoughts in fact there hasnt been a day that has passed by that i havent thought about you or your family. Losing you has affected so many people, it hit me pretty hard, But you know that i loved you more than anything in the world Jo: I honestly can't wait till the day i get to see you and hug you at heaven's gates. I'm so incredibly grateful that we started talking again and that i got to clear a few things: Jo i miss you very much and i resent not chillin with you when you kept buggin me to but everything happens for a reason huh? I love you Jordan and i miss you tons. I'm thankfull that i got to have you in my life for the time that i did you showed me so many things. You showed me what friendship and love were. I have so many memories good and…..bad but i love all of them i wouldn't trade any of them for the world. I miss you boy, i'll see you in heaven:
Manthei Family,
I'm very sorry for your loss, it came as a surprise to me. Jordan really was an amazing person, he was the most loving person i have ever met. He always knew how to cheer everyone up and have a good time. He never had a mean streak in him what so ever. He expressed his love for his siblings and parents often: He truley is missed by so many people. You guys will remain in my prayers:
Love always,
Angel Hernandez
Wendy, Tom and family:
My family and I would like to express our sadness at the loss of Jordan. I still envision him 11 and playing on Densows baseball team with Rex and Kyle. Time between then and the present certainly passed by quickly. You are all in our thoughts and prayers.
Peace be with you,
David, Jen, Rex, Kirsten and Mitchell
tom,
i am so sorry to hear about the loss of your son. i just found out yesterday and have been thinking about it ever since. i just cant stop thinking about how much you talked about your children and without me even meeting any of them i knew how much they meant to you. i look at jordan's picture and it makes me smile.. he looks alot like you. : and just from reading about him, seems to have really loved his family… i know how it feels to have lost someone.. but, could never imagine the pain of losing a child. please know that you and your family will be in my prayers and if you need ANYTHING i am here. please take care of yourself and cherish every memory. i know it seems hard to do right now but, i know that now i can finally think of my brother and smile so big at some amazing times we shared.
I miss him already.jordan always knew how to keep me going in school we didnt have many classes together buthe always made sure that i kept my grades up. Well his work i guess was finished before we thought it was now he's inthe arms of his Father looking down on us. one day we will all be reuntied again. My thoughts and prayers are with you. Goodbye Jordan
We were so very very sorry to hear about Jordan. Our thoughts and prayers are with your family.
Jon and Cheri Crawford
Jeff Crawford