FIND AN OBITUARY
Service information is posted on our website only with approval from the family.
If you are seeking information not listed below, please contact us.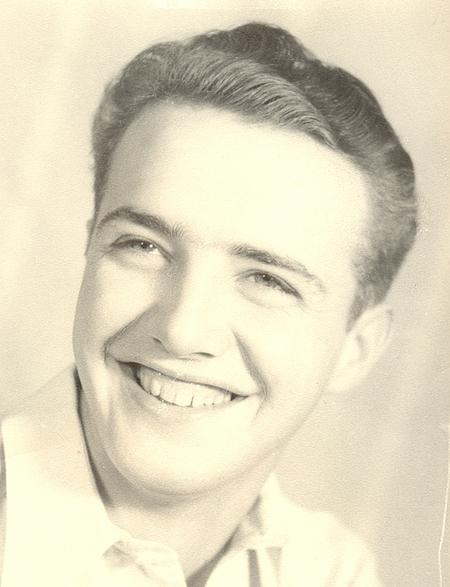 Howard Lee Winters
11/20/1927 — 01/19/2010
From Richland, WA, US | Born in Stanley County, SD
Howard Lee Winters
Obituary for Howard L. Winters On Tuesday morning, surrounded by his family, Howard Lee Winters quietly and peacefully met his Lord and Savior of 50 years. Howard was born on a farm in Stanley County, SD on November 20, 1927. Howard's family farmed and raised cattle through the Great Depression. In 1941 the family moved to a 20 acre farm west of Monmouth, OR. Howard lived here working with his father until he joined the Merchant Marines in November 1945. For three years he sailed the oceans of the world; an adventure he would often reminisce about. In December of 1948, Howard was drafted into the Army and ended up eventually serving his country in Korea. After his Honorable Discharge, he decided to visit his brother living in Salem, OR. His life changed the moment he was introduced to Delores. Within 3 months of meeting they married on December 26, 1952. Howard and Delores moved to the Tri-Cities in 1954 when called to work at the Hanford 'atomic plant'. In 1990 both he and his wife retired to enjoy their grandkids and the 'easy' life. Howard loved to read, and the Bible is favorite book. Both he and Delores became members of the Richland First Baptist Church in 1963. Howard leaves behind Delores, his wife of 57 years, a daughter Debra and her husband Mark, a son Wade and his wife Denise, and his grandchildren Wesley and Brianna Perkins, Nicolas Perkins and Beth Thompson, and Rylie Winters. If you knew Howard you knew of his unlimited devotion to his wife, his gentleness of manner, and witnessed his immense love for children. In lieu of flowers, the family would appreciate a donation be made to the Liberty Christian School, 2200 Williams Blvd., Richland, WA 99352. We invite you all to attend Howard's memorial service at 2pm, Sunday, January 24th at Memories at Sunset Event Center located on the beautiful grounds of Sunset Memorial Gardens in Richland. Visitation will be held at Einan's Funeral Home on Saturday, January 23, 2009 from 9:00am to 12:00pm.
Dad said one of the things "Shorty was most proud of was the fact that his brigade didn't lose a single soldier in Korea". He's been sharing quite a bit about him w/me and I'm thankful he was my Uncle. I will miss so much about him, but especially the smile and twinkle of his eyes. Love you all.
We will miss Uncle Howards calm manner and easy chuckle.
Koop & Barbara Betonney
I'm very sorry to hear about Howard's passing. I'm Jerry Stephens' oldest daughter. My condolences go out to the entire family.
Wade,
I am sorry to hear about the passing of your Father. I know it has been a struggle for some time. You and your family are in my prayers. No matter the circumstance, the passing of a loved one leaves a whole that only time can heal.
Delores, Wade, Denise and Rylie,
Our thoughts and prayers are with you with the passing of your loving husband/father/grandfather. We have fond memories visiting with Howard at church and church functions.
God bless you during this time of loss as God called Howard home. Praise God.
Wade, Denise and Rylie, and Winters family-
We are so sorry for your loss. Our thoughts and prayers are with you at this time. Wishing you peace, and comfort, and wonderful memories of your husband, father, father-in-law and grandfather in the days to come.
Love,
Mike, DeNeen and family
Wade & Family: We were sorry to hear about your loss. Hard to know what to say or do, but we feel for you right now.
Winters Family,
Sorry to hear about your loss. Our thoughts and prayers are with you.
To the entire Winters family,
May God help comfort you at this time. We love you very much.
A friend of 58 years is hard to lose, Howard, we are going to miss you.
Hope that you can find peace with the thoughts at this time of saddness with sympathy.
I appreciated Howard's sense of humor, wit and tolerance for teenage girls with motormouths. I enjoyed visiting with both Howard and Delores even when you weren't around, Deb. Your family will always have a special place in my heart. My heart and prayers go out to you at this time.
Delores, Debra, Wade & Denise and Family ~
We are so sorry for your loss. Howard was such a warm and friendly man. We can't remember ever seeing him without his ready smile. Even as a little boy, when we had family-get-togethers, I remember that smile. I know it is a relief that he is no longer suffering. I also know it is very hard to say good-bye to someone you love so much. We pray God's comfort and peace will be yours and we rejoice with you in the fact that Howard is experiencing the promise of eternity with the LORD.
With love, Mike and Joanie