FIND AN OBITUARY
Service information is posted on our website only with approval from the family.
If you are seeking information not listed below, please contact us.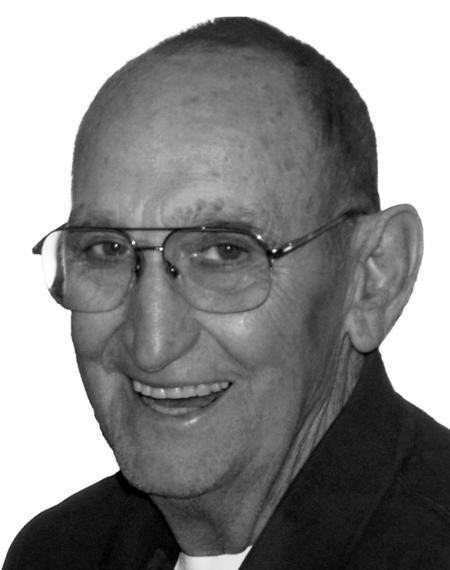 Franklin Marvin Hall
12/04/1932 — 02/13/2010
From West, Richland, WA, US | Born in Kalispel, MT
Franklin Marvin Hall
Frank M. Hall
On Saturday, February 13, 2010, Frank passed away surrounded by family at the age of 77. He was born on December 4, 1932 in Kalispell, Montana to Alma and Sydney Hall the youngest of 10. During his childhood his family moved around a great deal to follow his father's work. At 17 he enlisted in the navy and served during the Korean War. When discharged, he returned to the Tri-Cities where his parents were living and worked a variety of jobs until he joined the National Guard and then the Richland Fire Department. He married his soul mate, Judy, in March, 1960. They made their home and raised their family in Richland.
He retired from the National Guard as a Major and from the Richland Fire Department as a Battalion Chief. He finished his career as the Training Officer for the Hanford Fire Department. After he retired permanently from the fire service, he spent several years as a Fire Commissioner for Benton County 4. He continued in his father's footsteps and did carpentry part-time. He became known as Mr. Fix-It by lending a helping hand to family, friends, and neighbors. He created beautiful one-of-a-kind wood gifts to be cherished forever. He was proud of his service to his nation and his community. He was the ultimate family man whether immediate or extended, blood or adopted. He welcomed everyone to his family with open arms, and was a surrogate father for many. He loved family gatherings, golfing, cheering for his grandchildren, enjoying his children, playing with friends and living each day with his love, Judy.
He leaves behind the love of his life, Judy, children Penny Williamson Craig; Glen Diane; Pam Kehret Bob; Sydney II Cathy and Sharyn Click; woodworking partner Marla Reynolds; special niece Ellen Weber; grandchildren Casey, Chris, Chad, Angel, Amber, Aaron, Danielle, Chelsea, Mark, Jackie, Sydney III, Steven, Joey, 13 great-grandchildren, sister Mamie Vasser, brother Sid Hall, numerous beloved nieces, nephews and friends. He is preceded in death by his grandson Dennis, his parents, 3 brothers, 4 sisters, and many friends.
In lieu of flowers, Frank requested donations be sent to Tri-Cities Hospice Chaplaincy, Kadlec Diabetes Education Association or the Firefighters Widows and Orphans Fund. Services will be Saturday, February 20, 2010, at 11 a.m. at Central United Protestant Church, 1124 Stevens Drive, Richland.
I'm very sorry for your lose, I always valued Franks freindship and his honesty. He was a great lose to the Hanford Fire Dept when he retired.
Judy and family sorry I couldnt make the funeral but my thoughts and prayers go out to the entire family on your loss.There were many good memories on Basswood Ave Frank was one of a kind.Hold your heads up and think of all the good times your had together.God bless you all your Basswood neighbor Craig Gottsch
Frank was my best friend, my teacher, my boss, my"Dad", my mentor. I love Frank Hall, and will always remember all of our adventures together. This July when I get back up to God's Country in Alaska to celebrate the 6th birthday of the "House that Frank Built", the Northern Lights will have an extra special meaning to me and my entire family.
Frank was an Extraordinary man with many talents, he will be missed. My condolences to Judy.
To the Hall family:
I had a chance encounter with Frank and Judy one Christmas day and from there a beautiful friendship blossomed. You know when you meet a truly wonderful person there is no doubt in your mind about their character, and I found that in both Frank and Judy. Since this meeting I have had the pleasure to see them from time to time and each meeting left me feeling like I did after the first time we met. I can am proud to call them my friends!
During this time it is my hope and prayer that you find comfort in each other as friends and as family during this time of mourning. I know that this time is very difficult and people always say remember the good times and the wonderful memories that you have and I also know that family is so important to Frank, so draw strength from each other and keep your love strong because I believe that is what is going to keep you going at this time.
I knew Frank because as a teenager, I was very good friends with his daughter Sharyn. Of all my childhood/teenager friends' parents, I remember Frank & Judy most of all. They were the most fun-loving, and loving people. Judy, I and my husband Ken will be praying for you and your family for God's blessings of strength and comfort. God bless, Mel Bower or as Frank called me "Watermelanie.
The first time I met Mr. Hall, I attended his daughter Sharyn's presentation of her personal experience of loss.He graciously invited me to be seated with his family. I will never forget looking into the loving eyes and proud smile of a man so pleased with his daughter's strength and courage. Mr.Hall passed on a very special and eternal gift to his family whom he loved so deeply. Through the years Mr. Hall would continually maintain the steadfastness of love and encouragement to his daughter and entire family. Our dear Mr. Hall, you are now looking down on the result of your timeless love and devotion to your family,friends,and total strangers. Not to mention your dedication to this community during your committed service. Yes, Mr.. Hall your heart is overflowing with pride from your vantage point in Heaven where your family will someday be rejoined in eternity. Blessings, Honor and smiles back at you kind sir. Honorably remembered……….Bobby Vickery Kennewick Wa.
I think I will remember Frank most for his mentoring and encouragement of young people. Those who chose to follow his career as firefighters enjoyed Frank's mentoring and he always told them how proud he was of them.
Finally as an old saying goes,
Frank was good people!
The Halls and the Pattons have been family for a long time. We go back with Frank since before there was a "Judy". But we certainly welcomed her into our family. As time passed we also welcomed the wonderful additions of Pam, Sid and Sharyn.
What wonderful memories we have created with the Hall family. Among them are Pam becoming a teacher,Sid's football and basketball games. and, yes, Sharyn's once known as Sharon horse back riding.
When they came to visit Judy brought a suitcase full of meds needed for Sid's diabetes and all the family allergies. Sharyn would break out in big welts but wanted right back on the horse. Glen would follow Janet wherever she went. Pam had always wanted to be a little older like our girls were.
National Guard mid weekends have special memories of their own. Long weekends at Cannon Beach in the winter were after the kids were grown.
We and our children and grand children all have many wonderful souvenirs from Frank's woodshop that we all cherish from the cedar chests, Christmas decor and book cases even to the "quarter trap".
If we are having trouble picturing a future without Frank it is hard to think about what is happening in the hearts of his family. We love you all. We are so glad we got to come up for a last visit with Frank.
Our love to you, Lew and Gloria
Cant remember a time in my life that Frank and judy were not a part in some form or another, Frank even before was Frank and Judy, he was a good example of a man to my father, same to me!! And thank you both so much for attending my late husbands memorial, Guy respected Frank immensely, they did happily have their respected retirement ceremony together, I remember the organizers asking "is that Ok", when I learned who else was involved, of course, he was family how perfect was that?? although we have not been in contact since the memorial I have and always will have wonderful, happy memories of both, LOVE NOLA LOBDELL "Alderman"
Judy,
My wife and I extend our deepest sympathy to your family and friends. I met Frank at Horn Rapids Golf Course more than 15 years ago. Frank was one of the nicest human beings that I have ever known. It was a privilege to have been abel to be friends with him. I will miss him at the golf course.
I knew Frank and Judy several years ago thru Tony and Sunny Trevino. He always had something nice to say whenever I saw them. I know how it is to loose someone you've spent most of you're life with as I lost my wife Barbara of almost 40 years to diabetes. It is a degenerative disease that a lot of older people get and the doctors don't know what really is causing the disease. Frank was a great person and I feel fortunate to have known him and Judy. God called him home as he calls all of his children. God bless Judy and all you're family.
What a tremendous father, friend, husband, and man Frank Hall was. He will truly be missed by all that knew him. My prayers go out to the family, a huge hole is left where Frank was in your life, but his memories, lessons and laughter will live on in your memories. My condolences to each and every one of you!
Unle Frank you will be dearly missed. The world loses a great man and heaven opens its gate to receive a great man. I will miss you dearly and remember to "Save a place for me" in heaven. You stepped in as a grandparent when Grandma Jerry passed away. Thank you, thank you.
I'll miss him as a person and a golfing friend. Bless all the family.
Rex
We are so happy that we got to spend a little time with Frank a couple of months ago. He was a special guy and he will be missed by all who knew him. We will be out of town on Saturday and regret that we will miss his service. We will always remember his great sense of humor.
Dave & Meg Lewis
I met Frank in 1978 when I began working at the City of Richland Fire Department. He quickly became a roll model even though I could never be as good a person as he was. I often sought Frank for advice and help. His interest in me and my family were a reliable constant. His example of community service and involvment was outstanding. The love and pride he had in his family was remarkable. My wife, Deb, and I are deeply saddened that we will no longer be the object of his happy and smiling greeting.
Sid & Cathy, I'm sorry for your loss. I am keeping you in my prayers.
Long lost cousin Annette
hi dad,
there have been few men in my life i have loved and respected as much as i do you.
your unconditional love,support and friendship i know is always there.
each time i was able to see you ,whether it was yesterday or months apart i was always greeted with the same love and hugs.we always just started where we left off.
no matter how much time passes the love never changes.
i will see you again. and we will just pick up where we left off.
to my family,thank you for letting me be a part.i love you cathie
Frank made the world a better place. As our second Dad, he helped shape our lives, by pointing us in the right direction, and cheering us along the way. He impressed on us the role of service to others, in planting the seed that becoming a firefighter wasn't a bad idea. He also taught us to do the right thing, to take care of your family and friends and have fun while you're doing it. He was a big tough guy, with a soft heart, like our very own John Wayne. I'll miss him.
Frank Hall And Family
I had the pleasure of meeting Frank after he retired from the RFD. Frank agreed to come to work for the Hanford Fire Dept, as the training officer. As he did his entire life, Frank brought leadership, motivation, honesty, and friendship to the HFD. He made a major positive impact on the HFD the short five years he was there. One more quality, I would like to add was his patience, because he tried to teach me golf, and we enjoyed playing together several times. THANKS FRANK
Don Good, retired fire chief HFD
Judy and Family…We were so sorry to hear of Franks passing. Our thoughts and prayers are with you and we know he is in a better place.
I've been following the news of Frank and family through my wife. I am so sorry for your loss. I wish I could be there but I'm stuck in Iraq. Frank always made Debra and I feel welcome at your home. He will be surely missed.
Dearest Judy and family, words cannot express our feelings for all of you as a result of sharing the love and memories of Frank. Frank was a mentor to us in the traditions of marriage. Billie loved Frank as her brother as much as her love for Frank as his niece. We are better persons because of Frank. Thanks forever for sharing him with us. We will never let go of his memory in our hearts and minds. Billie said, "Frank ALWAYS WALKED HIS TALK". We will attempt to follow his example. We love you all. Billie and Doug