FIND AN OBITUARY
Service information is posted on our website only with approval from the family.
If you are seeking information not listed below, please contact us.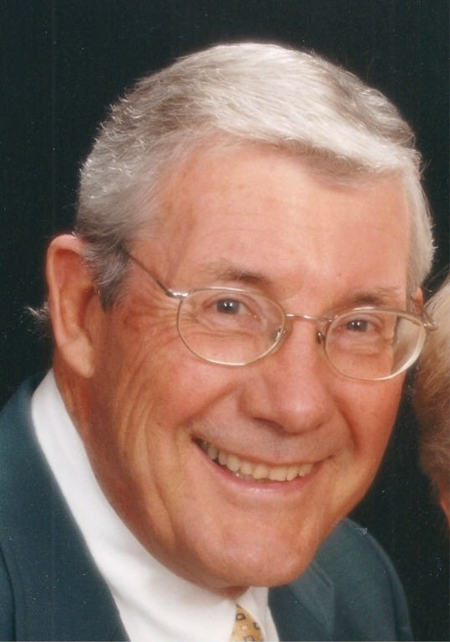 Dale R Fancher
04/22/1934 — 02/15/2013
From Richland, WA, US | Born in Seattle WA
Dale R Fancher
Dale Rene Fancher
Dale Fancher loved being with people, especially his family and friends. His smile and humor could lighten up any situation. Dale's life was marked with generosity, whether caring for his family, serving in his church, giving to charities, or sharing season tickets to the U of W Husky games. He enjoyed the beauty of nature, while camping, boating and traveling with family and friends. Dale enjoyed playing tennis and especially the friendships with fellow players.
He and Janet were active members of Central United Protestant Church, and served in life groups, as members of the missions commission, and in numerous other ministries.
Dale was an adoring husband to his wife of 56 years, Janet. A proud father and grandfather, he was a constant presence and number one fan at games, concerts, and any events that they took part in.
He was born to Edwin and Eloise Fancher in Seattle, Washington on April 22nd, 1934 and passed into the presence of God on February 15th, 2013. He moved to Richland from Seattle in 1969 to work for the Joint Center for Graduate Studies as the Director of Finance and Operations, and retired from WSU Tri-Cities in 1996.
Dale has left a legacy of devotion to family, deep faith, and finding joy in life.
He is survived by his wife Janet, sister Myrna Garcia, adult children Greg Debbie Fancher, Kim John Strehlow, Karen Fancher, and his grandchildren McKenzie Craig Caton, Cameron Sandy Fancher, Madysen Fancher, and Alaina, Ben and Courtney Strehlow.
He will be greatly missed, but the impact of his character and love will mark our lives forever.
A celebration of his life will be held on March 2nd at 1:00 at Central United Protestant Church.
In lieu of flowers, the family requests that donations be given to Ignite Youth Mentoring Ministries in honor of Dale Fancher. info@igniteyouthmentoring.com offices: Ignite Youth Mentoring, 1177 Jadwin Ave. Suite 102 Richland, WA 99352.
Dale was a very awesome guy that always was a pleasure to converse with and be around. Both Janet and Dale have done an exceptional job raising a family and have definitely left very positive mark on our community. I have many great memories growing up and spending a significant amount of my teen years hanging out at 1941 Pine and always felt very welcomed when I was there. Dale will be sorely missed and I am glad I had the opportunity to know him and feel I am a better man because of it. Our condolences go out to to the Fancher Family.
Dale was one of my first connections at Central even before I accepted Christ, through the Crown Financial Ministry course & Financial Peace University. He was always so kind/solid/calm/steady/gentle. Heaven is celebrating his arrival "big time", even as we mourn his departure. Thanks, Dale……
Dale my face is red and I am sad for not dropping by last fall when Donna informed me that you were failing in health. I had planned one more toast of wine, but will have to settle, with the memories of the eight wonderful trips you and Janet shared with Donna & myself. Two trips to Sun Valley, two to Whistler in Canada, one to Hawaii, Mexico, Sun River & another to Hood River with the Chow's on the Dinner train. We will surly miss your humour.
ps..& thanks for helping me harvest grapes in the Yakima Valley.
We shared many travels with Dale and Janet. Each trip was filled with joy, quips from Dale, and so much fun. He loved every day, every new adventure and shared his humor with everyone. We love our memories of him and pray that the family will find comfort in their memories of a wonderful, warm, loving man. Bless you Dale.
I had the privilege of working for Dale at the Joint Center for Graduate Study. I remember his humor in all situations and had so much fun re-connecting with him at his grandaughter's college graduation last May in Montana. Rest in Peace Dale. You will be missed.
Dale and his family were the best neighbors anyone could ask for and because of them, our memories on Pine Street and our time in Richland will always be cherished.
We hope your memories bring you comfort.
Our condolences,
Judd and Jeanne Haverfield
I feel fortunate to have been included in trips with Dale and Janet and enjoyed playing tennis with them. My heart goes out to Janet and the family as I know how much they will miss this wonderful, kind, fun loving man.
Greg,
My thoughts and prayers are with you and your family. It has always been very apparent to me that you held your father in high regards and his love and support you treasured. Keep this fact in your heart always…you made him very proud and brought a lot of joy to his life.
At times like this people have a tendancy to focus on what they have lost. I suggest you focus more on what your father gave you – love and support – and how you have used that in your own life. You're an outstanding person, Greg, and no one knows more than you how much of you came from him.
Take care my friend.
I was saddened to hear of your loss. Please know how very sorry I am.
Living next door to Dale and Janet for 26 years was such a wonderful privilege and treat for us…..never knew what Dale would say or do but we knew we'd be entertained by whatever he chose to do. We're so glad to have had some lunches and dinners together since we moved…. including the last one in January. Jane and I will continue to meet up with Janet from now on….
Know Dale's death is a very difficult time for all of you….God's peace and comfort to you, Janet, Greg, Kim, and Karen plus their spouses and children. We know Dale left a big hole that cannot be filled!!!!
Greg and entire Fancher Family ~
Dale was an amazing individual! So kind hearted,loving and had such a fantastic sense of humor. Always subtle, he would gently lean over with that twinkle in his eye and softly tell you some one liner. So adorable! We will never forget that sweet man! We wish you great love and encouragement today and in the future months to come! Like I told you the other day he's the only UW Husky I ever liked!!! hee hee..WE LOVE you guys!! Life is not forever, LOVE is!
Fancher Family,
I was grieved to see that Dale passed away. However, thinking of the good times he shared with my family at WSU Tri-Cities and at our home on Camas Ave. brings joy. Dale will certainly take his joyous spirit and ready jokes to Heaven with him. My mom, Ramona Garcia, will certainly enjoy rekindling a friendship. I am thinking of your entire family as you deal with the loss of your loving husband, dad, and grandpa.
Dale was always such a pleasure to be around. I only knew Dale from playing tennis with him but I could always count on his wonderful sense of humor. Dale always made me smile. Our condolences to you Janet and your family. May God give you strength. RIP Dale.
Dear Janet and loving family of Dale,
Are hearts are heavy to hear of the Dale's departure from this world. He was an absolutely amazing man. The deep love and passion that God had written on his life was immediately evident the first time we met him! So, we pray for you all as we know you will miss him dearly and we celebrate with him as he joins his Father. God bless you all and may the love of Christ encourage you in this difficult time.
My deepest sympathy to the Fancher family for the loss of your beloved husband, father, and grandfather, Dale…"Although it's difficult today to see beyond the sorrow, may looking back in memory help comfort you tomorrow." May loving memories bring you peace and comfort.
Dale was a friend and colleague who epitomized being a Christian. His sense of humor was contagious and his style of humor was unique. He was our Life Group leader who managed our program, led our devotions, and modeled sympathy, empathy, and spirituality. We know he is reserving a place in Heaven for his family and friends, and no doubt has already started a Life Group at the foot of God's throne. We are blessed to have been part of Dale's life here.
Lou and De