FIND AN OBITUARY
Service information is posted on our website only with approval from the family.
If you are seeking information not listed below, please contact us.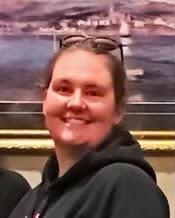 Robin Moore
03/14/1983 — 04/30/2021
Watch Service
New to Livestream? Watch the tutorial.
Celebration of Life
Starts:
Sat, May 15, 2021, 10:00 am
Ends:
Sat, May 15, 2021, 1:00 pm
Location:
Einan's At Sunset Funeral Home
915 Bypass Highway Bldg. H Richland, WA 99352
Robin Moore
Robin Michelle (Miller, Fredrick-Rock) Moore, 38, passed away suddenly on April 30, 2021.
Robin was born in Richland, WA on March 14, 1983.  She attended Jason Lee Elementary, Chief Joseph Middle School and graduated from Hanford High School.  During her teen years, she played softball, volleyball and enjoyed swimming.  Her first job was as a lifeguard at the community pool.
In 2003, Robin announced that she was joining the US Air Force.  She proudly served for 6 years, most of which were at Elmendorf Air Force Base in Anchorage, Alaska achieving the rank of senior airman.  It is there that she started her family.  After her service, the family returned to the Tri Cities and made their home in Pasco.  Robin worked at the Hanford Site for 2 years and when that job ended, she decided to enroll in the Wine Country Culinary Institute at Walla Walla Community College.  Her love for cooking and baking was a bonus for her family and friends.  After successfully completing the culinary program, Robin wanted to return to the Hanford Site so she went back to school to acquire a degree in Industrial Health and Safety.  She was currently working as a Safety Specialist at the site.
Robin had many hobbies including camping, skiing, gardening, sewing and of course, cooking.  She was a wonderful wife, mother, daughter, coworker and friend.  She is survived by her husband Ivan Moore; her children Madison Fredrick-Rock, Jacob Fredrick-Rock, Danny Moore, Ethan Fredrick-Rock and Brooklyn Fredrick-Rock; her parents Merrie and Brad Schilperoort, Melvin Miller and Donna Linstrum, step-mother Kathy Miller and sister Kelsey Miller; brother Reese Schilperoort; sisters Kelly Singer and Jessica Rogers; grandmother Glenda Wyrick and many loving aunts, uncles, nieces, nephews and cousins.
Robin is preceded in death by her grandparents Ben Wyrick and Loren and Viola Miller.
A service celebrating her life will be held on Saturday, May 15, 2021 at 10:00 am at Einan's Funeral Home with a reception to follow.
Memorial donations may be made in Robin's name to the Air Force Assistance Fund (AFAS.org).
We are heartbroken for you all, and so very sorry we couldn't be there to celebrate Robin's life with family.
Much love to everyone ~ ❤️❤️
Rest in peace dear Robin. You will be greatly missed!!
When mom told me I started thinking about the times we would come out and visit we would always try to see catch up if we found time. I always looked forward to seeing her and Merrie while we were out at gmas and gpas house.
So so sorry to hear this. Life is short and Robin lived every moment. Thinking of Mel and Merrie at this time.
Love to you all.
We are so so sorry to hear about the loss of your daughter. Our heart aches for what you and your family are going through. Please know you are in our thoughts and prayers.
I was lucky to know Robin through her work as a safety professional at 100K Area on the Hanford Site. We worked together to conduct safety inspections that could have been a real chore but were just the opposite when they were with Robin. I thought of her as a mom and wife first since she talked about her husband and kids each and every time I saw her – so proud of you all. I know one of the only things that can bring any kind of peace is to know that she meant as much to others as she did to you. Although many may not sign the guest book, she touched so many people in her every day work life. More than you can ever imagine. We will all miss her and our thoughts are with you during this sad time. I love the picture of her you chose to share here. It is exactly how we will all remember her — great smile and sunglasses on top of her head. May God hold you all in the palm of his hand.
I am deeply sadden to learn of your passing. We haven't spoken in a long time but I have many memories of our time together. You will always hold a place in my heart. My thoughts and prayers are with your family at this difficult time.
I am so sad to learn of this news. I haven't spoken to Robin in a long time but have so many fun memories!! Too many to begin to count! Thank you for being a great friend! May you Rest In Peace. My thoughts and prayers are with her family at this difficult time!
My Dear Niece Robin,
You are such a blessing to our family. Your big heart, beautiful smile, quick sense of humor and your strong love for family and friends are just a few of the traits that we will always remember and find comfort in during this very difficult time.
You left us way too soon and you will forever be missed.
Our hearts are broken right now and it is hard to believe your no longer here with us.
Time and beautiful memories of you will ease our pain and give us comfort.
I hope you and Grandpa Benny are dancing right now.
We all love you Robin and we know you will be watching over us 💕💕💕
I love you dear friend. I am confident I will see you again. And I long for the day that you can embrace tou children. There is lot of hope in the future but I will remember to live for each day. You are a dear friend. I can't even measure the loss. I am grateful for your friendship. I can't even express. I will never have another Robin. You are a unique part of my heart that can't be replaced. Till we meet again, I will hold you dear
There are no words to express how you are feeling. May god put his loving arms around your family. I can still see that young girl smile.
Tammy and Jeff Knotts
I still can't believe it's real. Robin was the glue as far as the cousins were concerned. She always helped organize, include, and encouraged family get togethers. She had a great sense of humor, an honesty like no other and a very caring heart. Robin was many things but a great mom was at the top of the list. Her kiddos are great kids! I have tons of memories that include Robin… One of my very first introductions to this wonderful family was at Robin's wedding a long time ago.
I can't understand why she was taken so early. Robin, you will be so missed. ❤️
I only knew Robin for a short amount of time, but she will forever hold a place in my heart. My deepest condolences to the family for your loss.
This is heartbreaking news. We are holding you in our hearts as you grieve the loss of your daughter. Love you both.
Jan and Chris Jensen
We are so very sorry to hear about Robin. Please except our sincere condolences. We are sending hugs and prayers to all of you.