FIND AN OBITUARY
Service information is posted on our website only with approval from the family.
If you are seeking information not listed below, please contact us.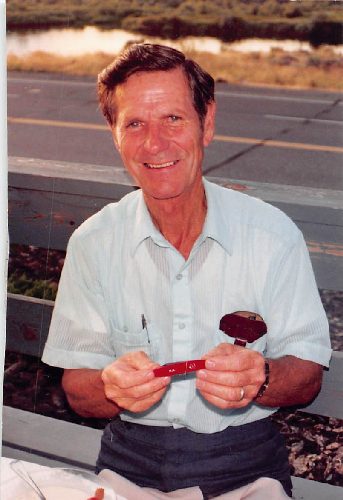 Harvey Andrew Montgomery
07/09/1930 — 08/18/2021
From Richland Wa
Harvey Andrew Montgomery
Harvey Andrew Montgomery, Jr. (known as H.A. by his family and friends) was born on July 9, 1930, in Pocahontas, Arkansas to Pearl Augusta (Glass) and Harvey Andrew Montgomery, Sr. H.A. was #12 of 14 children (7 girls and 7 boys). H.A.'s dad was a schoolteacher and a sharecropper who instilled a strong work ethic in his children, and H.A.'s mom was a sweet and doting mother. When H.A. was 14 his parents packed up the "young'uns" and headed to the desert of Washington, a journey made my many in the early '40's. Most of H.A.'s siblings were married and on their own by 1944, but most followed their parents and little brothers west in the following years. Harvey Sr. found employment with the commencement of the Manhattan Project and H.A. was a enrolled at Col Hi in Richland.
H.A.'s high school years were active and full. He always found time for church, school, work, and athletics. He was an avid swimmer, hiker, and he worked as a lifeguard at the old Riverside Park in Richland and the Pasco "Plunge" at the Naval Air Station Pasco. He was a four-year letterman (boxing) and won the Golden Gloves in his senior year. Many friends and fans followed his matches up and down the Valley where he would most often notch another win. According to his life-long friend, Velma Jarrett, H.A.'s gentle spirit encouraged him to win by points, not having the desire to KO his opponent. H.A. graduated in June of 1950.
Immediately following graduation, H.A. was offered a job at Hanford, but asked if he could start a few weeks later so he could drive his parents to Arkansas to visit relatives. His request was granted, and he was able to help his parents whom he loved and honored throughout his life. Back in Richland, H.A. focused on his new job and his church life at First Baptist in Richland, where he was a youth leader. Bringing others to salvation through Christ brought joy to H.A.; he shined in his faith.
As H.A. began his career in the nuclear industry, he was also active in the Army Reserves. He trained new recruits and rose to Sergeant First Class. He was ready for deployment to Korea, but his duties fortunately kept him stateside. H.A. worked shift work for 35 years as a journeyman electrician. He spent time at most Hanford sites but many years at the N Reactor.
In June of 1956 H.A. married Ramona J. Miller at the First Baptist Church. The young couple started their family with the April 1958 birth of their first child and only son, Timothy John. H.A. was thrilled and always said he wanted a large family…at least 5 or 6 kids. Within the next year, they learned they would be having another baby sooner than planned. In February 1960, their only daughter, Deborah Jean was born. When H.A. held his daughter for the first time, he told Ramona that their family was now complete.
Money was tight for his family of four, so in 1962 H.A. began a side-business installing underground sprinkler systems and became known as the Sprinkler King. Many members of the Tri-City community grew to know and appreciate H.A.'s skill and generosity. Based on an difficulty to pay, many customers would not be charged for repair calls. In return kindness, oftentimes H.A. would receive (to his delight) a fresh pie, garden grown tomatoes, or a smoked steelhead delivered to his door. In the late '80s the Sprinkler Prince (Tim) bought his dad's business, a business that has flourished under his son's ownership. Because he was in excellent physical condition, H.A. continued to work beside his son in the family business for many years.
During his kids' years growing up, H.A. spent quality time with them. He nurtured, loved unconditionally, guided, disciplined, and instilled a strong faith in God. Camping every summer at Fort Stevens or Cape Lookout on the Oregon Coast and an end-of-summer trip to Wallowa Lake were treasured moments. H.A. would load up the 1965 station wagon (the first new car he owned), hitch the old steel tent trailer, tie down the yellow crate to the luggage racks, give the kids a bottle of Pepsi to share and head out of town. Looking like a scene from the Beverly Hillbillies, the Montgomery clan was on the road again! On any trip, H.A. always allowed his kids to bring along friends who were treated to H.A. repeating at every wide spot in the road, "You want to pull over and drink a little Pepsi and throw a little Frisbee?" It took forever to get anywhere, but the journey together in the station wagon was half the fun. Every camping trip would include a challenging hike, always taken without water, food, or band-aids, because H.A. knew this would encourage his kids to high-tail it down to the car for a refreshment. After cooking over the campfire, H.A. would tell the kids they could clean the blackened pots and pans and he'd take care of the plates; he would laugh heartily because the plates were paper!
H.A. was married to two other women who also preceded him in death. He was a kind stepfather to their children. Doris (Kelly, Joel, Perry) and Esther (John, Steve, Lance). Esther helped H.A. winterize (many will remember their matching coveralls) and went on repair calls with her husband. She provided many years of companionship, sharing trips to Hawaii and Europe, camping together, and enjoying retirement years. H.A. and Esther enjoyed worship at the Richland Baptist Church where they were members.
There wasn't a man with a more positive, "can-do" attitude than H.A. He taught his two kids that when things in life look overwhelming, just take that first step, then the next, and eventually, success would come. And…smile while you're doing it! A negative attitude was not permitted. One morning his son came out of his bedroom for a weekend breakfast all "grumpy-pants" and H.A. sent him back telling him, "Go back to your bedroom and try again…nothing bad has happened to you yet, so there's no reason to be in a bad mood!" H.A.'s kids grew with their dad's constant encouragement to be strong in faith, always be honest, be loyal, and be good to others.
A smile, a hug, and his easy laugh were shared with so many who were fortunate to cross H.A.'s path. He carried his positivity into his biggest challenge of life, living with Alzheimer's. While this diagnosis was dreadful to a man with such zest for life and with so much to share, he managed it with grace. His kids were honored to be daily caregivers to their dad for several years, with a lot of help from their spouses and H.A.'s grandson. It was an honor for his "Little Boy Timmy" and his "Favorite Daughter Debbie" to each take their turn in mirroring the love and devotion to their dad in his time of need. His family was blessed that H.A. was able to recognize them through to his last day.
H.A. lost his dad in 1983 and his mom in 1984. He was able to spend quality time with both of his parents until their passing. Of his 13 siblings, only two survive H.A. (Polly, Floyd). He adored his older sister Polly Holloway (Alden) who helped raise and protect her baby brother. Likewise, H.A. loved and protected his baby brother Floyd (Carol). He loved and lost his brothers Monroe, Woodrow, Orvil, Orlis, and Franklin along with his sisters Maggie, Lily, Josephine, Vera, Nora, and Tootsie. Quite a celebration was had when H.A. entered Heaven and this faithful servant met again with his parents, 11 siblings, and wives Ramona, Doris, and Esther.
H.A. leaves behind many younger generation Montgomery's. He was a loving, helpful, and favorite uncle to many nephews and nieces…at one point there were 36! Because of the age span between H.A. and his oldest siblings, he wasn't much older than some of his nephews and he so enjoyed spending time and sharing all "guy" things with them.
H.A. leaves the most wonderful memories to his two children, Timothy John Montgomery (wife Teresa and children Josh, Nicole, Karly) and Deborah Montgomery Bell (husband Norm and son McCade) and his one grandchild McCade Montgomery Bell. No kids or grandson ever loved a person more than did H.A.'s. Peace during this loss came through the knowledge that their dad and "Pappadaddy" was excited and so ready to meet his savior.
A private family graveside service was held at Sunset Memorial Gardens in Richland. Tim, Debbie, and families want to thank the many who helped them care for their dad during his last years and those who sent cards, flowers, and loving messages when their dad passed. We also thank you for your patience as we took time to write an obituary deserving of our dad.
From the Cotton Fields of Arkansas
To the Desert of Washington
He Journeyed a Straight and Humble Trail
Of Kindness, Love, and Faith