FIND AN OBITUARY
Service information is posted on our website only with approval from the family.
If you are seeking information not listed below, please contact us.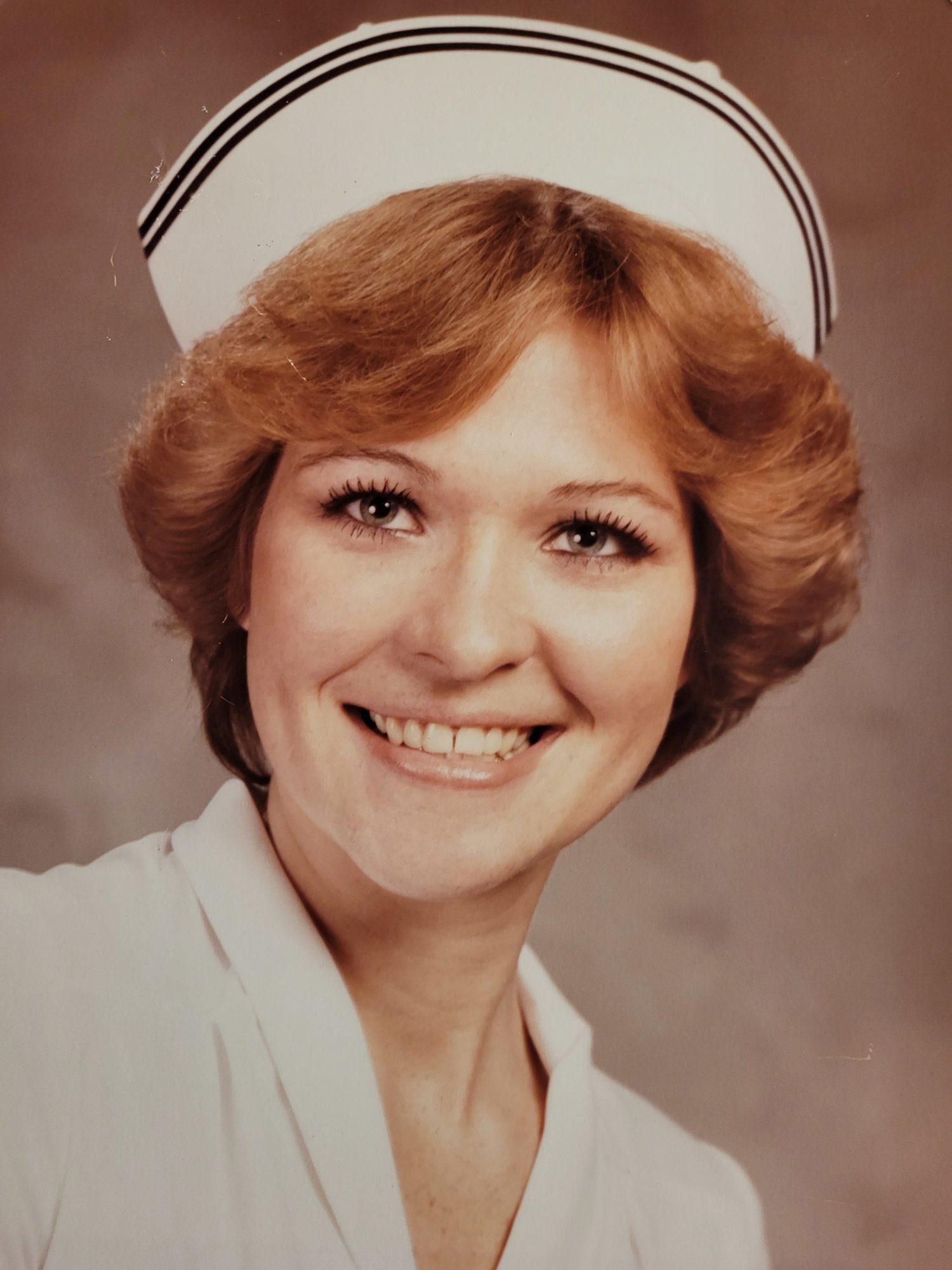 Terese Ann Biddle
07/19/1959 — 08/31/2021
From Richland Wa
Watch Service
New to Livestream? Watch the tutorial.
Funeral Mass
Starts:
Fri, September 10, 2021, 12:00 pm
Ends:
Fri, September 10, 2021, 1:00 pm
Graveside Services
Starts:
Fri, September 10, 2021, 3:30 pm
Ends:
Fri, September 10, 2021, 4:30 pm
Location:
Einan's At Sunset Funeral Home
915 Bypass Highway Bldg. H Richland, WA 99352
Terese Ann Biddle
It is with a heavy heart but tremendous love that the passing of Terese Ann Rosinski Biddle is to be shared.  Terese entered this world the 9th child of Robert & Shirley Rosinski on July 19th, 1959 in the city of Chicago and left this earth early the morning of August 31st due to complications of Neuroendocrine Pancreatic Cancer.
Terese, raised in a family of 7-boys and 3-girls was an adventurous freckle faced tomboy, typically bandaged from one event after the other (dog attacks, nasty bike wrecks, seven brothers, etc.), and this may have influenced her future lifelong choice of occupation.  She loved sports and took pride in the fact she played Pony League baseball on a boys team; organized girls softball was basically nonexistent at that time.  She also wouldn't pass on the chance to skip rope in the neighborhood.
Raised a devout Catholic, she attended St Francis Parochial school of Evanston Illinois, before entering Evanston Township High, graduating at 15 and moving on to the Saint Francis School of Nursing, in Scranton PA, where she graduated with a degree in Nursing as a member of the CLASS OF 1981.  Anyone that was blessed with meeting and knowing Terese became easily aware that the lord placed her on earth to Nurse the Body, Mind and Soul of the many lives she touched.
As mentioned above, she was a person of great FAITH, and she took a big leap of faith when after only 5-days of person to person contact, and two months of daily letter writing & phone calls, agreed to marry Brian D Biddle, and move 2000 miles away from a family she dearly loved and a mother she was almost inseparable of.  The 100 dollar plus phone bills in 1987 and beyond was a wonderful testament of her devotion to Shirley and her extended family.  She looked forward to visiting often…even with a 55 mph speed limit, and no cruise control or AC on our little Honda, but the looks on family and friends faces when we would roll in exhausted and they'd see her, was priceless.  It would have been our 37th anniversary this Sept. 5th, and will continue to be through eternity.
Terese started her career in the hospitals of the greater Chicago area and after being stolen away to the Tri-Cities in 1984, began work in the Kadlec Regional Medical Center E.R..  She would constantly share humorous, heartwarming, and sometimes tragic stories of the ER with us, but always showing the utmost compassion for the patients and their families.  She met so many lifelong friends in her field as she continued to explore nursing at the Kania Clinic, KGH Urgent Care, and eventually back to Urgent Care with Kadlec.  She also provided volunteer school nursing for both Christ the King and Jefferson elementary.
It was while working the ER at Kadlec and after joining the League of Saint Gerard, the Patron Saint of Fertility that she came home one morning with the long awaited news that in 9 months we would welcome Michael Joseph GERARD Biddle into the world.  This broke the dam and within three years she was riding herd on Kevin William and Brian Joseph as well.  Not wanting to compete with Momma Shirley, three boys in three years was going to have to be it she said.  Terese was a tireless and devoted mother all the way to the very end; providing the same love and devotion to each of her beautiful grandchildren, Jameson,  Connor, Lauren, Kameron, and Sonrisa, as she had to her boys.  It was always a great joy for her to help with schoolwork, attend school functions and be the silent cheerleader at countless sporting events over the years.  Her boys were her great love; and luckily I get to count myself as one of her boys.
Terese was all about family first and that included her large extended family; she was an avid letter writer, so much so she never really quite fell in with the newer social media formats; but by gosh she could text and even run a computer keyboard as a single finger plinker lol.  She also enjoyed travelling but was not a big fan of planes, they were just an evil necessity.  Besides visiting the Chicago home front, San Diego and Maui were her favorites by far.  Terese had a tremendous wit and loved to laugh and share a good story; this sense of humor is why we enjoyed attending comedy clubs everywhere we went.  In addition, she greatly enjoyed flower & vegetable gardening, and was definitely a dog lover, regardless of being mauled by one as a kid.  She was quick to reach out and assist others in need; forever the tender caregiver.
Terese was preceded in death first by her Father, Robert M. Rosinski, Brother John Rosinski, Brother Kevin Rosinski, Brother Michael Rosinski, Mother Shirley Chadwick Rosinski, and Sister Roberta Rosinski.  She leaves behind Brothers Patrick Rosinski, Tim Rosinski, Scott Rosinski, Brian OZ Rosinski, and loving sister Kathy Rosinski of Richland Wa.  In addition, she will be forever remembered with loving fondness by Sons Michael Biddle (Emily & Sonrisa), Kevin Biddle (Becca, Connor & Lauren), Joe Biddle (Morgan, Jameson & Kameron) and her biggest fan, Husband Brian D. Biddle, along with an extended family of numerous nieces, nephews, and cousins.
Einans Funeral Home is POC for funeral arrangements, with a Catholic Mass scheduled for Noon, Friday September 10th , at Christ the King Church.  In lieu of flowers, she asks that anyone interested in donating in her name, please do so via the Catholic Family Services.  God Bless
Terese was a truly special person. One of those rare people that make you smile just by thinking about them. Even though we had been out of touch for several years, I always thought of Terese as a favorite "big sister" or cousin, someone you looked forward to being with. I knew I could pick up the phone anytime and we'd be having lunch at "3 Margaritas" again, hearing stories about the latest goings-on with family and neighbors. It was always a good day at Urgent Care when Terese was there! She was too nice a person to ever correct me for constantly mis-spelling "Therese". Her optimism and sense of fun was infectious, and I know I join many other co-workers and friends in feeling so lucky that she was a part of our lives.
Brian and her boys,
I went to St.Francis with Terese. From the moment I met her I felt loved and cared for, she took care of all of us. A natural nurse. The 5th floor gang became so close, supporting each other and sharing our triumphs and defeats. And did we have fun!!! Innocent fun that got us into so much trouble, and maybe some not so innocent fun. I can still hear Terese's stories and her laugh! I'll miss her letters at Christmas filling me in on her life and her boys. You wrote such a beautiful tribute but I have a hard time believing she was a silent cheerleader of her grandchildren. Her family meant the world to her. I am so happy our paths crossed at that time in our lives. I am so very sorry for our loss. Rest In Peace my beautiful friend.
Brian and Boys:
Terese will be sorely missed by those of us whose lives were touched through the years by Terese. She was a caring friend to my family and to me.
To Brian and the Boys,
Please know how much Terese and your entire family was respected and admired. To have one of your children in class was an honor and always a fun time. We always knew we had your support and well being when you folks were involved. Thank you for the role models you were and thank you for your involvement. Terese will be so missed. My empathy and love goes out to all of you.
Semper Fidelis,
Jack Drummond
Terese was a beautiful, loving and caring person . She will greatly be missed . My sincerest sympathy.
Terese is a very wonderful person. She was the glue to a lot of things that happened. We will all miss her very much.
I am Tim Rosinski her brother.
Brian and the many Biddle Boys that grew up playing sports with your neighbors on Hunt Avenue the Miller Boys. Theresa was an energetic and lovely person and we all loved her from the moment we first met!
Our heartfelt Condolences on your loss of your dear mother and wife!
Joetta and I (Steve) live in Sunnyside, WA to be near JoEttas family and I am teaching high school Science at Sunnyside Christian High School.
All the Best to the Biddles , God Bless …
Steve and Joetta and Brandon and Brock Miller
Terese was such an amazing person. She taught me so much about nursing and unconditional love. I will cherish all her stories about mowing lawns to earn college tuition for her boys. Giving of her time to help a elderly neighbor. I will never forget her teaching me to put your finger in your pocket and make a sign that will help you keep a smile on your face with a mean patient. Love you Terese you will be missed. I am so sorry Brian and the "boys"
Terese was such an amazing person. She taught me so much about nursing and unconditional love. I will cherish all her stories about mowing lawns to earn college tuition for her boys. Giving of her time to help a elderly neighbor. I will never forget her teaching me to put your finger in your pocket and make a sign that wilm help you keep a smile on your face with a mean patient. Love you Terese you will be missed. I am so sorry Brian and the "boys"
It was such a gift to have Terese in my life. Writing letters back and forth to each other will always be a special memory of mine. In addition, she and Brian attended my college graduation, as well as my wedding. I was truly taken back by the support she always has shown for me and my family. She brought me closer to the Rosinski side of the family, and for that, I am forever grateful. I know she will be missed by many, but I also know that her memory will live on through Brian and their family.
TO BRIAN AND SONS KAY CALLED ME TODAY WITH THE SAD NEWS OF TERESE'S PASSING I AM SO SORRY SHE AND I SPENT MANY NIGHTS WORKING THE ER I WILL ALWAYS REMEMBER HER KINDNESS AND SENSE OF HUMOR
I worked with Terese at the Kania Clinic. She was a tireless worker and so much fun. Her love of her family, here and extended, was obvious. I remember she looked out for everyone, including the older neighbors who lived near her. Always the protective, caring nurse.. just part of who she was. She lived her life and faith in God well.
What a beautiful life, the world was blessed to have her in it. 🙏🏼
Brian,
I am so sorry to hear of your loss. You and the family will be in our prayers.
I uses to work with terese when it was kgh urgent care. She was such a neat lady and super protective over all of us that worked there. I'm so very sorry for the loss of her but God sure did gain a heck of a new angel.