FIND AN OBITUARY
Service information is posted on our website only with approval from the family.
If you are seeking information not listed below, please contact us.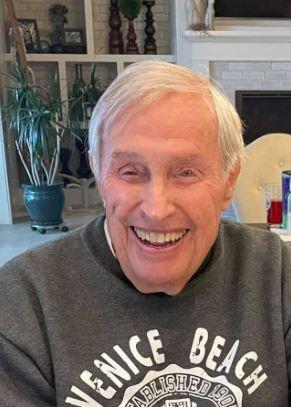 Frank Burks
01/16/1936 — 09/12/2021
From Richland, WA
Watch Service
Watch Graveside Service
New to Livestream? Watch the tutorial.
Public Viewing
Starts:
Thu, October 14, 2021, 3:00 pm
Ends:
Thu, October 14, 2021, 5:00 pm
Public Viewing
Starts:
Fri, October 15, 2021, 12:00 pm
Ends:
Fri, October 15, 2021, 1:00 pm
Celebration Of Life
Starts:
Fri, October 15, 2021, 1:00 pm
Committal Service
Starts:
Fri, October 15, 2021, 2:00 pm
Location:
Sunset Gardens
915 Bypass Highway Richland, WA 99352
Frank Burks
On Sunday, September 12, 2021 Frank Delano Burks, loving Husband, Father, Grandfather and Great Grandfather passed away at the age of 85.  Frank was born in Louisiana, MO and moved to Washington after graduating from  VIT High School in Ipava, IL.  In August of 1957 he married Sharon Bee.  Together they raised three children, Jim Burks, Shelly Baker and David Burks.  He was known for his quick wit, infectious smile, and his loving and devoted spirit.  Whether it was his impeccable one-liners or his undeniable charm, Frank never failed to put a smile on your face. Frank was an exemplary human being in all aspects of life, and will have a forever lasting impression on the lives close to him.
Frank was a self-employed business man.  Throughout the years he was co-owner of Burks Bros. Texaco, Burks Bros. Conoco,  Towne Crier Tavern and an Apple Orchard in Kennewick.  He retired in 1995.  He was an avid sports enthusiast.  He played all sports in school excelling in baseball.  Frank was on a bowling league and in1960 he and his brother Russell won the tournament in Richland.  He loved his St. Louis Cardinals even when they became the Arizona Cardinals and never missed an opportunity to heckle son Jim when the Cardinals played the Packers. Frank  loved going to the basketball, baseball, football, hockey games and bicycle races watching his Grandchildren participate.  He was a lifetime member of the Richland Elks.  He loved entering his 59 Dodge in the local car shows, gardening and sharing Tomatoes, Peppers, Kohlrabi, Watermelon and Cantaloupe with family and friends.
He was a collector and would proudly say I have my first wife, the first car and the first house I ever owned.
Frank was the Son of Edith Moore Burks and Samuel Owen Burks.  Brothers  Robert, Donald, William (Bill), Charles (Leo) Walter (Wally) and Russell preceded him in death. He was fifth in line of seven Brothers who were raised by their Mother Edith Moore Burks.  All seven are now together in Heaven with Mom Burks and our son David Burks who passed away September 12, 2021.
Frank is survived by his Wife Sharon Burks, Son James (Lorrie) Burks and Daughter Shelly (JR) Baker, nine Grandchildren, Michelle (Shawn) Maxwell, Jimmy Burks, Alec Burks, Ryan Burks, Lauren Burks, Jayse (Jess) Lampson, Adam (Rachel) Baker, Megan (John) Sisemore, Dustin (Stacy) Baker, and eighteen Great Grandchildren. Sisters-in-law Dolores Burks, Shirley Burks and many Nieces and Nephews who were very important in his life.
He will be terribly missed by all of us.  Always will remember one of his sayings "Christmas will be here before you know it,"
LOVE YOU FRANK
All our love to Sharron. I loved seeing Frank out working in his garden. Always with a friendly wave and a smile. He was a hard worker and always so very kind. His age was not an obstacle – he was forever young at heart.
I knew Frank and his family for a long time and he was a exemplary human being; a great husband to his wife Sharon and a loving father to all his children and grandchildren as well as his brothers and their families. A light in this world has been dimmed and he will be missed by all who knew him.
Going to miss that firm handshake and welcoming smile. Yet I'll never forget either. I've been blessed to have had decades of wonderful memories. You're legacy is a great example to all that came in contact with you. We take care of things here the best we can. Heaven is great again 😉
We will always remember Frank as a kind interesting person to be around we found him very smart in our conversations and always happy. We are very sad for Sharon and family as they are in are thoughts. Cindy and Bob Fuller
The world lost a spark on 9/12… When I think of Frank I think of his big contagious smile, his warmth and generosity of spirit, his love for family and fun, his loyalty and strong work ethic. I am grateful that Frank was a part of my family's life.
With much love,
Lindy
Very saddened to hear about his passing, he was wonderful neighbor that loved to serve. I know this goodbye will only be a small moment, but my heart goes out to the family during this difficult time. I'll always remember the classic cars out front and watching him cruse down the dirt road on his tractor. Thank you Frank for the care and good memories.
I am so very saddened to hear about Frank & David. My heart goes out to Sharon, Jim & Shelly with many blessings sent to your family.
I have so many wonderful memories of the Burks Bros… I was hired by Frank & Russ after I graduated from KHS to keep their books. They were like a 2nd family to me & will always have a special place in my heart for Frank & his family.
Sharon, we will keep you & family in our prayers during this sad time. May all your wonderful memories give you much comfort.
Love,
Frank & Mary (Wright) Lamb
Burks family,
Very sorry to hear of the passing of Frank and David the same day! Our Condolences from Steve and JoEtta Miller. I went to school with Shelly and knew David and Jim as well. JoEtta did Daycare for Shelly Baker and her children.
JoEtta and I are living in Sunnyside and I am teaching Science at Sunnyside Christian High School for the past 4 years.
God's Blessings and Comfort to the family in these hard times!!
Steve and JoEtta Miller
Class of 1978!!
My condolences to Sharon, Jim and Shelly. So many great memories as a child visiting our cousins in eastern Washington… my mom Judy Atttebery loved all the boys and frequently visited staying with Bill and Shirley often…my deepest sympathies and prayers 🙏
Cindy Fuller Stephens
Bellevue, WA
You are going to be missed. Will miss our yearly trips to Seaside, Oregon and our crab dinner at Dooger's. Love to your family.
Some of my first interactions here in the Tri-Cities were with Frank or his brothers back in the late 60's. Shortly after I got married, we lived on Butternut St., just around the corner from Frank's Texaco service station. On our first or second Christmas, Frank had a drawing for Christmas. The prize was a Lionel Train set. I couldn't believe it when we won, I think Frank was as excited as we were. I still have the train set some 50 years later. Bad things just shouldn't happen to good people. And Frank, you and the rest of the Burks family are GOOD people.
Sharon, you and your family have our deepest sympathy.
Frank was a wonderful husband, father, grandfather, great-grandfather and friend. I was blessed to have known him for 60 plus years. Frank will be missed but never forgotten.
My heart is breaking. I cannot imagine the family and their pain
God takes care of us in his own way
I did not know this family until Dave hired me at the Vit plant in 2007. I met Jim there as well (a fellow Packers fan). Finally, I got to know Frank and Sharon through church at Bethel and through the car shows where I got to enjoy Frank and Sharon's car. It is quite a blessed family and I am sad I did not get to spend more time with them! Was sad to hear of Frank and Dave's passing. Life on this earth is short. We have the hope to see them again when our time comes! Sharon, Shelly and Jim, hugs to you and your family.
A really neat guy, was Frank. I'm proud to include him in my list of friends. He sold me gas, repaired my cars and shared his beer on Friday evenings. I sold him a pick and a tractor and it was always with a handshake and a smile. Gonna miss you Frank.
The world was a better place with you in it, Poppa Frankie. A true gentleman- generous, loving, kind and perpetually good humoured. Rest in peace, Frankie. Please give my love to Little Grandma and your brothers.
Love you Uncle 💜