FIND AN OBITUARY
Service information is posted on our website only with approval from the family.
If you are seeking information not listed below, please contact us.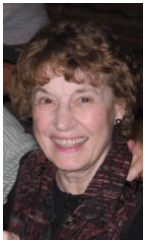 LaVerne "Kay" Brauer
08/27/1930 — 09/12/2021
New to Livestream? Watch the tutorial.
LaVerne "Kay" Brauer
Our dear Mom passed away on September 12th with family by her side. We will miss our Mom's generous laughter, beautiful smile, bright eyes, and love, for the rest of our lives.
Kay was born in Pittsburgh, PA to Casper and Elsie Kinzel. She grew up surrounded by many relatives. As a young child she moved frequently as her father was working in the Mid-Atlantic States. She liked all the places, but especially liked the year her family lived in her grandparents' large country home. That year Mom attended a one room schoolhouse, bringing her sled along behind her.
Mom graduated from Neville Island High School in 1948. Neville Island is an island in the middle of the Ohio River alongside Pittsburgh. She was always proud of being the only girl in gym class who could climb a rope and also climb a rope to the top of the ceiling! While in high school Mom was a member of The National Honor Society and she was voted May Queen by her classmates.
The summer after high school Mom took a road trip from Pittsburgh to Berkeley, CA with her uncle who was returning to the University of California. Also, on the trip were her grandmother and an aunt who was 18 years old too. They had a grand adventure! We often heard stories about the drive west to Berkeley.
Kay decided to stay in the Bay Area and it was there she met Fred Brauer, her future husband. Kay and Fred were married in 1951. After Fred graduated from UC Berkeley they drove up to Richland in Mom's 1942 Ford Club Coupe with all of their possessions. Fred began his career as a scientist for General Electric. Kay was employed at G.E. as a secretary stenographer. Mom used her shorthand skills the rest of her life for private notes and making lists.
Kay and Fred started their family in 1953 with the birth of Gail, followed by Gina and Greg. We were a busy family exploring all Washington State had to offer. Many family camping trips were taken at Mt. Rainier National Park and Olympic National Park. Yearly, we drove to Southern CA and back to visit all the relatives and explore the sights in between. Our family vacations were the best!
More than anything Kay loved being a mother and later a grandmother and great grandmother. Mom was always encouraging and supportive of her children and grandchildren. She was a fabulous listener and enjoyed hearing about our adult adventures too. Family was Mom's priority in life; she frequently told us how thankful and blessed she was to have 'family'.
Kay was involved in many activities. She loved swimming. For ten years, when the old YMCA swimming pool was still on George Washington Way, Kay volunteered to teach swimming to children in Special Education in conjunction with the Richland School District. In her senior years Mom was a regular at water aerobics at CBRC. She had a love for playing tennis, dancing, including senior dancing at the community center, skiing, gardening, oil painting and sewing. Mom was an excellent seamstress – each item was sewn to perfection.
Kay was a member of Redeemer Lutheran Church for 50 years. In her later years she attended Richland Lutheran Church.
Kay is preceded in death by her parents and by her beloved husband Fred whom she was married to for 62 years. Many friends and relatives also preceded her in death. Kay is survived by her daughters Gail Konopik, Gina Begalka and husband Brad, and by son Greg Brauer; three grandchildren and their spouses, Margi and Travis, Teresa and Carlos, Tommy and Lexi; and six great grandchildren. Kay is also survived by her brother Gil and sister Emma.
A special thanks to the Prestige staff that lovingly cared for Kay, and to her special friend, Barbara Deobald.
Kay had a grateful and happy spirit that shined throughout her life. The Burl Ives song "Watch the donut, Not the Hole" was her theme. Kay was always friendly and personable. Newcomers were immediately welcomed by Mom.
Mom, you will always be with us in our hearts and minds. We love you forever and ever. Thank you for the wonderful life and love you gave us.
I was hoping to visit " Kay" when I learned of her passing. I truly enjoyed the times I visited with her.
We moved into the neighborhood when our children were very young and remained in contact all these years. Unfortunately, due to covid, I was only able to speak with her on the phone. My thoughts and prayers are with all the family.
To Gail and family, I am so sad to hear of the loss of your lovely mother. I remember she was always smiling and kind. She surely was the heart of your wonderful family. My prayers and thoughts are with you at this difficult time.
I was sad to learn of Kay's passing. She was always so fun to visit with during any event where our paths crossed. I saw her a month or so ago at Tai Chi in the park. She so wanted be there with us. She did a couple of the forms and then stayed to watch and cheer us on. How wonderful it was to see her and her enthusiasm.
I extend my sincere sympathy to all of you.
Kay was one of the first people I met when I moved to Richland 30 years ago and opened a Massage Therapy business. She had a "bad back" that acted up now and then. She kept seeing me for many years. I always looked forward to seeing her because I knew her kindness and Award Winning smile would brighten my day.
I will never forget our wonderful neighbor Mrs. Brauer. She was always smiling and laughing and had a distinct voice I will never forget. I saw her in Fred Meyer a while back and immediately recognized her voice. She was as sweet as ever and we chatted for a bit about being neighbors and our families. That was very special for me and I will remember her with fond memories.