FIND AN OBITUARY
Service information is posted on our website only with approval from the family.
If you are seeking information not listed below, please contact us.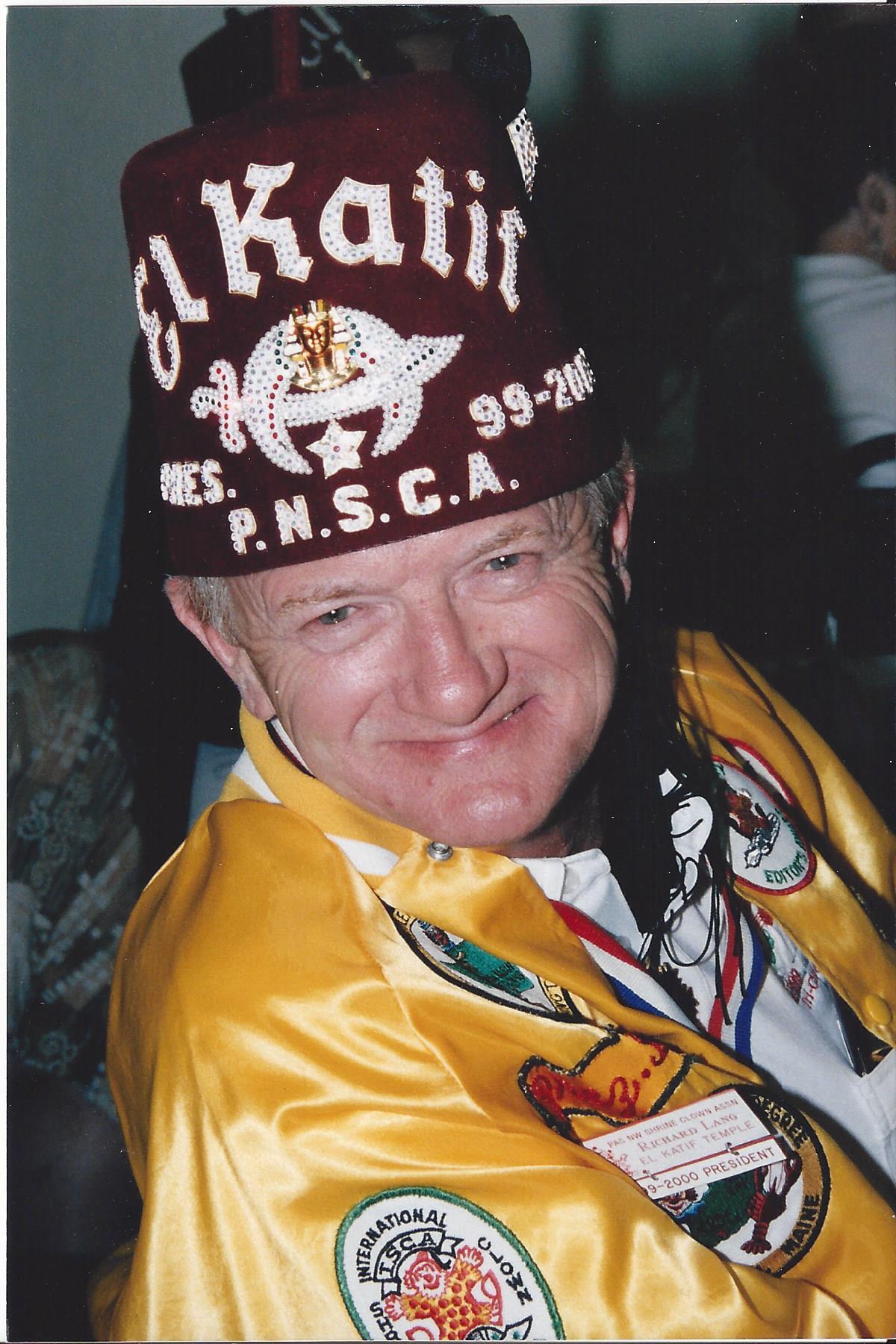 Richard Lang
03/12/1943 — 09/14/2021
From Richland, WA | Born in Portland, OR
Watch Service
New to Livestream? Watch the tutorial.
Richard Lang
Richard L. Lang
On September 14, 2021, after a longtime battle with his health, Richard Lang, 78 of Tri-Cities, WA passed away peacefully in his sleep with his wife, Rita, by his side. He was born on March 12, 1943, the only boy of six children. Rich is survived by his wife, Rita; sons Randal (Sarah); James; Timothy (Lisa); daughter, Sherri (Roger); nine grandchildren and 15 great-grandchildren. He is preceded in death by daughter, Cheryl and first wife, Judy.
Rich always said that he "wore many hats" throughout his life and that was definitely true of him. He was deeply rooted within the Masonic Lodge and Shriners Hospitals for Children. As a Lifetime Member of the Masonic Lodge, he received his 50 year pin from Richland Masonic Lodge No. 283, as well as the Grand Master Youth Support Award.
Rich's lifetime memberships also included Scottish Rite; Vietnam Veterans of America; PNSCA (Pacific Northwest Shrine Clown Assoc.); and an Honorary Lifetime Membership to DE MOLEY Legion of Honor. In addition to his lifetime memberships, Richard was also a member of Sadir Khan Grotto, ISCA (International Shrine Clown Association), and El Katiff Shrine. He was a former member of Columbia Basin Shrine Club, Columbia Basin Shrine Club Clowns and the Elks.
Richard served his country in the United States Army (1961-1964). For the City of West Richland, he served as the former Head of the Civil Defense, as a City Council Member and as a backup for both the Police Department and Benton REA.
His resume would probably take three pages to fill because he lived more in a single life than you or I would live in three lifetimes. He loved to share his knowledge by teaching. Aside from his volunteer work, he was also a former businessman, professional musician, chef and entrepreneur.
As a Shrine Clown, he was known as "SAXO", who played a miniature Soprano Saxophone. He did a lot of "clowning around" at local hospitals, nursing homes, parties and circuses. Within the Shrine, he served as Past President of PNSCA (Pacific Northwest Shrine Clown Association), Past President of Columbia Basin Shrine Club Clowns, and as Assistant to the President of ISCA (International Shrine Clown Association). His wife Rita was by his side every step of the way within the Shrine and he was very proud of that.
One of Rich's greatest professional accomplishments was winning International Shrine Clown of the Year as "SAXO." The honor is given to one individual on an international level and in 1996 "SAXO" was honored to receive the distinction of Clown of the Year. This led "SAXO" to be inducted into the Clown Hall of Fame.
With so many hats, Rich would answer to just about any name: Rich, Richard, Mr. Lang, Ricardo; Red; Babycakes; Gpa; Gpe; Grandpa; GG-pa; Dad; FIL; Saxo; boss; and a few other choice names when he pushed your buttons, but they were all one in the same man.
At the age of 12, Rich started his own band, "Richard Lang and His Starlighters," which played Sweet and Modern Music for many events. Later in his life, he continued his passion for music by playing in a dance band at several clubs in the Tri-Cities.
A fun fact about Rich is that he was so musically inclined that he played seven instruments. As a young man he was invited to go on the Lawrence Welk Show, but declined because he was told he would have to dance with the girls, remembering that his mom always said "girls were bad!" Rich's band even had the opportunity to play for the original Aunt Jemima when she came to Spokane.
It's really hard to narrow him down as a person to just a few short words, which fits his personality to a tee, because he had a story for everything! He had such an animated personality and used body language while telling his many stories because after all, he was an entertainer.
Sometimes you loved him, sometimes you'd want to walk out of the room, but anyone who ever came into contact with Richard Lang was affected by him in one way or another. He was stubborn, onry and opinionated, but at the same time could be a very caring person.
Rich absolutely loved fireworks! In fact, his 4th of July display was an event in and of itself for many, many years. Cars and racing were both a knowledge of his and a way he brought the family together. Rich loved fishing and won many awards in tournaments. When his health started to decline, he turned that passion into making and selling fishing lures and flies.
Some of his hobbies also included carving insect bugs and butterflies; watching Sci-Fi episodes that featured Aliens (especially the movie PAUL) and Bigfoot; as well as building model airplanes and flying them. Rich was also a fantastic artist who enjoyed drawing and painting. He was even involved with local wildlife. In addition to hand feeding the squirrels, he created homes for them, gave them names and made festive holiday displays for them.
Rich spoke very highly of his family and tried to include them in his various hobbies. While Rich loved many things, his biggest love was for his wife of 32 years, Rita, who he described as "tougher than an apes ass!" He would often tell everyone that she was the "best cook." They worked together, they played together and they experienced life together. Loved by many and we are all grateful to have known this man full of life.
Rich knew so many people and in order to keep everyone as safe as possible, services will be limited to immediate family only. There will be no reception after the service.
In lieu of flowers, a donation could be made to Shriners Hospitals for Children in Spokane. You can reach Shriners by selecting "Dedicate my donation in honor or in memory of someone" & selecting SHC- Spokane on the site below:
https://donate.lovetotherescue.org/give/273578/#!/donation/checkout?c_src=memorial-gifts&c_s rc2=bottom-give-today-button
Shriners Hospitals for Children- Spokane P.O. Box 2472, Spokane, WA 99210-2472 (509) 455-7844
The Hatten Family, long time neighbors of the Langs, send heartfelt condolences to all. Red will be missed!
Gonna miss you big time Uncle Rich. Entertain those kids up there Saxo ❤️
You will be Dearly missed my friend.
Love You Rita
M&S
He will never be forgotten, that is for certain! I will never forget during our visits growing up, he would make balloon animals for us kids. He was always a riot to be around, he had so many amazing stories to tell.
So many memories I always enjoyed the emails of his pet squirrel and all the memories at the Shrine Club .
My bro-n-law Rich was a wonderful man. A one of a kind. My autistic great-grandson called him grandpa and would cry when he couldn't go see him. He was so great with the little ones.
We will miss you very much our dear friend. We love you very much. Keep flying high buddy.