FIND AN OBITUARY
Service information is posted on our website only with approval from the family.
If you are seeking information not listed below, please contact us.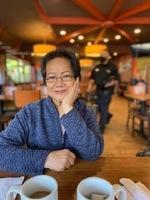 Teresita A Bishop
09/19/1955 — 09/25/2021
From Richland, WA | Born in Olongapo, Philippines
Watch Service
Watch Graveside Service
New to Livestream? Watch the tutorial.
Viewing
Starts:
Fri, October 8, 2021, 12:00 pm
Ends:
Fri, October 8, 2021, 4:00 pm
Viewing
Starts:
Sat, October 9, 2021, 9:00 am
Ends:
Sat, October 9, 2021, 11:00 am
Celebration of Life
Starts:
Sat, October 9, 2021, 11:00 am
Inurnment
Starts:
Sun, October 10, 2021, 9:00 am
Location:
Sunset Gardens
915 Bypass Highway Richland, WA 99352
Teresita A Bishop
Teresita "Nyda" Apalit Bishop
September 19, 1955 – September 25, 2021
Richland, Washington –
Teresita always went by her nickname, Nyda. Nyda was born on September 19th, 1955, in Olongapo, Philippines. She joined her heavenly father on September 25th, 2021, in Richland, Washington shortly after celebrating her 66th birthday. Nyda was raised in the church and kept a strong faith throughout her life. She would sing on radio stations as a young girl in the Philippines, and always sang karaoke. She was a young spiritual woman filled with morals and values that always stayed home to help with chores and help care for her parents and many brothers and sisters.
In March of 1979, while handwashing laundry in Olongapo, she met the love of her life, Randy, who was stationed in the Philippines with the U.S. Navy. After many chaperoned dates and convincing, they were married on July 7th, 1979, and have been happily married for 42 years. They lived in the Philippines, Illinois, California, and moved to Richland in 2003 when Randy retired from the Navy after 26 years of service.
They had three children together, Curtis, Maria (Fernando), and Rubykay and enjoyed helping raise their two grandsons, Randall, and Matthew. Nyda provided a warm, loving, supportive, and caring home for her children, grandchildren, brothers, sisters, nieces, and nephews for over 42 years. Nyda and Randy extended that love and support over many different countries and all over the United States.
Nyda was proud of many things, including her U.S. Citizenship status she gained after studying so hard in 2001, just days after the September 11th attacks. She was proud to be a Filipino American. She was amazing at crocheting, sewing, singing, and cooking. She was eager to cook a feast, decorate, and throw parties during every holiday season and for birthdays. She loved sharing stories of her life in the Philippines and shared her faith and her beliefs with her children, grandchildren, nieces, and nephews. She loved gallivanting around town, going bowling, watching scary movies, but mostly spending quality time with her husband, children, grandchildren, and her dogs, Tala, Duke, and Molly. She was proud of her family's closeness and togetherness. She was the glue that kept our family together.
In 2018, she survived a heart attack and started dialysis treatment for End Stage Renal Disease. She fought with every fiber of her being and maintained a loving positive outlook through three years of health complications. Though her body began to deteriorate, her spirit, strength, and faith never wavered.
The Bishop family would love to thank Dr. Barbara Atwood, Kidney Specialist Dr. Elhami Hannan, Cardiologist Dr. Fadi Alqaisi, Hematology Specialist Karen Dubois, and her Physical Therapist Karen from Tri-Cities Home Health. We are grateful for the entire faculty and staff at DaVita Chinook Kidney Center who always made her feel safe, happy, and treated her as family.
Nyda is survived by her husband Randy, children Curtis, Maria (Fernando), and Rubykay. Her grandchildren Randall and Matthew. Sisters Lydia (Art), Nora (John), Violeta, Bella, Luz (Kerry), Petchie (Roy), and Nancy (Allan). Brothers Ernesto, Noel (Thelma), Rolly (Mary), and Efren (Shirley). Nieces Leah, Celest (Edwin), Lavella, Monica, Natalie, Jennifer (Randy), Amy (Terry), Raquel, Janie, Sarah, Grace (Louie), Renelyn (Benji), Rezylyn, Rhose (Jireh), and Rowena. Nephews Gary, Patrick, Reymar (Razel), Eric (Amy), Ray Arnie, Jaypee, Rowell (May Ann), Mark (Jessica), Richard, Robert, Ronald (Lisel), Ronnie (Cristina), Ray, and many great nieces and great nephews.
Preceded in death by her mother Trinidad, father Segundino, mother-in-law Ruby, father-in-law Curtis, sister Rosa (Jimmy), brother Rey, brother Antonio, brother-in-law Art, brother-in-law David, brother-in-law-Virgil, brother-in-law Jerry, and great niece Paige.
We will always love and miss our queen
I will always charish the time we had together and it went to fast and you left to soon. Until we are together again you will always be in my heart and my thoughts.
Love and miss you Nyda!
❤🌹❤🌹❤🌹❤🌹❤🌹
Bishop Family, We are so sorry to read about you loss. Rick and I will keep all of you in our thoughts and prayers.
God Bless
What we once enjoyed and deeply loved we can never lose,
For all that we love deeply becomes part of us.
Author Hellen Keller
I will always miss your cheerfulness and beautiful friendship that never waned through time and separation.
Mami Nida,
Thank you for the life you shared with us. All the happiness and joy we had with you and you're whole heart to help people in need. You are truly an angel in the family… I will miss you so much mami Nida. Heaven gained a wonderful person and it's you.. May you rest in peace with the hands of our savior, Jesus Christ. I love you mami Nida!
Dear auntie,
We love you.
No words can express how much we love you.
All the help that you gave us here in the Philippines.
Thank you so much auntie.
Together with my brother and sister's Reymar (razel) Rezylyn, Renelyn (Bench).
No more pain..
Kasama muna si papa lolo,lola at iba mu pang kapatid dyan sa langit.
Iyakap mu kamr kay Papa auntie mahal na mahal ka namin di ka namin malilimutan.
Till we meet again.
Muahhhh!!!
We will miss you antie thank you for all the help and love that you gave me you will always be in my heart iloveyou ,❤️❤️❤️❤️
Teresita, I will miss your smile and your kind words and patient manner. You were always a beautiful soul. I always enjoyed seeing you & Randy come into the store. With Sympathy and Hugs. Susan Gazewood, pharmacist
Dearest Tita Nyda, it's a pleasure knowing someone like you though we never had a chance to meet. I thank you for having the time asking me if I am okay here in a Manila. Your one of the coolest, loving and caring mother I know. I admire you. I know you are with Our God. Thank you for everything.
It still doesn't feel real that your gone mom,I love you and miss you so much.
I miss you so much ate Nida ,, you're not just a sister you're a best friend too,,, now you're in the hand of almighty God in heaven Rest In Peace my dearest sister,, I love you forever and ever ❤️
Nyda, Allan and I are so proud to call you sister-in-law. I can't thank you enough for loving my brother Randy so well and giving him children who are such a blessing to us. Rest well with our Heavenly Father knowing they will take care of each other. You will forever be in our fondest memories. You you sister Nancy and Allan. Cyrus sends his love too!
It's so hard living without you, mom. I miss you so much.
we love you so much auntie , thank you so much for everything.❤️🥲😘🙏💐