FIND AN OBITUARY
Service information is posted on our website only with approval from the family.
If you are seeking information not listed below, please contact us.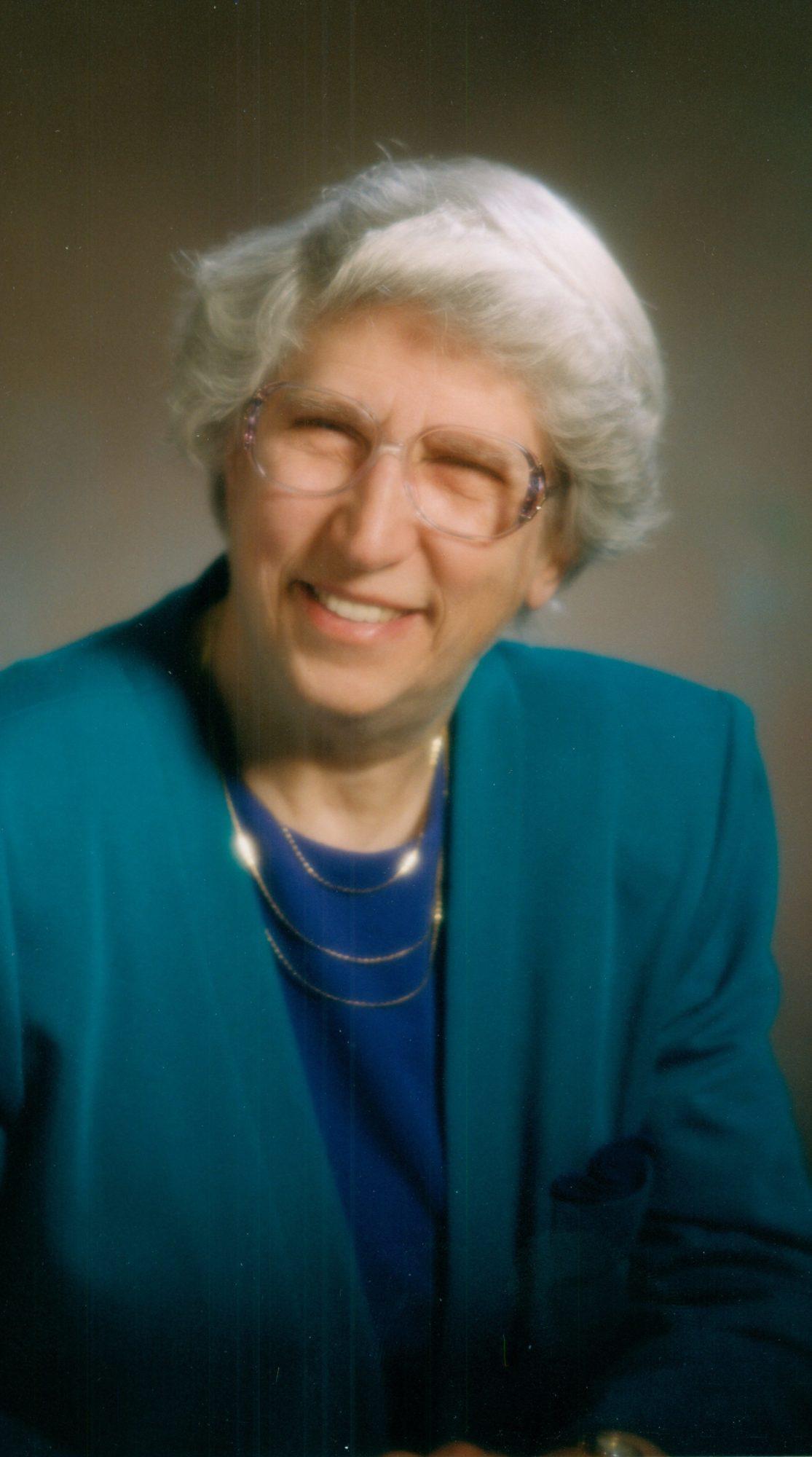 Elayne Brower
06/09/1928 — 11/14/2021
From Richland, Washington | Born in Arlington, New Jersey
Watch Service
New to Livestream? Watch the tutorial.
Celebration of Life
Starts:
Tue, November 23, 2021, 10:00 am
Ends:
Tue, November 23, 2021, 12:00 pm
Location:
Einan's At Sunset Funeral Home
915 Bypass Highway Bldg. H Richland, WA 99352
Elayne Brower
PURDUE UNIVERSITY SCHOOL OF AERONAUTICAL ENGINEERING
Class of June, 1949
Elayne Brower was among the very first women in the history of Purdue to graduate from the School of Aeronautical Engineering. Her graduation in June of 1949 was a singular accomplishment at a time in America's business world where women did not hold a significant place, particularly in the field of engineering. After graduation, her search for employment faced indifference and hostility from corporate officers, as well as a national economy in post-war retrenchment and recession. Her later career would be clear testimony to the ability of women to compete in a male-dominated field and serve as inspiration to growing numbers of younger women to study for and enter many fields of engineering.
Elayne's effort to begin her engineering career in summer 1949 became a months'-long task. While private corporations had no interest in hiring women engineers, fortunately, the US government offered her a position late that year in its US Naval Air Development Center at Johnsville, Pennsylvania. She hired on to do aerodynamic design and flight path evaluations, and design modifications to operational Navy aircraft. In the early 1950s Elayne was employed for five years at the Navy's David Taylor Model Basin, planning the design, construction and analysis of the performance of models for naval aircraft and missiles.
With her career launched and her interest in engineering deepened, Elayne returned to graduate school at the University of Michigan's Engineering Research Institute at Ann Arbor. While studying there she worked on nuclear power plant feasibility studies, and design and safety analysis for the Detroit Edison Fermi Power Station and a proposed evaluation for the federal government of a nuclear powered merchant ship. In June, 1958, she was awarded her master's degree from the UM Nuclear Engineering Graduate School and in June, 1959, returned to the business world. Beginning in Boston, Massachusetts, with AVCO as a Senior Engineer, she oversaw planning, testing and analysis of problems associated with hypervelocity space re-entry vehicles, as well as the design of both a cryogenic low density wind tunnel and a high pressure wind tunnel. All work was classified government work relating to the development of the space program. In Cambridge, Massachusetts, she did further work on space fight development for Mithras, Inc., developing a cryogenic test system for solid state physics research and missile testing. This work led to an offer from Chrysler Corp. Space Division, New Orleans, in June, 1963, where she did analysis and design of programs and technical issues relating to the S-IB space vehicle that was the predecessor to the Apollo Saturn V vehicle.
Later, in 1965, Boeing Aircraft in Huntsville, Alabama, hired her in its Saturn V Propulsion section, helping to analyze flow and chemical composition of the S-IC exhaust to determine the "radio flame effects." This work helped the astronauts to maintain radio signal to ground control during the first two-and-one-half minutes of the liftoff of the Apollo spacecraft. She then became the supervisor of the S-IVB stage propulsion group and developed the Apollo Flight Manual for emergency crew recovery. In 1969 she transferred to Boeing's Seattle facility working on new designs for commercial aircraft. In April, 1973, Elayne began work with Vitro Engineering at the Hanford Site in Richland, Washington, as Project manager for the design of liquid metal facilities at its Fast Flux Facility. After two years with Bechtal Corporation in San Francisco as Operational Internal Audit Lead and Supervisor, traveling extensively in the US and internationally, she returned to Washington State. The Washington State Power Supply System at Hanford called her to become Technical Assistant to the Assistant Director – Projects. From 1976 through 1981 she held various positions as Manager of Materials Management, Administration and Operations Performance.
Moving to California in 1983 to be near her aging mother and her sister's family, she began consulting in the area of design, construction and rate case litigation for nuclear power plants and the Aleyeska pipeline. She retired in July, 1993, and returned to Richland, Washington, to live.
She is a Fellow Life Member of the Society of Women Engineers joining that organization in 1954. She has served the organization in various capacities throughout her career and during retirement. In her youth and at Purdue she was an active sportswoman, playing field hockey, softball and basketball. With her training in, and her life-long love of aviation, she is a licensed pilot, having flown solo in her own plane across the United States from Huntsville, Alabama, to Seattle, Washington, when moving to Boeing's Seattle facility. Since 1966 she has been an active member of Ninety-Nines, a women's flying organization, and served in various positions in its operational organization. She also has been an active member of the Girls Scouts of America from childhood into her retirement.
While at Purdue, Elayne was a member of the Women's Athletic Association Council, the Women's Residence Hall governing board, the Institute of Aeronautical Science, and the Purdue Engineering Magazine on the business staff. She and a group of women, under their mentor, Dr. Gilbreth, organized and established Pi Omicron Women Engineers Club, which later became the Society of Women Engineers Student Section at Purdue.
Elayne was born at her parents' home in Arlington, New Jersey, attended Roosevelt School in River Edge and graduated from Hackensack High School in June 1945. She was accomplished in mathematics and science in school and, having been told by her high school counselor that girls could not go into engineering to earn a living or be pilots, she headed off with the enthusiastic support of her parents to attend the Purdue School of Engineering and a life of fulfilled dreams.
"The family requests that any donations being considered in Elayne's memory could be made to the Macular Degeneration Society, The Braille Institute or a favorite animal rescue shelter.  Elayne loved animals and particularly dogs."
Thanks, Richard
Elayne was a very good friend and neighbor to my mother, Fay Gregory, who cannot attend her services due to a scheduled surgery. Please accept condolences from her and the Schumacher Family.
Sandy opened the door for all young ladies to pursue engineering fields. I met her through her work with the Richland, WA chapter of the Society of Women Engineers.
She was always helpful and encouraging. She broke stereotypic notions and I appreciated her.
RIP
I have known Elayne since she moved back to Richland. She often flew right seat with me as we went on many trips with the local chapter of the 99s. She was a big help during the flying events we had. She lived near me and I used to walk over to see her and her well loved dogs, Buddy and Sally. Good memories.
Enjoyed working with Elayne on her projects in Richland. It was a pleasure seeing her and her dogs around town during her retirement. Rest in peace.
Sandy was a wonderful storyteller captivating me as a young engineer with scenes from NASA and of flying. She was a wonderful mentor and I am grateful to have known her.
Elayne was a remarkable women with amazing accomplishments. She was and still is a fantastic role model for all women at any age.
I am so sorry for your loss. Sandy was a dear lady and so devoted to the Society of Women Engineers and Girl Scouts. It was an honor to know her.