FIND AN OBITUARY
Service information is posted on our website only with approval from the family.
If you are seeking information not listed below, please contact us.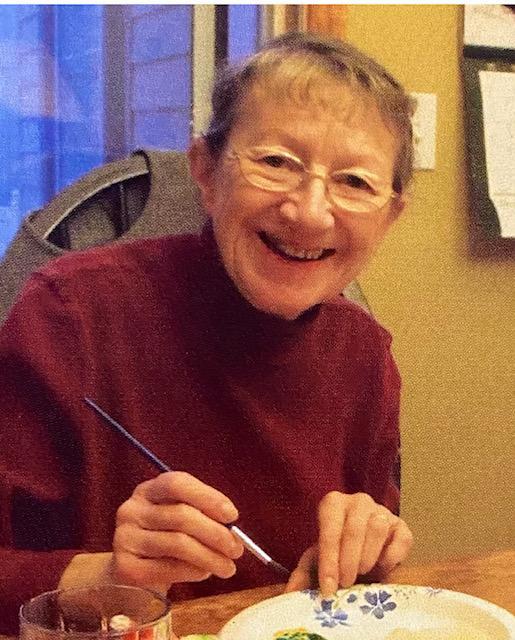 Michele Woodward
05/25/1943 — 11/29/2021
From Pasco WA
New to Livestream? Watch the tutorial.
Michele Woodward
Michele was born in West Vancouver, BC to Wilford & Beverly Murphy and moved to South Seattle when she was 6 years old.  She graduated from Cleveland High School.
She and her younger brother, Drew, spent many hours playing together and getting into mischievous situations.  She loved art and enjoyed singing during her school years.  She met her husband, Stephen Woodward, while working in downtown Seattle.  They fell in love quickly, married on March 29th, 1961 and moved to Cheney so Steve could finish college at EWU.  They moved to Tacoma and started a family.  She and Steve moved to Ashford, Wa with their three kids to help Steve's parents, Everett & Polly Woodward manage The Lodge at Mt. Rainer – a 16+ acre retreat for visitors to the mountain.
Michele was an energetic, hard-working, loving mother and wife.  She shared her love of learning with her three children – Stephanie, Evan & Alan, as they all grew up on the mountain.  Michele was fearless and intelligent.  While at The Lodge, she learned many skills – like how to scare off bears, bobcats and how to fly a helicopter. She often said that flying was so peaceful – it was like she was literally flying. Once all the kids graduated from Eatonville High School, she and Steve moved to Ellensburg so she could attend CWU.  She earned both her undergraduate and master's degrees from CWU.  Her love for learning continued as they moved to Memphis, TN where she obtained her PhD from the University of Memphis.  They returned to Washington and settled in Richland in hopes of starting their own school.  The passing of Steve caused Michele to pivot and become a reading specialist for the Ki-Be School District and the Yakima ESD, as well as teach college students at WSU Tri Cities as well as continuing education workshops for teachers.  In her retired years, she volunteered in her grandchildren's classrooms at Sacajawea Elementary School in Richland.  As she battled the onset of dementia, she moved into the Tri City Retirement Inn in Pasco, Wa where she spent her days teaching drawing classes to other residents and going for walks.
Michele loved to draw – mostly nature settings as well as read.  Her love of art came from her teachers in school.  She loved a good mystery "as long as it wasn't too racy or terrible."  And she was at home in any library.  Michele loved to go on walks and enjoy the quiet of her thoughts and the beauty of the outdoors.  She would often share her excitement when she saw a new/rare bird.  She loved baking and painting cookies, telling funny stories, playing with her kids.
Everyone she met was always impressed with her positive energy and enthusiasm for learning and doing fun things.  She frequently said, "I'd rather be funny and not crabby".  She loved being around children – helping them learn to read and write and explore things.  She often preferred the "kids table" over the adult table during meals or other group settings. 
She is survived by her three children – Stephanie Petruzziello (Stephen), Evan Woodward (Dyan), and Alan Woodward (Heather) and her brother Drew Murphy (Marsha), grandkids- Amelia, Caleb, Grant, Hannah, Natalie, Noah, Connor, Kelly & Aiden.
There will be a memorial service on Saturday, December 4th at 10am at Meadow Springs Presbyterian Church in Richland.