FIND AN OBITUARY
Service information is posted on our website only with approval from the family.
If you are seeking information not listed below, please contact us.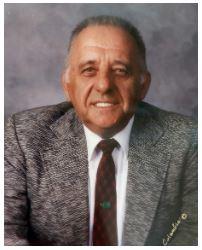 George I. Polyak
09/12/1931 — 12/22/2021
From Richland Wa | Born in Budapest, Hungary
Watch Service
Watch Graveside Service
New to Livestream? Watch the tutorial.
George I. Polyak
George I Polyak, a long time resident of Richland WA, died December 22, 2021. He was born in Budapest, Hungary on 9/12/1931 as the only child of Polyak Gyorgy and Maria Jankovitz. He learned how to fly while in the Hungarian Air Force but was discharged and not allowed to fly again after he disagreed with the Communist teachings and refused to join the Communist Party. As a young boxer and assigned worker at the cement factory, George and six others, also disenchanted with life under the Communist controlled Hungarian Government, made a plan to escape from behind the Iron Curtain. Together they escaped by hijacking and flying a Hungarian MALEV Airliner to freedom with George taking over the pilot controls and safely landing the plane in Ingolstadt West Germany. The newsreel of the event from July 1956 can be found here Freedom Flight – Hungarians Seize Plane to Germany (1956) – YouTube. To save them from harm by the communist party, George did not let his wife and child know about the plans to escape. Eventually, George was reunited with his wife in West Germany and settled in Cleveland OH until their daughter Agnes was able to join them. From Cleveland, OH the family moved to California where George joined the US Air Force's Auxiliary Civil Air Patrol in 1972. He also volunteered with the Boy Scouts during several outings with his sons Attila and George.
George and family moved to Richland, WA in 1978 where he continued to serve and teach in the Civil Air Patrol. He flew many search and rescue missions retiring as a Lt Col in 1996. He worked as an Electrician at the Hanford Westinghouse facility. After retiring from Hanford, George continued to work for the Richland School district. As a parishioner of Christ the King Catholic Church, George was also a member of the Knights of Columbus Council 3307 and served as Grand Knight from 1998-1999. In October 2000, for his bravery and actions in July 1956, leading to the October 1956 Hungarian revolt, the current Hungarian government bestowed upon him the Order of Chivalry (Vitez). George was known for his great smile and loved to tell everyone to "Smile – It doesn't cost you anything".
George was preceded in death by his son, George John Polyak in 2011 and his first grandchild, Eric Ericson in 1992. He is survived by his loving wife of 69 years, Ilona Polyak, his daughter, Agnes Ericson, his son Attila Polyak, grandchildren, Kristin Ericson, Maria Zdzieblowski, Matthew Polyak, George Polyak and Alitta Polyak along with great-grandchildren, Victoria Harper and Evelyn Zdzieblowski, Funeral mass will be held at 11:30 on January 10, at Christ the King Church, 1111 Stevens Drive, Richland WA 99354. Inurnment service will follow at Sunset Gardens cemetery with a Celebration of Life at the Events Center. Any donations should be made to Christ the King Church.
Thank you!
Kedves Gyuri bácsi ⭐
Sosem feledünk. Nyugodj békében,mosolyogj mindig. Köszönünk mindent! Emlèked örökké él ❤️❤️❤️
George gave me my check ride in a CAP T-34. His smile was never ending behind a stick of an aircraft. His flying passion and instructor skills I'm sure will continue in heaven.
Papa, You have known me for 35 years. You were like a second Grandfather to me & as Such. Always treated me like a Grandson. I Will miss you!
Rest In Peace my friend. I'm sure you will be greeted with a "Well done my good and faithful servant. "
Rest In Peace! George we love you & miss you.Emleked Oroke Elni fog !
My condolences to you. His was a life well lived with many adventures and loving memories.
Nyugodjal Bekeben Gyuri
Drága Gyuri bácsi,
sose felejtjük el, a szívünkben él tovább.
Őszinte részvétünk Ilonka néninek és a családnak.
Szeretettel:
Marika, Jancsi, Joci, Janó és Rozina
Drága Gyuri bácsi❤️
Köszönök mindent, amit tanítottál és soha nem felejtem el, hogy :
"Keep smiling, it costs you nothing!"
Nagyon fogsz hiányozni! ❤️
Drága Apukám I love you alway and will keep smiling. Keep flying high above us and watch over us like alwsys. Be free, without pain and keep smiling.
You will be missed.
I was saddened to hear about George's passing. But I know through his faith he is healed and at peace.