FIND AN OBITUARY
Service information is posted on our website only with approval from the family.
If you are seeking information not listed below, please contact us.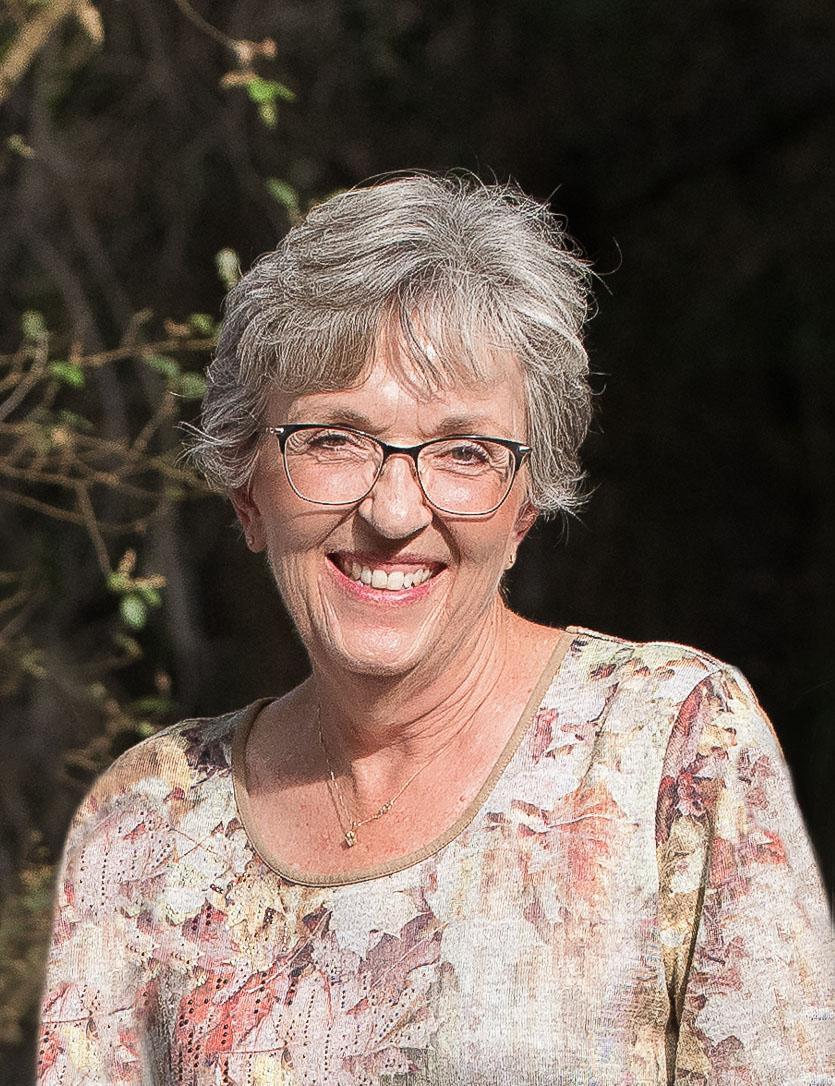 Renae Wells
10/08/1958 — 03/17/2022
From Richland, WA | Born in Wellington, TX
Viewing
Starts:
Wed, March 23, 2022, 3:00 pm
Ends:
Wed, March 23, 2022, 5:00 pm
Location:
Einan's At Sunset Funeral Home
915 Bypass Highway Bldg. H Richland, WA 99352
Celebration of Life
Starts:
Thu, March 24, 2022, 2:00 pm
Location:
Richland Baptist Church
1632 George Washington Way, Richland, WA 99354
Renae Wells
Renae Wells, 63, of Richland, Washington, a loving wife, mother, and Nana, graduated to her home in heaven on Thursday, March 17, 2022. Renae was born in Wellington, Texas and did most of her growing up in Shamrock, Texas, where she met her sweetheart and husband of 41 years, Scott Wells. She graduated from Shamrock High School. She attended Texas Tech University and graduated with a bachelor's degree in Education. She and Scott were married in Shamrock on January 2, 1981. They lived and served in churches in Levelland, Abernathy, and San Antonio, Texas until 1990 when they moved to Richland, Washington to serve at Richland Baptist Church. Renae taught in elementary schools before kids came, and then served as leader of children's worship and children's choirs for 26 years at Richland Baptist Church.
Renae loved being a mother and grandmother, and cherished the time shared with family. Renae was actively involved in the churches she and Scott served in by working in youth, music, and children's ministries. She touched many lives and pointed many people to the hope and faith she had in Jesus Christ her Lord.  She led the Children's choirs and Children's Worship, as well as led worship for ladies' retreats.  She was the ultimate hand-motion teacher!  She also enjoyed camping with family, working puzzles, water skiing, playing, coaching and watching basketball, and singing in choir.
She is survived by her husband Scott; three children: David (Amy) Wells of Yakima, Washington, Amy Wells of Richland, and Emily (Nate) McGown living overseas; six grandchildren: Olivia, Ezra, Everleigh, and Judah Wells, and Titus and Luke McGown; parents Scooter and Marilyn Bradley of Wichita Falls, Texas; sister Suzanne (Rensay) Davis of Wichita Falls, Texas; and brother Todd (Tiffany) Bradley of Lubbock, Texas; and many nieces and nephews, and great nieces and nephews.
Her memorial service will be at Richland Baptist Church on Thursday, March 24, 2022 at 2pm. Interment will be at Sunset Gardens Cemetery in Richland, Washington. Visitation will be Wednesday, March 23 from 3-5pm at Einan's Funeral Home.
In lieu of flowers, donations can be made to the International Mission Board (https://www.imb.org), the Yakima Union Gospel Mission (https://yugm.org) or Camp Touchet (http://www.columbiabasinbaptist.org/camp-touchet).
This breaks my heart! I have been searching for her for years! I was the very first student to show up for her very first year as a Kindergarten teacher in Abernathy! Mrs. Wells made such a wonderful first impression on me. I am so very sorry for her family's loss!!
Renae was a beautiful person inside and out. We were devastated to hear of her passing, but we ir comforts us to know that she is in heaven. Scott and the rest of her family are in our prayers.
Dear Scott, Amy, and Emily,
I am beyond words to try and express my deepest sympathy and surprise at how quickly this has happened. Renae has a fond place in my heart from the times I've been able to be blessed through her. I am truly sorry for your loss of this sweet and lovely lady. My prayers will continue to be with you all as you navigate these days ahead and for our Lord to surround you with His comfort and His perfect peace.
Renae was without a doubt the nicest person who ever lived in Shamrock, and that truth is reflected in each and every comment in this guest book. She will be missed terribly, but God is faithful and will comfort her family and friends as only the Holy Spirit can. His word will become more alive than ever to you during this time, and because His word is fresh and new every morning, it will give you exactly what you need, when you need it, either directly from scripture, through song or another faithful servant. Continued prayers for peace for Scott and their families.
Scott and kids, Suzanne, Tod, Scooter, and Marilyn,
Major hugs to all of you from Amarillo TX via Shamrock. Renae was the definition of a beautiful soul from the start. I have never seen so many wonderful sentiments on anybody else's tribute wall.
She was that much of a shining light. You can even see it in the picture you chose to share with us. I hope you find peace and comfort knowing she lived such a loving, impactful life. We are all blessed to have known her. Bravo Renae! Love you! Blessings on you all until we all meet again.
P.S. That girl could play her some basketball! Her jump shot was smooth as silk. Such a sweetheart!
I'm sorry I didn't make it to Renaes's funeral but I wanted you to know how much she will be missed. Scott, you and your family know God has put Renae in a beautiful garden surrounded by nothing but peace. Knowing that, my prayers for you will be that same beautiful peace that she is seeing for these long days ahead. In memory of Renae,
Scott, David, Amy and Emily,
I can hardly find the words to express my sorrow at Renae's passing. Renae had such an impact on our three boys, giving them such a good foundation in music and faith (and hand motions!) Her years of faithful service were so much appreciated. Renae was always so wonderful with the children, getting them to sing their hearts out. Her presence in the adult choir was always strong and calming. She will be missed so much. Scott, I've never forgotten the story you shared about Horatio Spafford, so I'll end with this: "When peace like a river attendeth my way. When sorrows like sea billows roll. Whatever my lot, thou hast taught me to say, it is well, it is well, with my soul!" With much love, Annette, Scott, Ian, Samuel and Adam
Scott many memories have flooded my mind of elementary school, youth choir , high school…wedding! . You two weee the best! Love to you and prayers and hugs for you from Texas!
"Her children arise and call her blessed; her husband also, and he praises her: "Many women do noble things, but you surpass them all."
It is our prayer that God will comfort Renae's entire family during this time. May your hearts be blessed by knowing how many lives Renae has touched. May the light of God's presence be a continual source of peace & strength.
We are so very sorry for your loss, Scott and family. Renae was a wonderful woman of faith and humility. We have lots of good memories of her at Shamrock. Everyone looked up to her. I know we did. Our prayers will be with you for peace and comfort that only He can give.
It was a great pleasure to know and worship with Renae at Richland Baptist Church especially during Children's Church. God used her greatly in getting the children involved in worshipping and knowing the meaning of the gospel both in song and stories. We rejoice in knowing that God has healed her complete in calling her home and pray God will bless all her family and loved-one's with peace and comfort.
You are missed here but are a blessing to God's kingdom 🙏 🙌
Dearest Wells Family,
Words cannot adequately express the sorrow in our hearts we feel for you dear people upon receiving the new of Renae's graduation. Along with a myriad of other folks, we have been blessed beyond measure by just knowing your Godly family. Your precious Renae served as an inspiration and role model to all who knew her as a Wife, as a Mother and Grandmother and especially showing people how to can live as a Woman of God. All of you are most assuredly in our thoughts and prayers during this time of loss. We know Renae has experienced the perfection God has prepared for His people. But we are well aware that her leaving creates a huge void in the lives of you, her family and in the lives of many others as well. Love and Prayers, Bea & Bill Griggs
W hat a wonderful blessing to have worked (I would say under, but she would say beside) her in Children's choir, Children's Worship and Preschool VBS choir. She had the most amazing way of keeping the children's attention and obedience. I loved that she would quiet them down by whispering, rather than yelling. (and she knew Scott was always nearby backing her up and watching out for her and the group.) She was so organized and always had everything prepared and set up for the kids- so it was always a joy working with her. She tried to help the children understand what the words of the songs meant and what worshipping our Lord looked, sounded and felt like. I loved her enthusiasm and joy and knowing how to do the songs fun action moves the reverse so the children could mirror her. I'm so looking forward to singing to our Lord together again in Heaven. May the God of all comfort continue to hold and care for all her loved ones.
Scott and family,
I am so sorry to hear of Renae's passing. Praying that the joyful moments you remember will bring comfort and that the Prince of Peace will be your Comforter.
I love you, Sis. Looking forward to seeing you again.
Renae blessed my life in many ways. What a blessing to be able to call her my friend! She once said that she loved the word, lavish. I remember her saying that the word itself just sounded like what it meant. She was introducing one of the many songs that our children's choir sang with her leading and how our Lord lavished us with His love. Renae lavished her love on so many of us, and I am so blessed to have been one of those she loved. I love you all and am so thankful that our Lord meant for us to worship and serve Him together.
Scott, I am heartbroken to hear about this. I have wonderful memories playing the organ and piano with Renae, and singing together in the choir. Renae was a wonderful person, and will be missed by many. My condolences to you and your family. I will be praying that God will wrap His arms around you and give you peace.
I sat here with a saddened heart hearing of Renae's passing. But then in my mind, I imagine all the cheering and joyful celebration going on in heaven right now and it brings me to a smile! Well done, good and faithful servant!!
Scott and your family, LeAnn and your family, Scooter and Marilyn, may God bless you and guide you all and give you peace in these days. i am so sorry for your loss of Renae. God received a special lady home. My love and prayers for each of you,
My heart breaks for Scott and all of Renae's family even as I rejoice with them knowing Renae is now in perfect health, living for eternity with her Lord and Savior. I am certain she heard the words, "well done good and faithful servant," as she entered into His presence. I love you and I will miss you, dear friend.
What a great life that this wonderful lady led. It was an honor to know her and her wonderful family. I will miss you, Renae. The legacy that you left behind will be remembered for many years to come. RIP
Such great memories of a wonderful person. I am blessed to have had Renae as a Sunday school teacher. Praying for comfort for you, Scott, and the rest of the family in the coming days.
Thank you Scott and Renee thank you so very much
We remember Renae as a warm and wonderfully gifted woman who served faithfully at RBC during the short time we were blessed to know her while living in Richland. As much as we know that your loss is Heaven's gain, we also know, without a doubt, she has left a huge hole in the many hearts of those who knew her as a beloved wife, mother, grandma, sister and friend. She will be greatly missed. We pray that God's unfathomable comfort will fill in those holes and give you His indescribable peace in the coming days.
We were so sorry to learn of Renae's passing. Renae was a beautiful person – so patient and kind. She had a wonderful sense of humor, and was a great neighbor. Much too young to leave this earthly life. Our hearts go out to her beautiful family.
Debbie and Tim Richman ("old" Tieton Street neighbors)
She was always kind, humble and good humored. I don't see that that ever changed. Scott, Suzanne, LeaAnn, Mark, Debbie, Todd, Marilyn and Scooter you have our love and prayers surrounding you and God's perfect peace ♡ She is Home! We will see her soon.
Scott, my prayers are with you and your family during this time of grief.
Our first kids! Scott and Renae, we knew you as kids. You taught us much. Your lives so faithful to Him! Scott you were blessed with the very best God had for you. She lives on.
We will see her soon
Our love
Sharon and Bobby
So sorry for your loss! Praying the Lord provides you with peace and comfort.
Scott,
We are so sorry to hear about Renae. You and your family are in our thoughts and prayers. May God comfort you in the days and
Renae influenced my early life in ways she may not even realized. I was just one of hundreds of kids that came through the doors; but for me, she was a kind & safe presence in a world of uncertainty. My favorite time of week was Wednesday nights, when after GA's we would rush downstairs so Renae could teach us a new song. I am convinced that she was a key influence that God used to instill in me a deep passion for worship, that I still carry to this day.
I will be forever thankful for her (& Scott & family), and thankful for the opportunity I was given to be able to thank her a few years ago. I am so sorry to know that her family will be without her until heaven, and so grateful for the hope we have in Christ – that she is with Him, and we will see her again.
We are so very sorry for your loss.
May God hold you close and bring you comfort.
We are so sorry to hear of the passing of Renae our thoughts and prayers are with you and Family. Tom and Shirley
My heart is broken to hear the news of Renae's passing. Prayers for Scott and the entire family. She was a blessing to many!
My deepest sympathies to you all. Renae was so special. Love you, Scott and your family. Aunt Jo
Scott,
I am so sorry to hear of Renae's passing.
My prayers and heartfelt Condolences are with you and all of the family.
Renae shined so brightly for Jesus. I pray he will fill her family's hearts with precious memories and inspiration to keep that light shining.
Oh Scott, I am so sorry! You and the kids are in our prayers
So sorry for your loss. Prayers for all the family.
Rest In Peace sweet lady
Scott, our thoughts and prayers for you and your family.
My thoughts and prayers are with the family. May God bring you comfort.