FIND AN OBITUARY
Service information is posted on our website only with approval from the family.
If you are seeking information not listed below, please contact us.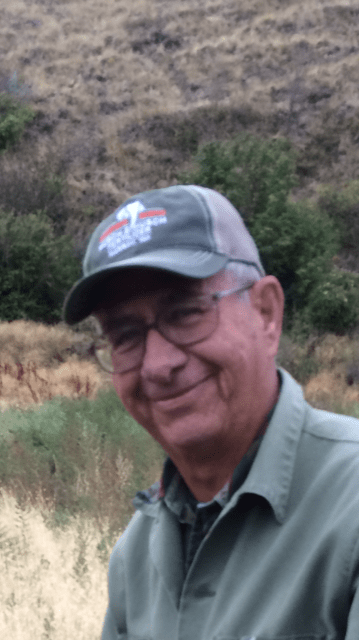 Keith Albert Sharp
10/11/1939 — 04/01/2022
From Richland, WA | Born in Hebron, NE
Graveside Service
Starts:
Thu, April 21, 2022, 2:00 pm
Location:
Sunset Gardens
915 Bypass Highway, Richland, WA 99352

Keith Albert Sharp
Keith Albert Sharp passed away on April 1, 2022 at the age of 82. He was born on October 11, 1939 to George and Lola Sharp. His entire life was devoted to hunting and fishing! His grave marker is one of a kind. If it swims, runs, or flies he was after it! He was Chief Power Operator at N-Reactor, and retired in December of 1994 at the age of 55. His duties as a union steward, where he represented many employees, was a great part of his life. He graduated from Columbia High School (Richland) in 1958. He served 3 years in the Army and his last deployment was in Germany. Keith loved children and never passed up a child on the sidewalk selling Kool-Aid! Additionally, he was a member of the Richland Rod and Gun Club, spent several years cleaning trout for the kids at the annual fishing event, and helped with habitat projects! His 3 days a week playing tennis at Howard Amon Park (Summer & Winter) were a real challenge! His greatest blessing was the marriage to his wife Carolyn of 59 years and the birth of his two children. He believed 100% in the Lord and is grateful to Chaplain Tim Ledbetter for his counseling when he needed a one on one talk!
He is survived by his wife Carolyn, daughter Christine and son Richard (Kennewick), brothers Roger (Waitsberg) and George (Richland) and sister Barbara (Oklahoma). He is preceded in death by his mother Lola and father George, and granddaughter Shayann Novak.
I will miss Keith's stories of his hunting and fishing trips, often with Richard but sometimes alone when fishing for Steelhead at Ringold or Rainbows at Columbia Park pond. You could tell how Keith felt about something by the look on his face, which was often a smile from ear to ear. May he Rest In Peace.
Dear Dad,
Peace…Free at Last…A Fishermans Funeral.
Keith Albert Sharp, 82 (Eighty-Two) Richland. April 1, 2022.
My dad would want to thank you for coming to his final resting place and to please remember to sign his guestbook.
Dad would like everyone to know he heard he has quite the following…fans…on his sons Facebook page. Dad grinning from ear to ear. I let dad know…he was a Super Star!!!…Super Star Dad!
Dad would like you to know…there is fantastic fishing under the bridge…behind WINCO in Richland.
He would also like everyone to know he appreciated the Veterans hospital…behind WINCO. Dad liked to say the word…WWWIIINNNCOOO on the phone. Dad had wit and a sense of humor every day of his life!
Dad gave the best HUGS!!!
Dad would venture out!!! We met up when I was in Richland. One day in particular, I saw him walking down the street on a sunny day. I stopped…got out of my car… and said dad why are you so sad? He had his head down with a slow and steady walk. Something had a hold on him…
We walked towards each other…I got ready…I took a deep breath…because I knew what was about to happen! My dad was a face grabber…
With tears weld up in his eyes he gave me a big, long hug…and then grabbed my face…He said, you know what this is??? THIS IS JESUS!!! I could always sense my dad still counting my toes and fingers even in my 50s. Ten dad!!! Whatever was bothering him he rebuked it and it fled. He believed in Jesus!!!
Dad was so proud of his family's LONG, LONG, Hanford Careers. Face grabs!!! Dad is shining his light down on all who he loved and left behind.
Dad…Thank you for giving me life and adventure!!! Not, just the treasure of being alive but how to be part of the adventures of living…Give grandma Lola and Shayann a BIG HUG for me!!! Dancing in the moonlight!!!
In a blink of an eye, we will all be back together. Love you…Love you dad…I am my fathers daughter!!!
Now and forever, till we are together again, till eternity-Heaven!!!…Jesus Calling. Give Thanks!!! The TRUTH, The WAY, and The LIFE!!!
I will always treasure my memories of Keith starting at Carmichael Jr. High School. Our countless hunting and fishing forays, back yard basketball games, cruising Uptown Richland in one of the many new cars Keith's dad let us use periodically. What fun we had! I spent so much time around the Sharp family I was almost adopted!
High School memories include playing on the "Bomber" tennis team and working on the 1958 school album the "Columbian" the year we graduated .
We lived together while working at our first real jobs in Seattle at Being Aircraft.
Thank you for all the wonderful memories Keith! You were the brother I never had!
Kieth was always ready with a fishing story or just happy with life. It was always interesting to stop by his house to see what he had been up to. It was amazing he played tennis in all kinds of weather for his exercise routine. It was amazing how many fish he could clean on kids day at the Gish derby. We will mis sec him
GOT TO KNOW KEITH BACK IN 1975 WHEN OUR FAMILY MOVED BACK TO RICHLAND ON THE SAME BLOCK AS THE SHARP FAMILY. LOT OF MEMORIES, KEITH WAS A GOOD DUDE AND WILL BE MISSED. THINKING OF YOU CHRISTINE AND RICHARD DURING THIS TIME. RIP KEITH
I'm so sorry for your loss , we will all miss Keith . What a great friend he was, I always called him Frank to get him to smile or laugh.
We worked together and hunted for along time .my heart hurts every time I think of him passing away, but I have a lot of great memories to keep forever .
Sad to hear about Keith's passing. My heartfelt condolences to the Sharp family. Keith and his wonderful family were our neighbors for a good part of my school years. Keith definitely was an avid hunter and fisherman and could hold his own on the tennis court. May GOD Bless and comfort his family….R.I.P. Keith Mike Godfrey…CHS '58
I am so sorry for your families loss. Keith you will be missed. Thank you for all the great deer hunting trips in the tucannon !
Keith and I grew up together on the same block and stayed great friends all through high school. We were tennis partners in high school and without a doubt, he was a champion player, hunter, fisherman and a wonderful friend. I will miss him and give thanks that he played such an important part in my early years!
Richard and Christine sorry for your loss of your father.. condolences and prayers for the family
I used to babysit Keith, his brothers, and sister many, many years ago when the family lived on Alder Street in Kennewick. Fond memories.
Memories with Dad
My father was strong and demanding, caring, reassuring, and most of all understanding. My father was someone who taught me and you, to guide us through in mostly everything we say or do. My father was always there for me. Through life's incredible challenges, through thick and thin whether we lose or win.
My father was there for me through good times or bad, irregardless if I was feeling happy, lonely, or sad. My father was there to discipline me. God gave him love, knowledge, courage, wisdom and respect. My father was always there for me and for you.
My father always knew what words to use, to say and most of all to choose. My father always had something to do. He always stopped everything he had to do just to be there for me and you.
My father taught me and you mostly everything that was right or wrong. To standup tall, straight, proud, and on our own two feet.
My father had a heart filled with love, loyalty and giving. He taught me the true meaning of forgiving. Dad made my life in this world worth living.
***
Dad, thank you for the little girl with dad trips to the Spudnut shop. Dad, thank you for teaching me to play tennis with the school team. Dad, thank you for letting me participate in the Tucannon trips "as a witness" to what really goes on at deer camp.
Dad, thank you for teaching me to play ping pong and to dodge your mighty serve. Dad, thank you for braving the snow ski trip to Bluewood-all geared up and handsome in your brown coveralls as I watched you walk up the mountain to ski down it. Thank you for your sense of humor.
Dad, thank you for all the home-made cold mud cures for bee stings. Thank you for protecting me and teaching me too just be me.
Dad, thank you for teaching me not to sweat the small stuff-cause it's all small. Dad, thank you for finally pulling up the boat anchor when the barge came down the Columbia River towards us.
Dad ventured out…He was willing to try new things besides his grand love for fishing and hunting. Dad went to a white horse show at the Toyota center. Even though a few minutes into the show, he said, good, very good and then he fell asleep.
Dad, owned an engraver, engraving every item of Richards and mine with our name and address when we were growing up. Dad, then discovered the permanent black marker, and in his writings, marked up my entire home, just to show me how things work.
Dad, after all is said and done, and no matter what I say, and or do. My dearest Dad, there is no father in this world quite like you. I will miss you beyond words, I love you!
He was a great guy that had a wonderful community spirit. He would share his knowledge of the outdoors with anyone who needed quidance. He passed on this trait to his son Richard. One of the good guys, he will be missed.
Was a great guy. Will be missed
RIP Keith.
I will miss you terribly brother.
Sorry I'm so far away but You were always in my heart
Barbara
Many memories of a kind soul. My condolences to Carol and family.