FIND AN OBITUARY
Service information is posted on our website only with approval from the family.
If you are seeking information not listed below, please contact us.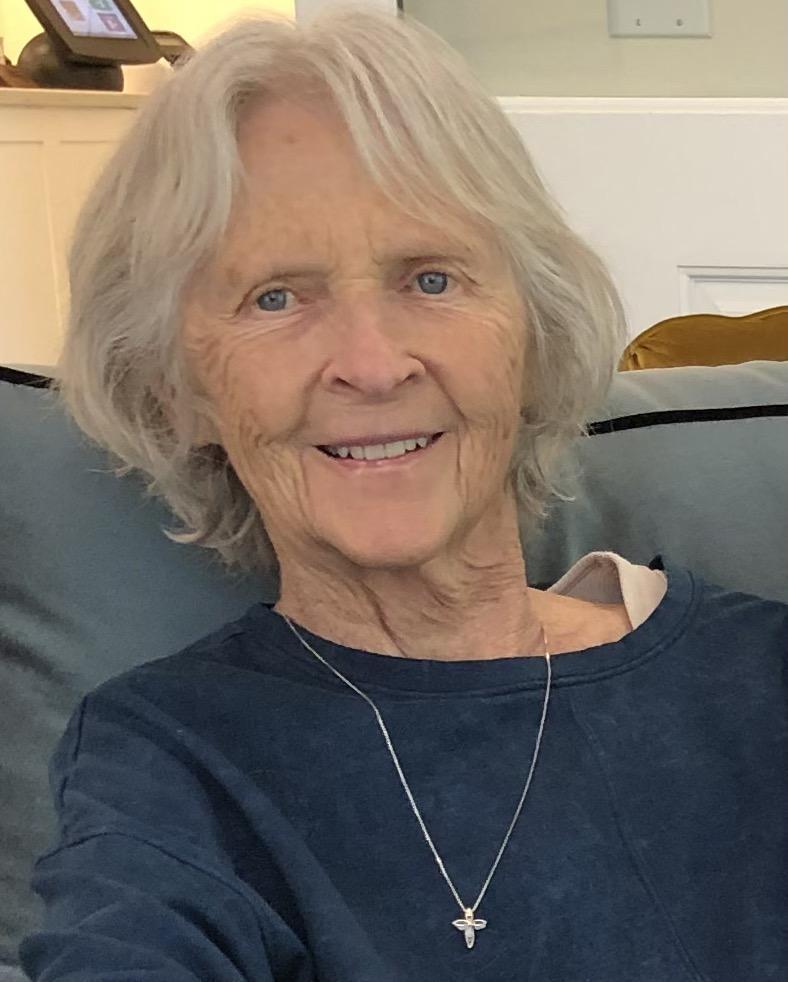 Wilma Lee Todish/Feuerborn
06/14/1938 — 05/21/2022
Rosary
Starts:
Wed, June 1, 2022, 6:00 pm
Location:
Einan's At Sunset Funeral Home
915 Bypass Highway Bldg. H Richland, WA 99352
Catholic Mass Service
Starts:
Thu, June 2, 2022, 1:30 pm
Wilma Lee Todish/Feuerborn
Wilma (83), of Richland, WA passed away peacefully on May 21st after 8 years of battling dementia. Wilma was born in Ottawa, Kansas on June 14, 1938 and was the second to the youngest of 11 children. 
Her family moved to Portland, Oregon in 1940, then moved to Benton City, Washington in 1953 where she attended Kiona – Benton High School and graduated in 1956. 
After high school when Wilma was working for General Electric, she told her mom and dad that she was going to marry a millionaire. Soon after, she met Pete Todish on a blind date who was serving in the Army at Camp Hanford. When Wilma and Pete first began dating, Pete would frequently borrow Wilma's car. One day when Wilma was waiting for Pete to pick her up for a date, her dad said, "Hey Wilma, here comes your millionaire boyfriend driving your car". Wilma was already smitten with Pete and in 1958 she married her true love who had a millionaire personality. 
Wilma and Pete moved to Richland where they raised four children. Wilma was a stay-at-home mom until her youngest was 5. Then, she went back into the workforce working numerous jobs until she retired from Hanford in 1994 at age 56 as the Central Stores Manager. Wilma's favorite job she had was working at the pharmacy at the Pay Less drug store in Richland with Bill Knirck. What happens in the pharmacy stays in the pharmacy. 
As much as Wilma loved working, she was also a wonderful wife and mother who was devoted to her husband, kids and grandchildren. Wilma also cared for her first-born grandchild Peter for 17 years. 
Wilma was a longtime member of Christ the King Catholic Church. She also loved remodeling and decorating her house and even put a pool in the backyard for her family to enjoy. When Wilma wanted a pool, Pete said, "you can't fit a pool in that backyard!" Great times were had at the Todish pool. Wilma leaves behind a legacy of love and kindness for her family and friends and will be greatly missed. Rest in peace Mom, say hi to Dad and Duane for us. 
Wilma is preceded in death by her son Duane and husband Pete Todish, brothers: Firmin, Ernie, Clyde, Glenn, and Sisters: Eula, Theresa, Mary Ann, Catherine and Lois. 
Wilma is survived by her sister Patti Millard; her son Tony Erika Todish, daughters Denise Vince Barbour and Colleen Lance Anderson; grandchildren Peter Todish, Erica Johnson, Mark Laura Todish, Anthony Kelly Tappin, Tyler Todish, Carly Anderson, Blake Anderson and three great-grandchildren Rihanna, Alexandra and Aidan Johnson. 
A Recitation of the Rosary will be held at Einan's at Sunset Funeral Home in Richland, WA, on Wednesday, June 1st at 6:00 p.m. A Mass of Christian Burial will be held on Thursday, June 2nd at 1:30 pm at Christ the King Catholic Church in Richland, WA. Interment immediately following at Sunset Memorial Gardens.
To the Todish family..so sorry for your loss. May your family be blessed during this time. What a wonderful lady…
"She is clothed with Strength and Dignity; she can laugh at the days to come.
She speaks with Wisdom and Faithful instruction is on her tongue.
She watches over the affairs of her household and does not eat bread of idleness.
Many women do Noble things, but you (Wilma) surpass them all."
~proverbs 31~
Welcome home Wilma!
Sweet Aunt Wilma, though living in California made my visits to your lovely home fewer than I would have liked, they were always looked forward to. You made me feel so welcome and at home. Still remember yours and Pete's wedding and how beautiful you were. My memories of all those family reunions are cherished. One of the funnier things that always amazed me at those family reunions was that all my Feuerborn aunts had the exact same laugh! My sisters and I called it the "Feuerborn Laugh".
To everyone Wilma leaves behind, I think we would all agree that we hit the jack pot with Wilma being our mother, grandmother, sister, aunt, friend.
My God be with you and your family during these times. Wilma was a fabulous lady no doubt. I'm praying for your family and sending lots of hugs and I love.
Hey chubbies, my heart goes out to all of you and your families. It's so hard to say goodbye, but I know your memories will bring you lots of love and laughter. Hugs and prayers
So sorry for your loss.
(We never met directly, Tony, but we both played Bomber Basketball during the same years. I share your grief. Seems your mom cultivated an extensive and supportive family. I hope you find comfort and peace in that. All my best.)
Kevin Ryan
'76
Wilma, I will miss our singing and enjoying life together on Colleen's patio. I'm so thankful to have gotten to have you in my life , even for such a short while. It's such a peaceful feeling knowing you are back with the love of your life and all the rest of your family. I know you will be with your family left here until you meet with them again.
I'll try and watch over Colleen for you, but you know she can be a handful.
Love you Colleen and Denise. my heart is with you.
Memories of a sweet and gentle lady: I spent more than a few nights at Grandma Feuerborns – after all, Mary Ann snd I were the same age. It was cool being in the same class with your aunt. We slept in the "girls" room upstairs, on the creakiest old iron bedstead. Making it a memorable occasion was Aunt Wilma and/or Patty, scaring the bejeebers out of us with tales of "Bloody Bones" and Give Me Back My Liver"!! Surely that explains my failures to this day (though we did love it). Wilma was also known for the surgical precision with which she removed any and all objectionable matter from a piece of fried chicken. My father, Dan Dieringer, often commented that he could not understand it, as he looked longingly at the crispy brown skin being so unceremoniously disposed of.
The best memory, however, is of my aunt's gracious welcoming to her home, her ready laugh, and gentle nature. The world is poorer for her absence, and we, all who knew her, are richer for her presence in our lives.
Huge hugs out to the family.
I have always admire Wilma. She had a zest of life about her and a contagious smile.
I'm gonna cherish all my memories/stories about her
RIP, Wilma.
SO SORRY TO HEAR THE PASSING OF YOUR MOM, SHE WAS A WONDERFUL LADY, OUR THOUGHTS AND PRAYERS ARE WITH ALL YOU. REST IN PEACE WILMA. GOD BLESS AND COMFORT ALL OF YOU. RON, EILEEN, GARY AND BRYCE GEIGER
Oh Wilma—those days at Payless pharmacy in the early 70's—my Bill, David Alme, Richard Shannon—it was fun and they all loved you!
More recently I was able to spend time with you at Guardian Angel in Richland, where my Mom lives. You were still so sweet and retained your sense of humor. All you wanted was to go to 2409 Swift!
I was at the cemetery recently and happened upon Pete and Wilma's headstone which says "You and me till the wheels fall off." That's Pete and Wilma for sure. 💕
Wilma, you led a busy life with family. When you lived next door to us , in Benton City, there was always something going on. Pete always had a gift for gabbing with the neighbors. The parties at your Bro. Clyde and Theresa"s were always fun. I remember that you always had a smile and a kind word. It was a pleasure to consider you a friend and neighbor. You and Pete did a wonderful job of raising great kids., and you will be missed so much. R.I.P friend, Fran
Wilma you will be forever in our memory and hearts. To the Todish family love you all, keep up the great sense of humor and be seeing you soon!
A wonderful person with a wonderful personality. Rip Wilma
Colleen,
The world lost such a wonderful woman. Your Mom was such a saint! Wilma as alway so kind and happy. I loved it when she would chuckle at and with us. I'll never forget how She loved music all the way to the end and could remember all the words and still play the piano. So sorry for your tremendous loss but I know she is so happy to be reunited with all that left before her. XOXOXO
Friend, Extend family, and all around good person. The world needs more Wilma's not less. Rest in peace.
love her very much! My second family to Paul and me. Pete, Wilma, Duane and Paul are all celebrating life with our lord and savior Jesus Christ now. Love you all with all my heart!
My heart goes out to all who dearly and deeply loved Wilma. It is such a painful and profound experience to know such sorrow.
I am so very sorry to hear of Wilma's passing but know that she had a full and rewarding life. I remember working at Pay Less with her, those were some good times. I know she will be missed by the family and all that knew her. RIP Wilma.
Grams Wilma, you were one of the kindest humans I have ever met. Godly, loving and just pure joy. Thank you for gracing us with your presence. You will be sorely missed.
Rest in peace and in power Grams Wilma.
I love you so much
Tif❤️💗
Tony, Denise, and Colleen,
You have my sincere condolences on the loss of your dear mother. I remember her beautiful smile, sense of humor, kindness, and always spotless home. Spending time at the Todish's is among my favorite memories growing up. RIP Wilma.
Tony – Denise – Colleen…
My Deepest Sympathy & Condolences on the passing of a remarkable woman & mother!
I always enjoyed running into Wilma; it was a pleasant surprise and usually a conversation that left me in stitches.
May she be reunited with all her heavenly friends & family forever. RIP 🙏 Wilma ❤️
I have always loved and admired Aunt Wilma and wanted to be like her when I grew up. I remember Wilma's wedding and how beautiful she was. I was only six but it has always stuck with me.
Always smiling and ready for a great visit when you stopped by to visit! Love you Aunt Wilma!