FIND AN OBITUARY
Service information is posted on our website only with approval from the family.
If you are seeking information not listed below, please contact us.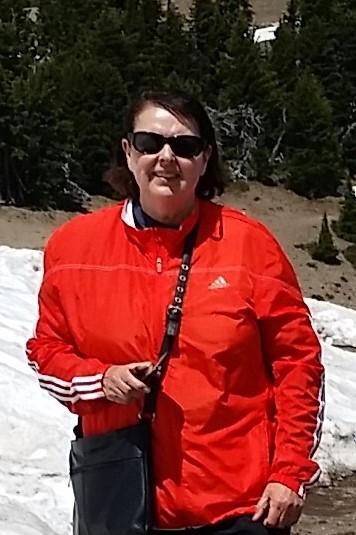 Mignonette B. Walmsley
09/01/1952 — 06/07/2022
From Richland, WA | Born in Walla Walla, WA
Watch Service
New to Livestream? Watch the tutorial.
Celebration of Life
Starts:
Sat, June 25, 2022, 10:00 am
Reception
Starts:
Sat, June 25, 2022, 11:00 am
Mignonette B. Walmsley
Mignonette Bernadette Walmsley (known as Mign or Minnie to her many friends and relatives) passed away on June 7, 2022 after a long battle with cancer.
Mign began her life's journey on September 1, 1952 (Labor Day) in Walla Walla, Washington. She was the tenth of ten children born to Gladys and Bernard Walmsley, and as the youngest (and cutest) in the family, easily could have been spoiled. But she wasn't; from the moment she was born, she was fiercely independent and insisted on doing everything for herself.
She grew up in Walla Walla, graduated from DeSales High School, and earned her bachelor's degree from Central Washington University. In 1978 she took a job with the City of Richland, and she later worked for several Hanford contractors and subcontractors. Despite her illness (and the pandemic) she continued to work until January 2022, when she retired from her position as an environmental specialist with the Washington State Department of Ecology.
Mign's life wasn't all work and no play, of course; she enjoyed many recreational activities including hiking, skiing, soccer, and fly-fishing. She learned to scuba dive and traveled to Australia to explore the Great Barrier Reef. One of her proudest achievements was earning her private pilot's license in 1997.
Mign met her partner, John Ludowise, in 1988. From then on, John and Mign shared their lives and love for each other, and they were inseparable until her death. They traveled often, most memorably to England, the Caribbean Islands, Hawaii, and the east coast of the United States and Canada. Closer to home, Mign and John enjoyed frequent trips to the Oregon coast; and in the Tri-Cities, bicycle rides and hikes on Badger Mountain.
Mign had a life-long love for animals, in particular her pet cats Sport and Buddy.
Mign was preceded in death by her parents Bernard and Gladys (Williams) and her brothers William, Jack, and Bernard. She is survived by her brothers Wendell (Maureen), Lee (Evelyn Joye), and James (Carly Moore); her sisters Therese Poole (James), Patti Semsen (Lee), and Evelyn Walmsley (Paul Rittenhouse); and her many and much-loved nieces and nephews.
How beautiful the leaves grow old. How full of light and color are their last days. – John Burroughs
In lieu of flowers, please consider making a donation in Mign's name to the Friends of Badger Mountain, http://friendsofbadger.org, or the Rails-to-Trails Conservancy, https://www.railstotrails.org/
I was looking through some old 35mm slides I had taken in 1975 – 1976 while I was attending the University of Washington in Seattle. One of the slides was a picture of Mignonette. We were classmates and close friends at the UW and the image brought back fond memories. Out of curiosity I put her name in Google and up popped her obituary. I was sadden that she had passed and regret that I did not keep in touch these many years. But in reading her obituary and the wonderful testimonies written in her guest book – I could see she led a full and happy life. I too can only add a testament to her zest for life, loving and giving heart, and beauty that she shared with all. Rest in peace friend – thank you for making me a better person by knowing you, if only for a short time. Gordon J
Every once in a while, a person comes into your life and changes everything. Mign was that person for us. There was a quality about her. A love of life that burned deep inside her. She was the catalyst that changed our lives 30 years ago when she introduced me to my future wife. If the value of a person's life is based on how it impacts others, then Mign was a rich woman.
Thank you, Mign for showing us what life could be all those years ago. We will miss you.
I'm going to miss your laughter, your sense of humor and your generosity towards others. You helped me when I needed it the most, even though you didn't think what you did was anything special, I did.
i am stunned and greatly saddened reading of minnies passing. in highschool i spent many hours at the walmsley home. their mother gladys was the nicest person who was always welcoming…i still remember her "gems". john, james, evie and the rest of the family i am so sorry for your loss
This is very hard; I am trying to focus on the celebration of a life well-lived.
Although I have known Mign has been fighting a difficult battle for a longer time than many fight that battle, the news of Mign's passing has shocked me, taken the wind from my sails, and has left me very sorrowful that I did not say to her a month ago when I last saw her what I now wished I had….that I loved her and was so sorry for what she was going through, that I hoped for more time to spend with her, that I appreciated her friendship far more than she probably knew and that I always admired her for her strength and her efforts to get the most out of life. I hope she knew. My life was truly blessed by having crossed paths with Mignonette B. Walmsley and I am honored to be able to share in a celebration of her well-lived life with those whom she loved and who loved her.
I have so many wonderful memories of shared experiences with my friend Mign (aka Mbw) that I will hold onto as long as I live: soccer games in Richland that often felt like life or death experiences because I think they were, soccer parties, the "Golden Croissant" pastries after soccer practice, trying to learn to wind surf on the Snake River (it was really windy there…), the train ride to go skiing in Whitefish MT, an incredible tour of Australia, NZ and Fiji, Mign's visit to Oak Ridge (where we learned we needed to use bacon when fishing) , a stay in a memorable Leavenworth, WA B&B, the Bob Dylan concert in the Gorge, Cannon Beach sand castle building, shared meals, movies, "get togethers", emails, lovely cards with those special "Mign annotations" that made me (and many others) smile and laugh out loud, fly fishing in the "Canyon", hikes on Badger, and shared life moments. Mign's influence on me was more significant than she ever knew. I hope I can further spread what she sowed because she had a zest for life, she did it her way and she made the world a much finer place.
I will miss Mign deeply. Mign was a song bird in this world. To quote a Vince Gill song: "What do you do when your heroes die? Man, you let 'em roll, you let 'em fly"…
With love, admiration and the deepest respect, fly my dear friend Mign, I hope to see you on the other side…
There is a special place for Mign in my heart and I can't believe she is no longer with us. She was one of the funniest people I've ever met. Mign danced to her own drum beat which made her such a cool person. When she played soccer she would just put her elbows out and take down anyone who was near her.
I always Admired her for getting her pilot Licenses, learning to scrub dive , and being her own person in life. Whatever she was doing.
One of the reasons my childhood was so good, is Mign was always around. What a wonderful person.
In high school, Mign was also known affectionately as Scooter. She definitely was a free-thinking gal, and much loved by all of us. She had incredible wit and kept me laughing at the most inappropriate times. I had so much fun with her and miss those days. Warmest love and wonderful memories.
Mign, I hope you are enjoying seeing your mom, dad,& brothers and playing with sport & buddy again. Your long friendship was always cherished along with the many ski trips, long walks and talks. You were the first friend 43 years ago I met here after I moved from Md. We worked in same group, played soccer together for many years and enjoyed many fun work & soccer parties. You were such a fun lady with a quirky sense of humor and I loved it-you made me laugh so much! And all your birthday cards with your funny added drawings gave me so many smiles. I will think of you when I ever get back to Maui while I'm snorkeling, as I know you loved it there, and also the Oregon coast as I am walking on the beach-it was a favorite of yours too. Always your friend, Patti