FIND AN OBITUARY
Service information is posted on our website only with approval from the family.
If you are seeking information not listed below, please contact us.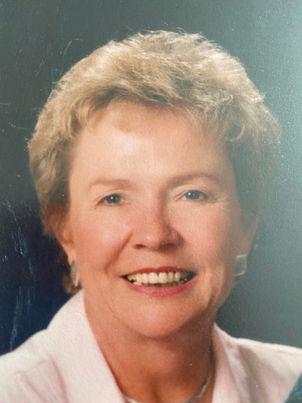 Margaret Catherine (Elmer) Shannon
07/29/1926 — 07/21/2022
From Richland, WA | Born in Omaha, NE
Margaret Catherine (Elmer) Shannon
Our beautiful, energetic, and loving mom, grandmother and great-grandmother, Margaret Catherine (Elmer) Shannon passed away peacefully in her sleep on Thursday, July 21, 2022.
Mom was born at her family home in Omaha, Nebraska on July 29th, 1926 to Guy Chelsea and Isabel (Hawkins) Cabbage. The youngest of five children, she grew up in Omaha and graduated from Benson High School. Growing up in the midst of the Great Depression, Mom ("Maggie Pete" to her siblings) would sell vegetables before school to makes ends meet.  The whole family worked a garden lot made available to them for growing produce.
In high school she excelled in doubles tennis and supported the Benson Bunnies as a member of the cheer squad. Mom and her closest sister, Mary Ellen, played tennis together regularly which honed her tennis game. She and her best friend, Peggy Bolin, won the title of Best Doubles Team in Omaha's city-wide high school competition.
At age 20, Mom married Leigh Elmer. They originally lived on the same street and Leigh's sister Laurel was one of Mom's playmates.  Leigh was friends with Mom's older brother Bruce. Chance brought them together when her brother asked Mom to "fill in" as a date for his buddy (Leigh). Romance bloomed and they were engaged after Dad enlisted in the air force during WWII and served in the Pacific. Upon his return, they married and relocated to Spokane in 1946 where Dad attended Gonzaga University.
Mom and Dad lived in Spokane for 24 years, raising four children – Jim, John, Laurel ("Lolly"), and Peggy – on the South Hill in Spokane. During that time, Mom juggled multiple demands to provide and be present for her children. She worked at night for Old National Bank recording bank transactions so she could be at home during the day. When her youngest entered school, she went to work for General Electric.  She served as a Bluebird and Campfire leader for her girls and a Cub Scout leader for her boys.  Leigh served as Scoutmaster for several years.  Mom was especially proud that both her boys were Eagle Scouts.
Mom used the skills she learned as a girl, joining with her friends to buy baskets of all sorts of produce from local farms. They would have "canning" sessions and the families would eat the tastiest peaches, pears, dill pickles, tomatoes, jams and jellies all winter long.
From her mother, a professional seamstress, Mom learned how to sew. She made most of her daughters' clothes, and on more than one occasion they reported home "My teacher said she can't believe you made this." Mom understood fabrics and fashion and dreamed of owning a fabric store. Her skill and knowledge helped her win a wardrobe prize for predicting future fashion trends in a contest in Spokane.
After the three oldest children graduated high school, Dad and Mom bought the Richland branch of Cosmopolitan Travel from Dad's business partner. They moved to Richland in 1970 and changed the name to Tri-City Cosmopolitan Travel.  Mom did the accounting while Dad ran the sales and trained the staff.  Their travel agency grew into one of the largest agencies in eastern Washington and provided travel services to many of the government contractors at Hanford. They were the first agency in eastern Washington to be awarded a federal government contract.
Mom maintained her interest in civic activities as a member of the Soroptimists Club, an organization focused on the education of women. She received a Paul Harris Fellow Award from the Richland Rotary Club for her financial support of their projects and mission.
As they made friends in the community, Mom found others who enjoyed playing bridge as much as she did.  She belonged to a group of women who would play bridge monthly, and she and Dad found some couples that they also played bridge with.  When they became "empty nesters" they took up golf and with her natural athleticism, Mom loved it.  They played in a couples group, and Mom played with a dear group of women from Meadow Springs in a women's group. Her teammates and competitors became some of her dearest friends.
Their business success afforded them opportunities to travel to places she never dreamed she would see (too many to name here). She was particularly moved by their trip to China just as China opened its borders to tourism. She was fascinated by the culture and she and Dad joined with a group to help their Chinese tour guide navigate the channels required to go to school in the U.S.
After forty years together Mom and Dad went their separate ways in 1987. Mom and her daughter, Peggy, maintained ownership and operation of Tri- City Cosmopolitan Travel until 1993, when they sold it to Mutual Travel. Mom was always proud of the women she employed and often spoke fondly about them after her retirement.  In 1989 she met Roger Shannon and discovered he enjoyed traveling and golf as much as she did.  They later married and continued to travel the world and organize golf trips for their friends.
All Mom's work and interests focused on the betterment of her family. She made sure all four of her children went to college and was a role model of lifelong learning.
Mom is survived by her four children, Jim Elmer of Spokane, John (Air) Elmer of Mercer Island, Laurel (Duane) Noble, and Peggy (James) Wade, as well as ten grandchildren and six great-grandchildren.
Mom was preceded in death by her husband, Roger Shannon, her father, Guy Chelsea Cabbage, her mother, Isabel (Hawkins) Cabbage, her sisters, Ruth Sides, Dorothy Jean Vaughn, and Mary Ellen Cabbage, her brother, Guy Bruce Cabbage, and her nephew, Guy Gene Cabbage.
A private family service is being held for Margaret.
Contributions honoring Margaret may be made to the Alzheimer's Association of Richland at https://act.alz.org/donate  or  to Chaplaincy Health Care at www.chaplaincyhealthcare.org
What a lovely person Margaret was. For many years she organized my trips to Russia with my students. Not an easy task back in the Soviet days! She was always calm and confident! Her children are a great reflection of who she was. Certainly your memories will carry you through her loss.
Margaret's smile, kindness, and intelligence are etched in my memory. She was one of the "Moms" for me when I was growing up and was later my boss at the travel agency. I remember Margaret as gracious and poised, and a bright light for so many people.
You are all in my thoughts.
Margaret was a dear close friend we share so many memories including trips with the Yo Yo sisters every year at Bev's cabin in Sisters Oregon. Margaret always had a smile on her face which was very catching. We have missed her so much these past years since her illness took over. I am so honored to have known Margee. Until me meet again,
Love you Margee
As you celebrate the life of your amazing Mom, please know I am mourning her passing with you.
God Bless.
In sincere sympathy,
Norma Corrado
From your fiends and family at Red-D-Arc, condolences.