FIND AN OBITUARY
Service information is posted on our website only with approval from the family.
If you are seeking information not listed below, please contact us.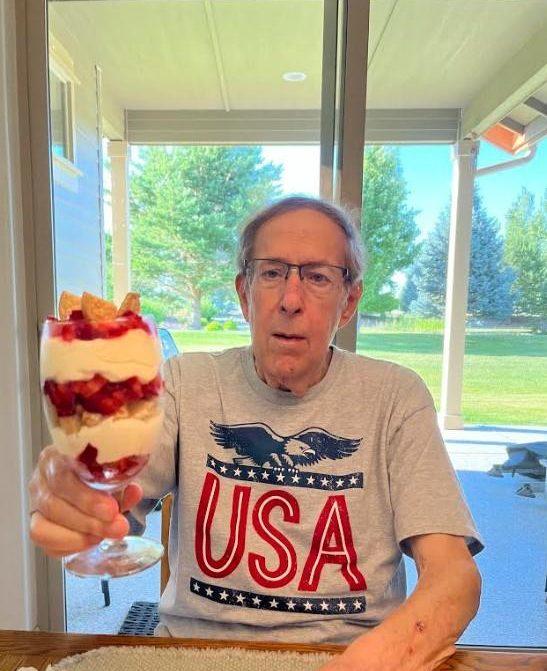 Stu Belgard
11/07/1943 — 07/27/2022
From Richland, WA
Watch Service
Watch Graveside Service
New to Livestream? Watch the tutorial.
Celebration of Life
Starts:
Sun, July 31, 2022, 11:00 am
Location:
Einan's At Sunset Funeral Home
915 Bypass Highway Bldg. H Richland, WA 99352
Interment at SMG
Starts:
Sun, July 31, 2022, 12:00 pm
Location:
Sunset Gardens
915 Bypass Highway, Richland, WA 99352

Stu Belgard
I'm so sorry to hear of Stu's passing. My best memory of him is hearing him walk by our house every night at 10 taking Puff for a walk
Dear Marci, Beth and Hunter
I am so sorry for your loss. I remember Stu fondly, his sense of humor ,his wisecracks and just enjoying life.
May his memory be blessed.
לא תדעו יותר מצרות
המקום ינחם אותכם
Denise (Daniella)
Surprised and saddened to read this. Stu was the patient man who worked wonderfully with students. He was also the one with the subtle humor that made us pay attention. He spoke highly of his family and looked forward to travel and time together.
Prayers to your family.
Tikva and I are saddened to learn of Stu's passing. I greatly valued my time with Stu and the laughter we shared. He was a very special man. May his memory be a blessing for his family and friends.
Marcie, Beth and Hunter and family, so sorry to see this news. Your dad was a great man, with a great sense of humor. I still remember how he would laugh.
Cherish all of your memories and good times together. You have my deepest sympathies.
Stu was the best person and will be missed but not forgotten. I knew him from his work at Richland High. He was always clam, funny, and had the most admirable talents for working with any student. What a super person he was. I am so happy to have great memories. Rest In Peace Stu, knowing you are greatly loved by all who met and worked with you.
Marcie and Family,
I am so very sorry for your loss. Stu was a true man among men. Kind, thoughtful, funny and wise. I loved seeing him at all the hockey games, but I especially loved playing poker at the Synagogue with him. We always ended every game night with his favorite "The Good, The Bad and The Ugly" He will be missed by so many…in our community, but especially at our Synagogue. May his memory always be for a blessing
With Love,
Leslie
I was very saddened to hear of Stu's passing. The whole Weiss family has many fond memories of him. From holidays together to seeing him in the halls of RHS. He was a very special person. Sending condolences and thoughts for peace to you, Marcie, and family.
Marcie–I was saddened today to learn of Stu's passing. I recruited Stu from NJ to Richland to help us with our Exxon accounting systems. He was a great guy and very talented programmer. As I would explain a change I was looking for, he would smile and say "Yes but that will take a little longer." He helped us and was respected by all of us. I really enjoyed working with him.
For a few years I would be able to visit with him at hockey games but I have not seen him for the last 20+ years.
I am sorry for the loss to you and your family.
Best Regards,
Rich Nelson
So very sorry to hear of Uncle Stu's passing. Seeing pictures of Stu are like looking at Poppa Joel and Poppy Cy. We are all thinking of you and your family. It was a beautiful service. Sending love,
Ruth, David, Eric, Traci, Alex and Kenneth Belgard
Marcie-
So sorry to read of Stu's passing.My deepest sympathy to you.
"Those whom we love and lose are no longer where they were before. They are now wherever we are." St. John Chrysostom
Mary
I am so sorry to hear about Stu. He was always so sweet with a great sense of humor.
Sending love and regards to all the family.
Barbara Franco Sherer
Marcie,
I am so very sorry for loss of your husband Stu. I am sending prayers for you as you navigate through this difficult time. May you have comfort and care by your family and friends close to you.
Marcie
My heart is with you this day and I can't even imagine how hard this must be just know that he will always be with you and watch over you. Much love coming your way.
Marcie
I am so saddened by your loss and my heart goes out to you.
I want you to know that you have been and always will be a special part of my life. Your memories of your husband will be with you forever and I am sure he is watching over you …
My love and sympathy to you
Mackey
Stu and I met in Richland High School as retired Guys, Stu an Education Assistant. I learned alot about Stu all the way from Brooklyn to Rutgurs on to Richland, raising a Family. Stu taught Me "The Best Baseball Team Ever is the 1955 Brooklyn Dodgers…Ever." Stu was also a dedicated Tri-City Americans Hockey Fan for years. There's not a nicer Guy, better person than Stu. Stu is the Best of the Best… the Very Best.
As Stu would often say, "What a-Ya Gonna Do?" I"m gonna Miss You, Stu
Steve Piippo
Retired Educator
Always in our hearts.
You are loved and hope to offer prayers in your honor, may they be accepted.
Baruch Dayan Emet! Sending comforting angels to the Belgard family!