FIND AN OBITUARY
Service information is posted on our website only with approval from the family.
If you are seeking information not listed below, please contact us.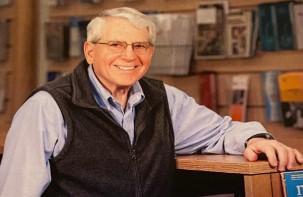 Robert DeLorenzo
05/10/1941 — 11/08/2022
From Kennewick, WA | Born in New Haven, CT
Funeral Service for Robert
Starts:
Mon, December 19, 2022, 12:00 pm
Location:
St. Joseph Catholic Church
520 S. Garfield St.
Kennewick, WA 99336
Robert DeLorenzo
Robert Anthony DeLorenzo – loving husband, father, grandfather, friend, and mentor – passed away in Kennewick, WA on November 8, 2022.
Bob was born to Antonio and Angiola Di Lorenzo in New Haven, CT on May 10, 1941.  He attended North Haven High School, and then Brown University, where he studied Electrical Engineering and was active in the Navy ROTC.  At Brown University, Bob met his wife, Nancy Robbins, and began a strong 46 year partnership.  After graduation, Bob entered the US Navy and attended nuclear power school.  He and Nancy then moved to Honalulu, HI, where Bob served on the USS Benjamin Franklin, and their first son, David, was born.  Following his service, he and Nancy moved back to the east coast, where their second son, Michael, was born
During his career, Bob worked in the nuclear industry in executive management positions, then formed  Randel Associates, Inc. to provide consulting services as an expert on all aspects of nuclear power plant design and construction.  After retiring in 1993, Bob was a volunteer board member and officer in community organizations such as the Richland Utility Advisory Board, Columbia Basin Apartment Association, and Richland Rotary Club.  He served as an officer of Rotary International when he was District Governor in 1998-1999.   He and Nancy also became avid travelers, visiting 6 continents and many countries to learn about their history studying history and ancient cultures.
Nancy developed early-onset dementia in 2001, and Bob shifted gears to focus on supporting her battle with the disease.  They became active with the Kadlec Neurologic Resource Center, and Bob served several years on the board of directors and led several Alzheimer's support groups.  Nancy passed away in 2011, and Bob continued to lead the support groups for many more years.  During this time, he attended the Augustine Institute and attained his third Masters' degree, a Masters' in Theology, shortly before his 77th birthday.  He was an active member of St. Joseph's Catholic Church, and taught several classes for members.  He had a passion for learning and mastering a subject, and loved sharing his knowledge with others.
Bob is survived by his two sons, David and Michael, and their spouses Truc and Kristin and six grandchildren (Carina, Robin, Amelia, Elena, Bridget, and Dominic).
A funeral service will be held on December 19th at 12pm at St. Joseph's Catholic Church in Kennewick, WA.  In lieu of flowers, donations may be made to the Kadlec Neurologic Resource Center.
Very sorry to learn of Bob's passing. He was a wonderful friend at Brown.
I had the absolute pleasure of knowing Bob and Nancy through Rotary and also through their sons' years as students at Hanford High School. What wonderful, quality people they were, proud of you boys and very involved parents. I am so sorry you have lost them.
David and Michael
I'm sure you don't remember me as you were little boys when you used to come over with your grandma, my Aunt Julia and grandpa, my Uncle Tony. My mom is Dorothy who loved her cousin Bobby. I believe she went to both of your weddings and spoke so highly of the men you both became. I am so sorry for the loss of dad. He was a remarkable and brilliant man. Your Grandpa Tony always called him the professional student. Dad is smiling down on both of you with your mom. They had an amazing marriage and I am sure their reuniting was wonderful. He will always be you as well as mom, your grandparents and your Aunt Carol who passed a year and a half ago.
Love you cousin
Cathy Peccerillo Lucian
Bob was indeed one-of-a-kind. I so appreciated his advice as I stepped into the Rotary District Governor role. He was spot on. He'll be missed, and long remembered.
Bob was one of the finest gentlemen that I have known. We met when our sons were active in the boy scouts and he contributed so much. At work he successfully managed the construction of a large building for staff at Hanford "in cost and on schedule" . I shared his grief when is wife died as I do now for his family. We are lucky to have known him.
R
I am so sorry to learn that Bob passed. I have known him for 50 years. I am now located at Brookdale Canyon Lakes & live down the hall from Bob/s apartment here. I have inquired about Bob but didn,t get any information here. I will tell my son Kerry as he inquired about Bob for me.
Bob was a close friend and partner in Rotary, Richland's Utility Advisory Committee and the Kadlec Neurological Resource Committee for more than 25 years. His leadership, courage, intelligence, charity and friendship have been cherished and cannot be replaced. I will miss his optimistic outlook greatly. My condolences to all his family. You have lost a model of greatness.