FIND AN OBITUARY
Service information is posted on our website only with approval from the family.
If you are seeking information not listed below, please contact us.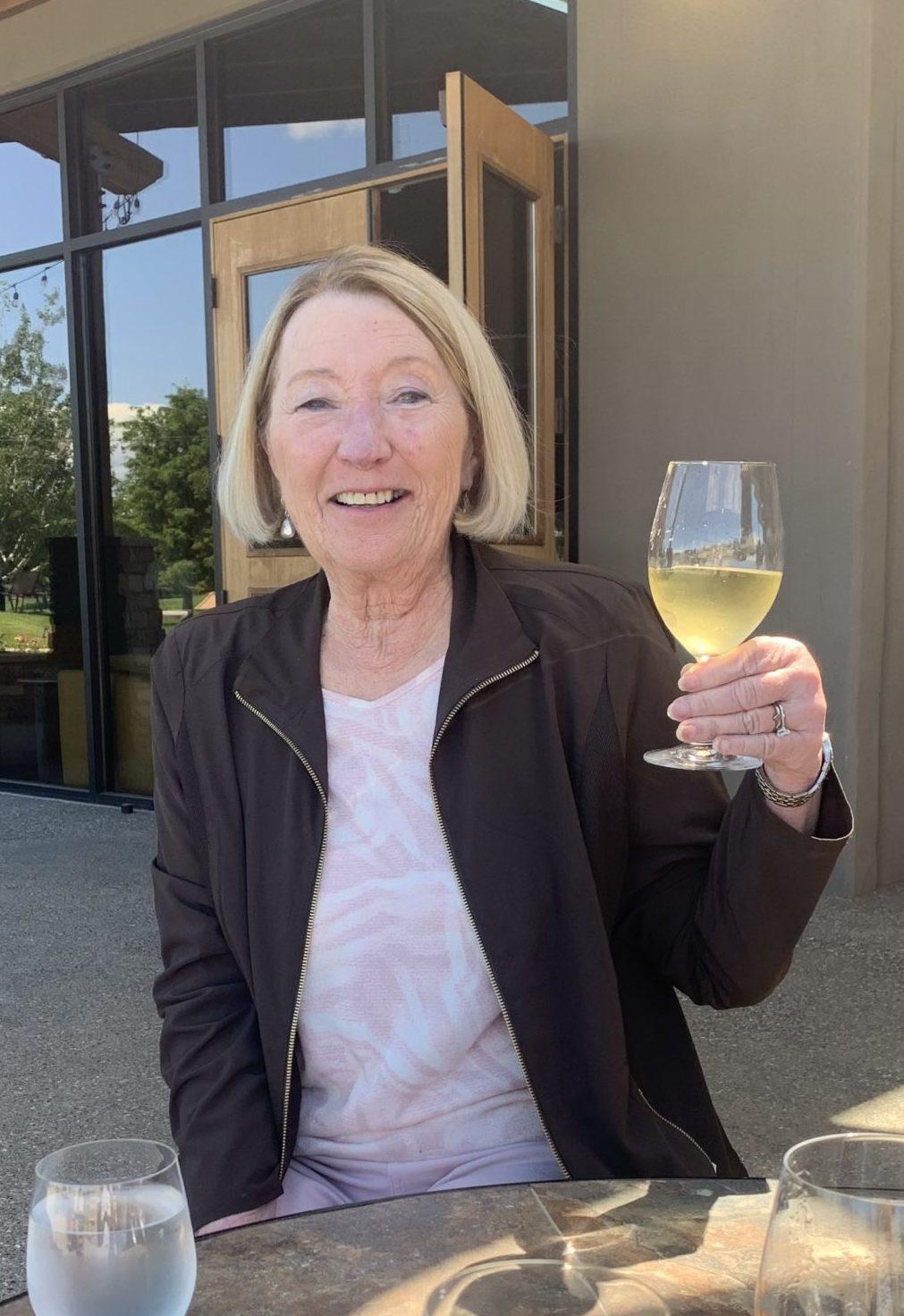 Linda Jackson
11/22/1949 — 12/30/2022
From Richland, WA
Linda Jackson
Linda Ann Brandeal Jackson, 73, of Richland, Washington passed away peacefully at home on Friday,
December 30, 2022. She was born on November 22, 1949, in Jersey City, New Jersey, the third child
born to Clarence J (Barney) and Mabel Brandeal. Linda lived in Jersey City until age 11, when the family
moved to Hasbrouck Heights, New Jersey. Linda enjoyed dancing, performing, and socializing as a child,
often getting in light trouble for her quick wit and playful antics. In high school, she worked first at
Newman's soda fountain and later at the shopping mall, but working at the soda fountain was where
she loved getting flirted with by the boy who would become her soulmate, George Jackson.
In August 1966, she had her first date with George, and an incredible, genuine, unbreakable bond was
born. Upon graduating high school in 1967, Linda attended Monmouth College in Long Branch, New
Jersey, with an apartment right on the beach. After one year, she got engaged to George and they
married on April 12, 1969. They initially lived on Long Island where Linda worked as a secretary prior to
starting her family. George and Linda had two sons, George born in 1971, and Brian born in 1973, when
George and Linda moved back to Hasbrouck Heights to raise their family around our large extended
clan.
Linda was the quintessential, traditional, throwback stay-at-home mother, and she was a star performer
in that arena by any standard. She handled virtually all of the household duties, managed the finances,
transported kids to and from sports and appointments, coordinated any repair or remodel work that
was done, and was the true CEO of the Jackson Family. She also tirelessly gave of herself to family and
friends, hosting holidays, planning group trips and adventures, and bent over backward to make things
as easy as possible for everyone in her circle. No situation was too dire, no task was too thankless for
Linda if someone needed it done, and she always did it right and with a great attitude.
In 1982, the family moved to Richland, Washington, which opened up a whole new world to Linda, and
she took advantage of all of it. She loved living in Tri-Cities and was up for any and all activities that
came her way. She joined Newcomers, played bridge, took up golf with the 9 Holers at Meadow Springs,
learned to fish, became an intermediate skier who broke her leg at Mt Bachelor, got her motorcycle
endorsement, and always found time to attend and host dinners with her husband and friends.
Unsurprisingly, virtually all of her hobbies and activities dovetailed with the ability to spend more time
with George and their family. Of note, she actually had a higher bowling average (165) than George despite
not being overly competitive about it. Countless family friends and colleagues of George's were treated
to great home-cooked meals on an almost constant basis, and they all raved about the generous
hospitality provided by Linda. From this active life and her drive to serve others, Linda weaved a rich
tapestry of long-term friends and acquaintances that truly blessed her and those around her. Her goal
was to always make others feel important, comfortable, and appreciated. Linda is one of the very few
people that nobody could have a legitimate gripe with.
Linda was blessed to have 4 grandchildren, and she doted on them all. Attending soccer games, dance
recitals, graduations, or any other performance or ceremony, she was there. They all had their special
treats made for them, gifts provided, and most importantly, time spent. Always the extrovert, Linda was
unbelievably good at "quality time".
In later years, Linda and George enjoyed retirement and traveled to Italy, England, and Scotland.
However, they really preferred to travel the northwest or go to Wildhorse or Las Vegas to play slot
machines. Restaurants and casinos were true passions for both, and Linda was often lucky on the slot
machines, much to George's faux chagrin, and she rubbed that in whenever possible.
Linda and George were married happily for 51 years. They were always together and were completely
devoted to each other's happiness and well-being. Their marriage was a true example of how good it
can be, true soulmates. If there was a Marriage Hall of Fame, they were unanimous first-ballot
inductees, and what an example they set. After George passed away in 2020, Linda grieved deeply but
continued spending quality time with friends and relatives, entertaining out-of-town visitors, cooking up
a storm, getting to Wildhorse, and having dinners with old and new friends. She continued living as if
George was still by her side and in her heart at all times, and that was amazing.
However, you cannot encapsulate Linda without acknowledging her quick wit and love of practical jokes,
and outside of selflessly serving others, it was how she would have loved to be remembered. It never
stopped. She was the Queen of Puns and jokes, which only ramped up in intensity with the advent of
social media and memes. She stood toe-to-toe with all comers, and for all the word plays and one-liners
and she was great at it, Linda's were always light-hearted and never aimed at insulting anyone or
anything. The pure wit, unleashed to make everyone smile and laugh with her, was astounding in its
gentle cleverness. It's a huge reason why she was universally loved and always a joy to be around, and
she never offended anyone.
While her quick and unexpected passing is tragic, she lived a full and successful life, largely healthy and
mentally sharp until her passing. She often looked for, and found, signs from her departed loved ones.
She often told us she would make us aware of her presence when she ascended to heaven. So when
you see a hummingbird, or frog, or some other creature in your vicinity trying to get your attention
when it wouldn't be normal, or a music box plays a note without being touched, that's her. Remember
that.
Linda was preceded in death by her husband of 51 years, George, sister Carol Brandeal Herkert and
Patrick Brandeal. She is survived by two sons, George and Brian (Janel) of Richland, and four
grandchildren Tyler, Owen, Logan, and Alexandra, all of Richland. Linda is also survived by brothers-in-
law Arthur of Hasbrouck Heights, New Jersey, and Robert of Parkland, Washington.
Donations can be made to Shriner's Hospital. At the wishes of the family, a private celebration of life
will be held.
I will always remember the fun we had as roommates in the beachfront apartment freshman year at Monmouth College. RIP Linda.
Heartbroken to hear so many fond memories! You guys are in my prayers. She was a great lady. Mark Smith
So sorry to hear this news of your mom's passing. We were playing every day WORDS WITH FRIENDS.
I had noticed that the game with
Linda was timing out. I just thought
we would start up again after the
Holidays. She lives on with you and your brother. God Bless and take care of your families.
Linda you wonderful human being. Being Patrick's good friend I knew well the whole family for over 60 years. You were so special and set a guide for how to live since I lost my wife to cancer in August. Ironic we loved dining and slots. I will always remember you,your mom,dad and brother with love till my last breath. See you in heaven.
After reading Linda Jackson's bio, I can't imagine what else I can add. The tribute was spot on and captured her life and soul perfectly. It was so much fun knowing her. I also appreciate getting to know the Jackson clan. She will be sorely missed by all. I embrace the memories I have of her wonderful being and as for signs of her….well, I'm still waiting for her to continue our games of Words with Friends.
With all my love,
Kathy
We so miss our wonderful friends Linda and George. From traveling in England and Scotland, to trips to Las Vegas and San Diego. Dinners in restaurants and at each other's homes always such wonderful times. Good friends are the greatest gift.
Our sincere condolences to Artie, George, Brian and all the grandchildren.
Sleep well my friend until we meet again .
What a beautifully written account of Linda's life. Although I have not seen Linda for about 30 years, I will always remember the times my wife and I spent bowling with George and Linda. We were in the same league for a year or two. I will always remember her incredible energy, friendliness, and kindness. I knew then and there she was something special. Of course, George was something else also, they were a "power" couple. George and Brian, I am so sorry for your loss.
We are thinking about George and Brian and the entire Jackson family. We were lucky to know George and Linda and they were both cherished "neighbor grandparents" to our sons. Thinking about you and praying for peace as you process this loss – Love you George♥️
George and Brian, I am m so sorry for your loss! Your mother was a great woman and always made me feel welcome in your house. She will truly be missed as a wonderful mother and grandmother. I am truly sorry for your loss. Sincerely, Trey
This is just a beautiful summary if Linda's life. She was a loving sister to Pat and to me, her sister in law and she maintained constant contact with me after Pat's passing. Linda reflected a wonderful enthusiasm for life and love and care for people and I will miss her.
We are sorry to hear of Linda's passing. The way she made you feel important was something that we truly admired of her. She was an inspiration to many, and she definitely left her mark in this world.
Blessings,
Charlie and Jody Kronvall
We are broken-hearted that Linda is gone. She was a good neighbor and friend. Our "Neighborhood Group" that developed during COVID were treasured moments getting to know each other better and at our twice monthly dinners at Fat Olives. We shared good food, good wine, and great conversation. I will miss those times with Linda. May your family treasure all the beautiful memories you made with her.
My heart goes out to George, Brian, Artie, and families. I have lost a wonderful neighbor and friend, and you have all lost a devoted Mom, Grandma and sister-in-law. You know, Linda went on after George died, but I always felt her heart was still with him, and now they are together❤️
My heart is broken beyond belief 💔, I will always cherish and remember the great family times with Linda and George. Greatest Brother and Sister in law that anyone could ever wish for Eternal Love 🙏🙏