FIND AN OBITUARY
Service information is posted on our website only with approval from the family.
If you are seeking information not listed below, please contact us.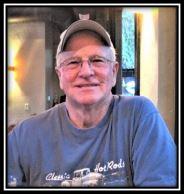 Dennis Byron Cole
11/18/1945 — 05/12/2023
From West Richland, WA | Born in Taft, California
New to Livestream? Watch the tutorial.
Dennis Byron Cole
Dennis lost his battle with Alzheimer's while at Guardian Angel Memory Care Home in Richland on May 12, 2023. He was 77 years old. He is survived by his wife, Carol and two adult children and their families, daughter Heather Lynn Bain (Scott) of Vancouver, WA and son Brian Douglas Cole (Jill) of Roswell, NM. He also leaves his three grandchildren, Cole Bain, Kate Bain, and Douglas Cole.  Dennis is survived by his sister, Jerlyn Ruth Lee (Fred), and their children and families, Breanna Scott (Kevin), Byron Lee (Vennessa), and Bethany Woo (Robin). His grand-nieces and nephews Lyle Scott, Kai Lee, Cassidy Chavez, Cora Woo and Korey Woo will miss their uncle Dennis.  His beloved dog, Molly, will forever love her favorite "daddy".  Dennis had a special relationship with his brother-in-law and sister-in-law, Steve and Sandy Allen. They had many adventures together and stories they shared.  Being with them always meant lots of laughs. His nephews Kevin Allen (Janenne) and their daughter Claire and Kris Allen (Lori) and their daughter Bailey  shared a special place in his heart.  Dennis was preceded in death by his parents Edgar and Barbara Cole and grandparents Leo and Geraldine Parcel and Charles and Ruth Cole.
Dennis was born November 18, 1945 in Taft, California and attended St. Mary's Catholic School until high school; he then attended Taft High School and enjoyed wonderful friendships with his classmates with whom he kept in touch throughout the years, attending his reunions and keeping close ties. Summers were spent working in the oil fields of Taft; a hot, tough job. He attended Taft Jr. College and Chico State College where he earned his B.A. degree in education and met his wife Carol.  He played football in both high school and college.
Dennis and Carol married in 1969 and enjoyed 53 good years together, living first in Woodland, CA where he taught high school auto mechanics and welding, as well as adult education classes where he taught a class of nuns how to maintain their cars.  He eventually owned his own millwright business and then moved to West Richland, WA in 1979.  He resided in West Richland for 44 years working at the Hanford Nuclear Reservation until 2005 as a Field Superintendent and Project Engineer, making many good friends.
Dennis was a man with adventure in his blood.  He loved to travel and had a bucket list that would make many people wonder how he could do it all.  He could pack all of his needs into a fanny pack and a backpack and be gone for three weeks.  His hobbies included scuba diving, spelunking, mountain climbing, backpacking, piloting an airplane, river rafting, water skiing, and snow skiing.  As a teenager he also surfed. His travels were many and exotic.  It all started with a European trip following high school graduation on the Queen Mary.  He mowed many lawns to afford that trip.  He had a world map that was dotted with pins to mark the places he had been.
Dennis had the ability to build or repair anything, including a home in Montana that he built with his father in 1972 and his shop that he loved. His pride and joy was restoring his 1966 Porsche and a 1910 Thor motorcycle that has been in the family for over 100 years.  Taking both of them to car shows was a favorite past time.  He tackled any problem he was given and was successful.  His over-the-top Christmas decorations were the talk of the neighborhood and a delight to many children. He actually won some contests with them.
Dennis was a loyal, faithful, family man.  He provided for his family and worked hard. He led a life he could be proud of and he lived it to the fullest.  He will be missed by many.  We were privileged to share his life and we wish him peace as he makes his final trip.
There will be no funeral service.  Burial will be in Bigfork, MT.  A Celebration of Life will be held at a later date.
He was my neighbor and childhood friend while growing up in Taft. Lucky me, he enjoyed stsying in touch with his old friends like me. He is missed very much.
Dennis lived a wonderful life. Rest in peace dear classmate.