Cemetery at Sunset Gardens
Making The Ultimate Sacrifice
Did you know? Veterans and First Responders receive a free inscription at Sunset Gardens in our new Veterans Plaza.
Some Veterans benefits may also include a Government headstone, marker or medallion, a burial flag, and a Presidential Memorial Certificate, ALL at no cost to you or your family. Additionally, some Veterans may be eligible for Burial Allowances. Our staff will guide veteran families through the process.
Sunset Gardens has veterans burial benefits forms on file. Our knowledgeable staff is happy to assist you to complete these forms to help you maximize your veterans benefits at Sunset Gardens.
Please call Sunset Gardens at 509-943-0803 to learn more.
Curious about what the National Cemetery Administration recommends when preparing for burial in a private cemetery?
Burial in a Private Cemetery – Per the VA
You may want to ask the following questions when preparing for burial in a private cemetery:
When responding to an offer of a "free" gravesite for Veterans, ask if there is a requirement to purchase an additional gravesite.
If an additional gravesite is required, where will it be located and what is the cost?
Ask if there are restrictions on the type of headstone or marker that can be used to mark the grave.
Is there an additional cost for the placement, setting or care of a free government headstone or marker?
Is it more than if a private headstone or marker is purchased?
Is an outside container (usually called a "vault" or "grave liner") required?
We suggest when the burial will be in a private cemetery and a Government headstone or marker or medallion will be requested for the Veteran's grave, that the family complete, in advance, one of the following forms and place it with the Veteran's military discharge papers for use at the time of need:
Claim for Standard Government Headstone or Marker
Claim for Government Medallion for Placement in a Private Cemetery
Only an eligible Veteran may receive a Government-furnished headstone or marker or medallion for placement in a private cemetery.
Veteran's spouses and dependent children are not eligible.
Sunset Gardens Staff will supply you with and help you navigate all fo these necessary documents.
Veterans Benefits:
If you or your loved one are a veteran and you do no like the idea of being placed several hours away from your tri cities family Then our newly desgined Veterans Plaza is peferct for you and immeditate family members.
Did we mention that Sunset Gardens provides a free shutter inscription? This is our small way to say Thank You for your service and sacrifice.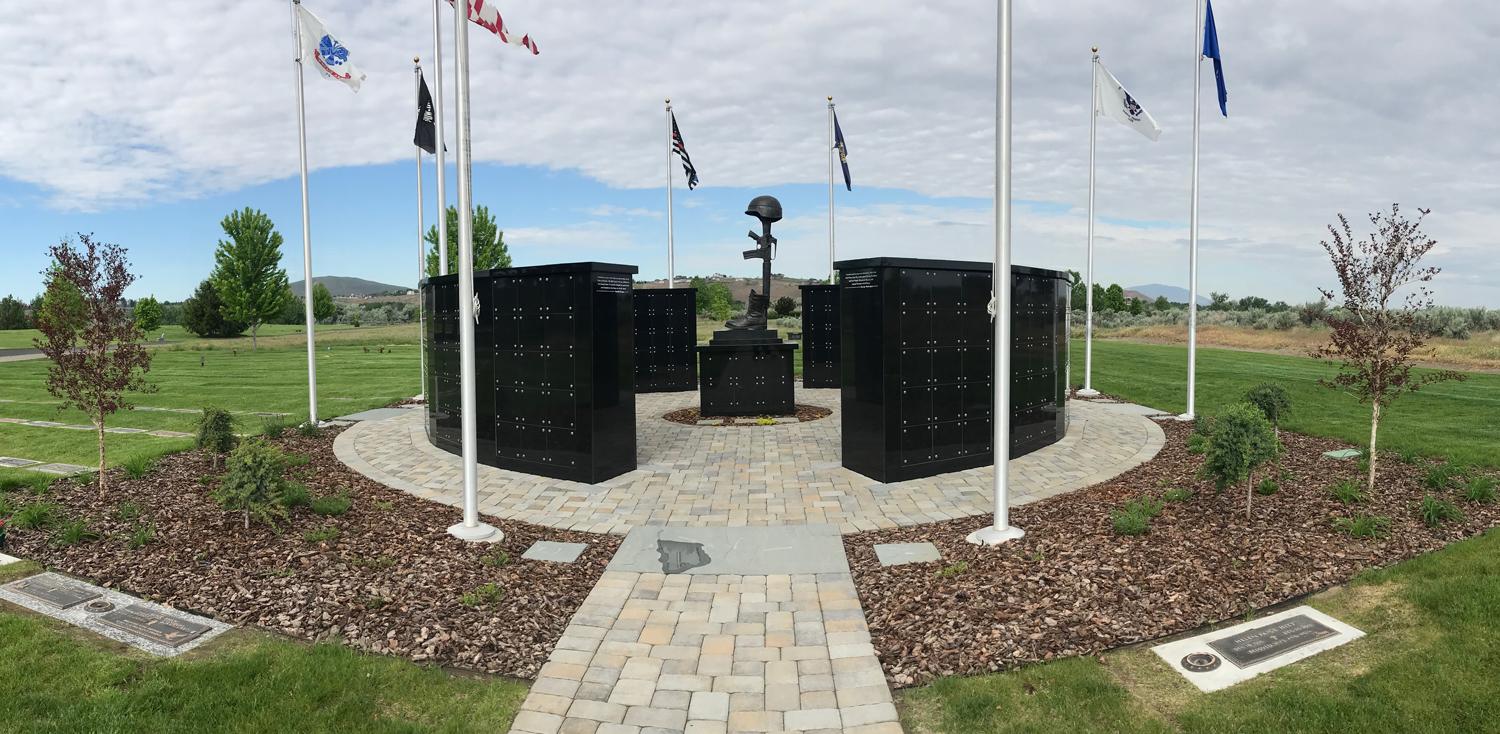 Why We Love Our Vets
Since our beginning, Sunset Gardens has taken pride in providing the most well kept cemetery grounds consisting of the most modern placement options in all of the Tri-Cities. We have been long overdue in updating our Veterans Garden and providing all Veterans along with Police, Fire and EMS a suitable cremation placement plaza, dedicated in honor of their sacrifice to our Tri Cities Community and to our Country. We hope that you find as much beauty in the plaza as we do.
Schedule your tour below: