What Is a Full-Service Firm for a Funeral and Cremation in West Richland, WA?
The event of a death, anticipated or not, brings a host of emotional reactions within the decedent's closest surviving relatives, friends, and associates. In this elevated emotional state, the next of kin will be tasked with designing death care arrangements for their loved one, such as a funeral and cremation in West Richland, WA. A straightforward way to make this planning process more manageable is to hire the services of a competent, comprehensive full-service funeral home.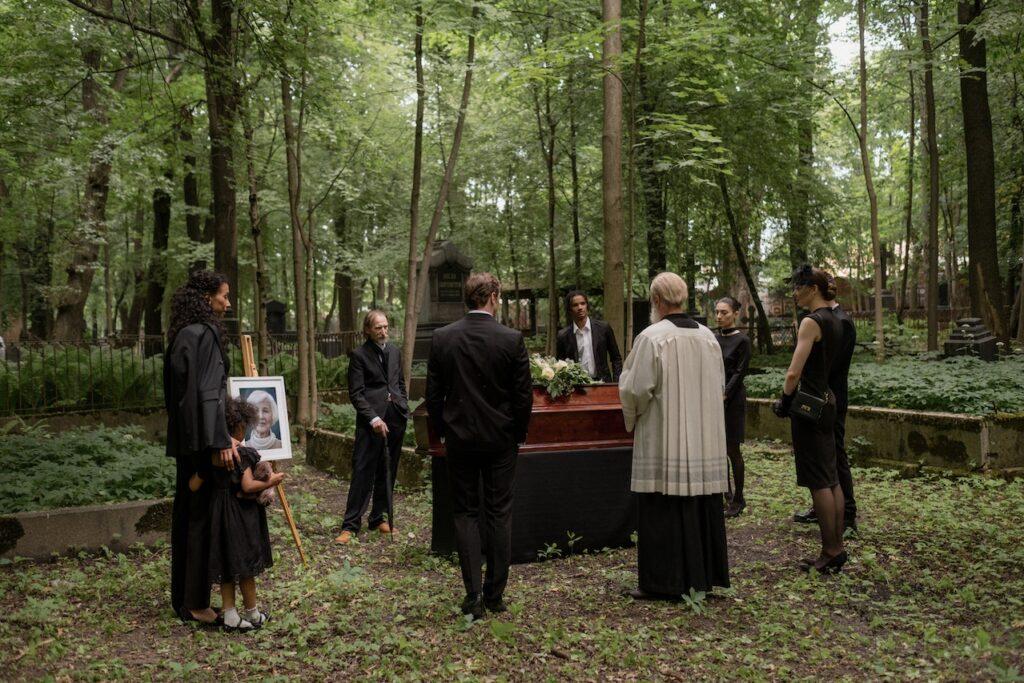 The professional teams at Einan's at Sunset Funeral Home have the qualifications to deliver high-quality death care procedures. Total providers offer a range of products and services to meet your goals and vision for final service arrangements. Customizing the services can comfort grief-stricken families with commemorative ceremonies promoting healing experiences. Access to many types of solutions can help you feel empowered during the planning process. Then, you can make these arrangements precisely what they need to be.
Our facility offers full-service cremation and funeral options, including direct services without public ceremonies or events for hundreds of attendees. Most importantly, we care for each set of deceased remains with tenderness and respect, knowing that this person is precious to you and yours. We are committed to helping you through this difficult time, knowing that you won't have a second opportunity to say this goodbye and lay your loved one to rest.
A cremation procedure can be purchased as part of a package that includes honoring ceremonies like a memorial, life celebration, or funeral. Depending on the honoring event style chosen, the cremation will be completed before or after the public services. Cremation is not easily witnessed by large groups, though it may be possible for a few close family members or relations to see the body as it is loaded into the chamber. Extensive safety measures are taken to keep the remains securely identified throughout each processing step.
Funerals include the corpse's presence, which can be made available for viewing or kept enclosed throughout the events. These services, held with the deceased present for the events, typically occur as soon as arrangements can be made. Most families feel relieved once the body is formally laid to rest or cared for respectfully. Funerals can be part of comprehensive packages that include visitations, viewings, funeral services, and committal services at burial sites. Conversely, funerals can be single meetings.
Life celebrations and memorial honoring ceremonies are more often held without the body of the deceased present for the services. The option to care for the remains now and have events at a later time is very supportive to some families. Personalizing the memorial with a life celebration to connect with the passion or legacy of the departed individual can be extremely meaningful and cathartic for attendees. Finding these particular ways to feel close to the decedent can ease the transition and help you through what sometimes can seem like an impossible goodbye.
Einan's at Sunset Funeral Home Is Uniquely Positioned to Support Many Events, Including a Comprehensive Funeral and Cremation in West Richland, WA
Einan's at Sunset Funeral Home is a little unique in the area by offering a funeral home/cemetery combo that makes us a genuine full-service firm. The Sunset Gardens Cemetery is stunning, and there is definitely something here for everyone. Many themed gardens offer sacred and secular areas to lay your decedent to rest after a funeral and cremation in West Richland, WA. Final placement solutions for cremated remains and full-sized bodies are readily available throughout the gardens.
In addition to the areas specific to hosting funerary and commemorative life events, the venue center at Einan's at Sunset Funeral Home is a beautiful setting that caters delicious food and hosts a variety of life celebratory events. Gorgeous landscaping and vistas provide a breathtaking backdrop with spaces to accommodate groups ranging in size from 10-250 guests. Weddings, family celebrations, performances or plays, professional meetings, and other events have all been successfully hosted at our facility.
Give Yourself the Gift of Qualified Professionals Who Care About Your Experiences
When facing needs with final service arrangements, you want experienced professionals who know how to navigate the complexities and sensitive nature of the occasion. This is an area where you need a team of trusted professionals with a reputation for excellence. The experts at Einan's at Sunset Funeral Home have the qualifications you seek. In addition, they can help you no matter what type of death care you need to meet your needs. Give yourself the gift of working with professionals who know what it takes to deliver top-notch final arrangements.
Make Plans Today by Calling for Assistance
Give Einan's at Sunset Funeral Home a call today at (509) 943-1114. Our team is ready to move into action for immediate care associated with a funeral and cremation in West Richland, WA. See what sets us apart by visiting our conveniently located establishment at 915 By Pass Hwy Bldg H, Richland, WA 99352.
Funeral Home & Cremations FAQs
Is a casket required for cremation?

A casket is not required for most types of cremation services; however, some states have regulations that require a combustible container designed specifically for the cremation process. If you opt to have a direct cremation and forgo a formal service, an alternative container may be used instead of a casket. Learn more about cremation services.
Are there any other costs associated with cremation services?

Depending on what type of service you choose, there could be additional fees associated with the cremation. These can include costs for a cremation urn or casket, services of the funeral home, and any transportation or other related items. It is important to discuss all cremation prices with your funeral director prior to making your final arrangements.
What are the costs associated with infant and youth services for burial or cremation?

The cost of an infant or youth service will depend on the type of service chosen and other factors such as which cemetery or crematorium is used, additional products or services required, and local taxes. It is important to discuss any costs associated with the service in advance to ensure that all costs are covered.