FIND AN OBITUARY
Service information is posted on our website only with approval from the family.
If you are seeking information not listed below, please contact us.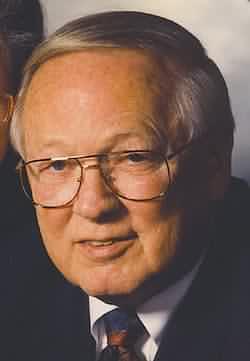 Donald L. Alexander
12/27/1925 — 07/18/2003
From Kennewick, WA, US | Born in Junction City, Kansas
Donald L. Alexander
  Donald L. Alexander, veteran public-relations executive with the Pacific Stock Exchange, the Federal Home Loan Bank of San Francisco, and the San Francisco and Kansas City Federal Reserve Banks, died in Kennewick Washington on July 18, at the age of 77.  He had survived many cardiovascular problems for a number of years, but the immediate cause of death was lung cancer.  He stopped smoking several decades ago.

  Mr. Alexander was born in Junction City Kansas on December 27, 1925, and after education in local schools, served with the U.S. Air Corps at the end of World War II.  He then obtained bachelor's and master's degrees in journalism at Kansas State University, taught journalism at his alma mater, and for a brief period owned and edited The Kinsley Mercury newspaper in Kinsley Kansas.

  For a decade beginning in 1956, Mr. Alexander supervised the public-relations department of the Federal Reserve Bank of Kansas City.  His work there and at Kansas State University brought him into contact with such notables as ex-President Harry Truman and Dr. Milton Eisenhower brother of Ike, president in turn of Kansas State University and Johns Hopkins University.

  In 1967 he took charge of the public-information and bank-relations department of the Federal Reserve Bank of San Francisco, which serves the entire western third of the nation.  Among other activities, he organized frequent economic-outlook sessions for banking and educational audiences in many cities throughout the nine-state district.

  In 1973 Mr. Alexander became Vice President of Corporate Communications with the Federal Home Loan Bank of San Francisco, where he began a long association with the late Maurice Mann, president in turn of the Home Loan Bank and the Pacific Stock Exchange.  During his stay at those two institutions, Mr. Alexander dealt with a number of financial crises, including the housing-market collapse and savings-and-loan crisis of the early 1980s and at the Pacific Exchange the stock-market crash of November, 1987.

In 1989 he retired to Grass Valley California, where he became active in Methodist church affairs, edited a history of the Grass Valley Methodist Church, and prepared educational materials for the famous State Historic Empire gold mine. While in Grass Valley, he and his wife, Jeanne Bignall Alexander, celebrated their 50th wedding anniversary with a large gathering of well wishers from all over the country. In the fall of 2001, they moved into a retirement community in Kennewick Washington, where they are members of the First United Methodist Church in Kennewick.
 A man of strong ethics and a quick wit, Mr. Alexander was respected by colleagues and befriended people wherever he went.  He adored his family, as they adored him. Those missing him include his wife of 59 years, Jeanne, his sons Mike Alexander of Richland Washington, and Kent Alexander of Oakland California, daughters-in-law Susan Alexander, Mike's wife, and Kathleen Cunningham, Kent's wife, grandchildren Nathan and Molly Alexander of Richland Washington, and his sister, Josephine Brenneman of Las Vegas Nevada, as well as many friends and acquaintances from across the years.

Memorial services for Mr. Alexander will be held at 2:00 p.m. on Thursday, July 24, 2003 at Canyon Lakes in the rose garden. A memorial service will be held in Grass Valley California at a future date.
Memorial contributions may be sent to the Tri-Cities Cancer Center, 7350 W Deschutes Ave, Kennewick, WA 99336, 509 737-3370.