FIND AN OBITUARY
Service information is posted on our website only with approval from the family.
If you are seeking information not listed below, please contact us.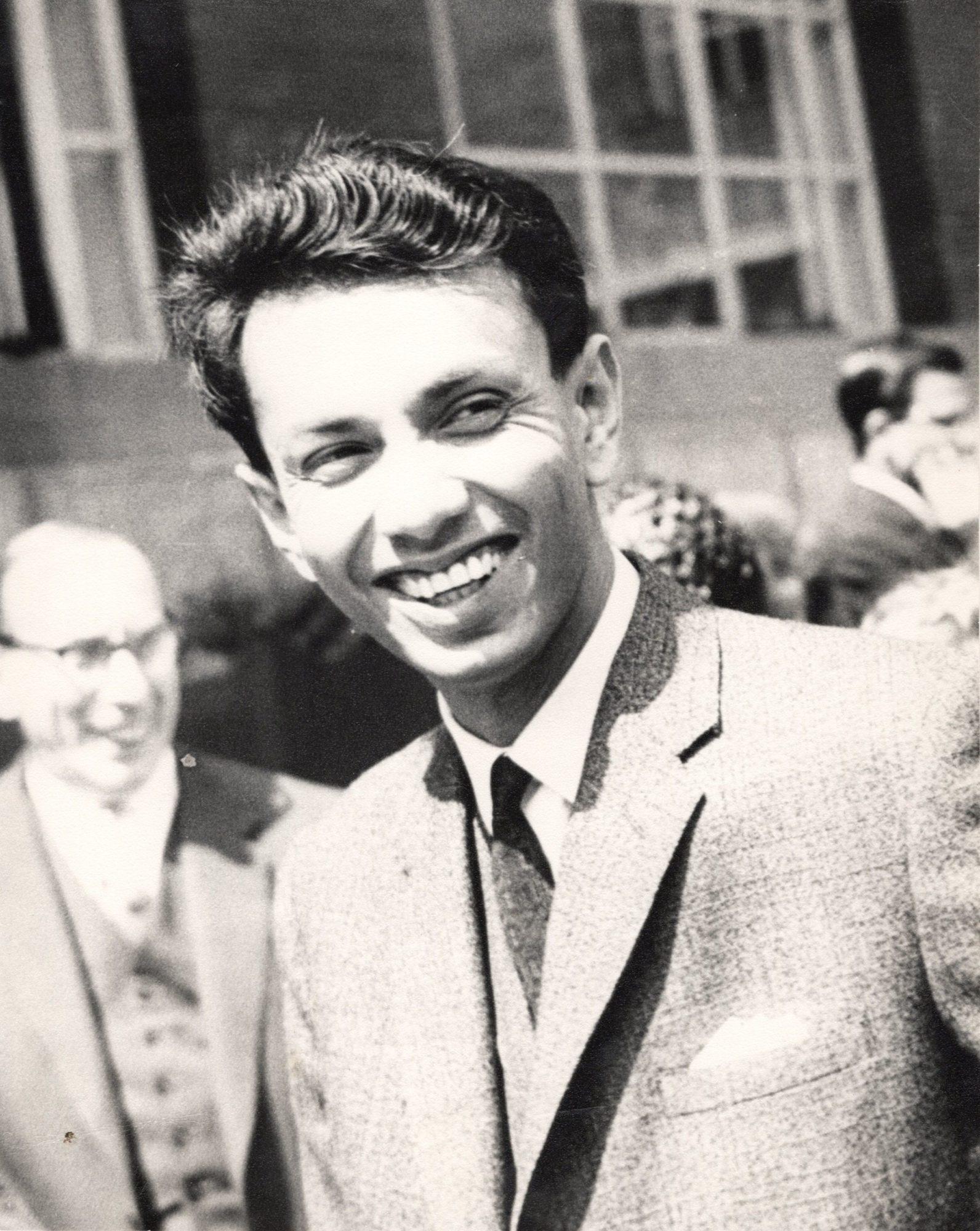 Anjan Sen
08/25/1934 — 09/10/2021
From Kennewick , WA
Watch Service
New to Livestream? Watch the tutorial.
Memorial Service
Starts:
Sat, September 18, 2021, 1:30 pm
Ends:
Sat, September 18, 2021, 3:30 pm
Location:
Einan's At Sunset Funeral Home
915 Bypass Highway Bldg. H Richland, WA 99352
Anjan Sen
Dr. Anjan Kumar Sen was born August 25, 1934 in Calcutta, West Bengal, India, the first of six children born to Professor Pabitra Kumar Sen and Kamala Sen, nee Das. He died September 10, 2021, in Kennewick, WA. He was 87 years old.
He began boarding school at the tender age of ten approximately 200 miles away from home. He would often tell the story of how, when his father would visit, he'd hide his lunchbox and bags in the hopes that his father would have to stay. But despite the initial loneliness, Anjan excelled at school. And notwithstanding his self-described introversion, was "the president of everything," heading up numerous school clubs, sports teams, and even a college newspaper. He graduated high school in 1949, completed his undergraduate studies, and earned his M.D. from Calcutta Medical College in 1957 at the age of 22. After a general residency and a year teaching anatomy, he had saved enough for passage on a ship to the United Kingdom. When he disembarked in Dublin, Ireland, he had to adapt to a strange, cold country with its different customs and food. He remembered feeding shillings into a radiator to stay warm as he studied for the notoriously difficult FRCS (Fellowship of the Royal College of Surgeons) at Trinity College, which was necessary to practice surgery in the U.K. He was one of only two who passed, but, in a bout of pessimism, had not secured a job. A colleague with the opposite result told him to take his place in general surgery at Wigan Hospital in the north of England. And it was there, in 1960, that he met and fell in love with a beautiful nurse named Hilary Adele Skitten. He knew it was fate.
Anjan's time at Wigan led him to specialize in neurosurgery; however, that trajectory meant he needed to leave the area to pursue career opportunities. Although work took him to Scotland and other parts of England, he kept up his correspondence with the lovely Adele and, eventually, she joined him in London and the two married in 1966. Later that same year, Adele bore their first child, a son, Dev Kumar. Frustrated by his experiences in London, Anjan wrote his friend, Dr. Tapan Lahiri, whom he had met on the journey from India to the U.K. a half dozen years prior. Dr. Lahiri encouraged him to come to the U.S., specifically to Kadlec Hospital in Richland, for they were in dire need of a neurosurgeon.
Anjan, Adele, and their infant son journeyed to Richland in 1967. Here, Anjan made himself invaluable as the only neurosurgeon in the area for many years. He was also an innovator. He persuaded Kadlec to invest in computerized tomography (CT scans) when they were exceedingly rare, established the area's first pain management clinic, and was president (of course) of the Western U.S. Pain Society. He was a tireless, devoted, and compassionate doctor, often sleeping outside the recovery room of the patient he had just operated on to ensure he would be there if there were complications. Ultimately, Anjan practiced medicine for more than 60 years – even after giving up surgery, he continued to treat patients for pain. He believed strongly in being of service and helping others and never wavered in his commitment to his patients and practice.
But aside from being an exemplary surgeon and physician, he was brilliant, witty, and humane. He was a loving husband to Adele, a wonderful father to his four children, and devoted son and brother. He had a kind and silly sense of humor, a sort of playful innocence that endeared him to all who were lucky enough to experience this side of him, as he was often serious and reserved. He was the sort of man that children and animals took to immediately, as though they recognized a kindred spirit. He was a teller of wildly entertaining stories and groan-inducing dad jokes. Always a handsome man, when he smiled, he radiated an infectious joy. He loved games of all sorts and was surprisingly competitive for such a soft-spoken person. Many an unsuspecting challenger was soundly beaten in games of cards, pool, ping pong, and chess. He regularly played 5,000 games of Sudoku in a row without making a mistake. He enjoyed drawing and painting and, especially toward the end of his life, liked to sketch portraits of his friends and family. He was active in Rotary Club and, recognizing he struggled with public speaking, he joined Toastmasters in the 1980s and participated on and off in the club for the rest of his life. He remained open and curious until his last days, taking Spanish lessons online and reading about advances in medicine. He was, for so many of his friends and family, the best man we knew.
As with any life, there were difficult times, the most painful were being preceded in death by his dear brother, Soumitra Kumar Sen, his beloved wife Adele, and his adored son, Neel Anjan. But he believed he had had a good life and was very happy to have helped as many people as he did.
He is survived by his children, Dev Kumar, Robi Paul, and Paula Elizabeth Sen; his grandchildren Philip Josef and Sanaa Kumari Sen; his brothers Prabir Kumar and Ranjan Kumar Sen; his sisters Aparna Dasgupta and Sunanda Sen; and by many nieces, nephews, cousins, and dear friends the world over. We are all so grateful to have known him.
The funeral will be held on Saturday September 18, 2021 at 1:30 p.m. at Einan's at Sunset, 915 Bypass Highway, Richland, WA 99352 with a reception at the Sen home immediately after.
To the family of Anjan Sen
It is with sadness, love, and sympathy we write to you about the recent passing of our dear friend and your father, Anjan Sen.
Anjan was a very special individual with numerous talents of which we had the privilege of observing through the years. His work as a Neurosurgeon helped so many people in the communities he served. His other talents included great personality, sometimes a comedian, serious, and a great story teller.
We were fortunate to hear many stories throughout our friendship. One favorite was when he and another student friend decided they wanted to find the hottest chili pepper in the WORLD. They travelled to many towns and survived the task of finding–THE ONE! Finally, they came to a town that claimed to have the hottest chili not only in India, but THE WHOLE WORLD! Needless to say, the 2 gentlemen found it, ate it and nearly died. It was worth it, just for the experience…blisters and all.
Anjan also was a member of Toastmasters (as was Norm). Again, the stories flowed. One meeting Anjan stood up and decided to teach the group about his name ANJAN. He had all the funny pronunciations memorized and brought the house down in his interpretations. One of Norm's favorite Anjan presentations addressed the fear of public speaking for beginning Toastmasters. To get the audience attention, he simply did not say a word while he made his whole body shake in front of the audience to illustrate what the fear of public speaking really looks like. No kidding, he had developed a way to shake his whole body. Once he had the audience attention (which did not take long), he gave his speech on helpful hints for overcoming the fear of public speaking.
On a pre-9/11 Caribbean Cruise, the group decided to change identities from what we were professionally to some other fantasies which were not really thought out due to Ship Champaign delivered to our room before departure. Anjan chose "Terrorist." After departure, the group went to the bar and introduced themselves casually to other non- related groups. Typical Anjan introduced himself as a Terrorist……..!
Anjan was a GENTLE MAN. He loved his family more than anything. He was so proud of each of their accomplishments…and didn't hesitate to expound on them through the years.
He was so admired by so many people. He was a Philanthropist. He seemed to take care of everyone he knew…with a visit or a call. Every year he sent Cathy a Mother's Day Card which was deeply appreciated.
There is so much more to say. He was so loved by all. He was an Exceptional Friend. Yes, we will miss him, but never forget our dear Anjan. He was such a good example of lifelong learning (curious and professionally) and thinking out of the box that we cannot forget him. We feel so lucky to have had such a profound frend.
Love, Cathy and Norm Olson
My God bless his soul and our deepest condolences to the family.
Anjan Sen was truly a "doctors' doctor". Though we shared different medical interests, it was clear to me watching him work that he was a calm and skillful surgeon, and provided his patients with care perhaps better than teaching hospitals can.
A man of utmost integrity, time and time again he was asked to "chair this committee", or "sort out this disagreement". He commanded the respect of an entire medical staff, and I cannot ever recall an unkind word from him.
A long life, well lived. We are the less for his loss.
I thoroughly enjoyed working with Dr. Sen in the Kadlec ICU. His brilliance was only enhanced by his compassionate and gentle demeanor. I am a better person and Nurse because I knew him.
I and so many held Dr. Sen in high regard and deep respect. Always he was upright and proper, personally and professionally. I adored the man, and am grateful for the privilege to have known him for over two decades.
My very best to Paula, Dev and Robi.
This man was so loved by many patients, I was one. He gave me life, and I am so grateful for his love to help people. He will be missed.
I cry for the worlds loss of this man. But I know his son Robi, so I know he was a great man.
I am sorry that I only got to know Anjan over the past 2 years. I thoroughly enjoyed talking with him at Toastmaster club meetings, especially in person during pre-pandemic times. During this short time of acquaintance, I feel that we truly connected and felt encouraged to continue my accomplishments. Thank you Anjan.
I am beyond grateful to have met Dr Sen and thankful for the past few years of getting to know him and some of the family members. I am forever thankful for his contributions, excellence and service to this community. His gentle soul and kindness was something that always came out. However, I instinctively remember his tough side and ability to get his word in. I will always remember the memories he shared, advice, knowledge ans lastly, his love for coffee (even if he used the same white mug). Dr Sen you will have forever have a place in my heart. Thank you for always being a mentor and friend. You are so missed.
Anjan and Adele were a constant presence in my life, especially from high school into my twenties. To me, they were like an aunt and uncle, albeit the kind of aunt and uncle who could also staunch a wound and perform spinal surgery.
Actually, I did need surgery, twice. Both were before I was 22, and Anjan was there both times. For the first he actually wielded the scalpel. For the second he gave me the best medical advice I've ever heard: Try your best to avoid surgery, but when you need it, you really need it!
This part is for my dear friends Robi, Paula and Dev:
To our group of friends, your parents embodied the limitless potential of what one can accomplish in mind and body. They also represented a rather intimidating work ethic, doubtless forged through thousands of hours in clinics and hospitals. But when I look back through it all, I also see they were both very kind people, each in their own way.
Anjan Sen had many commendable qualities: his medical skills, his speaking abilities, his impish sense of humor. But what I will remember most, and what I hope to carry on as his legacy, is his kindness. He was a very kind human being, and I will miss him.
My best to you all.
My God bless his soul. He was a great doctor and a dear friend. Glad I was able to see him 2 years ago. My deepest condolences to the whole family. He will be greatly missed.
Dev, Robi, Paula.
My heart and prayers are with you. Your family was like a second family for me. We had so many good times growing up, and I recall how gracious your parents were to put up with all of our antics. Love you guys!!
Phill Rizzo
I am so grateful to have gotten to know Dr Sen over the years, and hear many of his amazing stories. He helped so many people. My best to the Sen family.
My deepest condolences to Dev, Robi, and Paula Sen. I am so sorry for your great loss.
Your Father, Dr. Sen, or as I was honored to call him, Uncle Anjan, was a brilliant, thoughtful, and witty man.
My late Father and Mother, Dr. T. D. Lahiri, M.D., M.R.C.P., and Anna Lahiri, also loved him and your beautiful late mother, Auntie Adele.
I remember playing chess with Uncle Anjan, and recognizing his great mind in his ability to not only win the game, but sometimes go back three games in his mind telling me what moves I made and what moves he made, and asking me why did I repeat the same error?
His sharp and dry wit were indeed delightful, and my Mother and Father enjoyed this, as well as so many other aspects of your great Father.
Our Fathers met when they both left for Bengal, India, to go to England, and that fortuitous meeting helped bring our families together in our newly adopted home, America. I remember fun trips to England, Greece, etc., and spending times at each other's homes.
Thank you for writing such a loving tribute to your amazing Father.
May his Memory be Eternal.
With much love and prayers,
Demetrios T. Lahiri, BA, BS, MBA
What a lovely obit! I'm sorry I never met him. There's nothing more needed these days than a great pain doctor! My warmest condolences to you and your family!
What a great loss to the community, your father was an incredible person. As a member of his Chronic Pain group, I appreciated his humor, compassion and the knowledge he freely shared. He will be missed by so many.
It was always a pleasure to work for Dr. Sen, a truly caring physician.
Sending deepest condolences, thoughts, prayers, and Love. He was a champion through and through, and he and Adele were truly loyal Friends.
Joyce
September 13th, 2021
We are very sad to learn of Anjan's death. He, and Adele, were incomparable in their charm, kindness, and intelligence. Anjan made such a difference in the lives of many people. Our deepest sympathies go to his family. May happy memories bring some comfort.
Micki and Bryce Breitenstein