FIND AN OBITUARY
Service information is posted on our website only with approval from the family.
If you are seeking information not listed below, please contact us.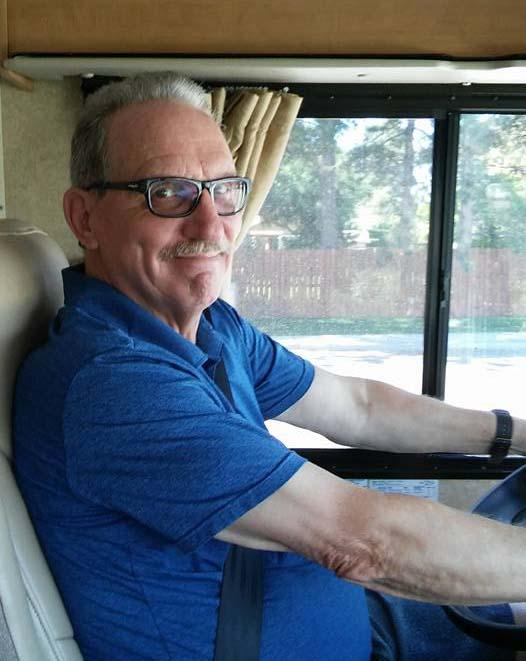 Romar Swarner
04/02/1946 — 10/21/2021
From Kennewick , WA | Born in Fairbanks, Alaska
Watch Service
Watch Graveside Service
New to Livestream? Watch the tutorial.
Celebration of Life
Starts:
Sat, November 13, 2021, 11:00 am
Location:
Einan's At Sunset Funeral Home
915 Bypass Highway Bldg. H Richland, WA 99352
Graveside
Starts:
Sat, November 13, 2021, 12:00 pm
Location:
Sunset Gardens
915 Bypass Highway, Richland, WA 99352

Romar Swarner
He was born the day after April Fools, 1946 (whenever asked his birth date, this is how he answered).  Romar Ermol Swarner was born in Fairbanks, Alaska when it was a Territory.  He was very proud of that fact and very proud of being an Alaskan.  He left his earthly body on October 21, 2021.  His father was Alfred Monroe Swarner and his mother was Maxine Dakota Faust.  He was the 3rd of 6 children.
Romar loved sports and played basketball and ran track in High School.  He lettered in track and basketball and was called "Franz".  He still holds some records from his days on the track team.  He graduated from Lathrop High School in 1964.
Romar loved to go hunting and fishing with his father and brothers.  He was always sharing a memory of the hunting trips for sheep and moose.  The boys learned to cook on the hunting trips in self-defense.  Their dad would mix everything into one pan and cook it for a meal.  Romar was what you would call a "Salmon Snob," he always asked at a restaurant if the salmon was wild or farm grown…
He went to the University of Alaska Fairbanks, then the University of Hawaii and then back to the University of Alaska.  At that time the Vietnam War was progressing.  He wanted to travel and so he took a leave from college and he and his brother Dennis traveled the United States.  They wanted to travel as long as they could before Uncle Sam caught up with them.  They had almost a year of memories before Romar went into the Army in 1968.  He served a year in Korea and worked on the DMZ as a Combat Engineer.  While in Korea, he trained with a Sensei (instructor) and received a black belt in Taekwondo.  For many years not many people knew that he was a Veteran, this would come out years later when our son Tyler joined the Army and went to war in Iraq.
After his time in the military, he worked as a carpenter and went back to the University of Alaska.  He loved school and loved learning. In 1973 he graduated with a degree in Civil Engineering.  He designed several homes for family and friends and helped his brother Don and sister-in-law Jo build their home.  Romar was a gifted carpenter.  During the summers in Fairbanks he loved to play baseball.
In 1979 Romar moved to Edmonds, Washington, where he worked for Howard S. Wright and helped build the Fourth and Blanchard Building in Seattle.  That August his Sister-in-law Jo flew down from Alaska for a Family Reunion in Cashmere.  Romar drove Jo and kids to Cashmere for the weekend.  And that was where he met his "soul mate," a divorcee with two small little girls, Billie and Tara.  On September 20, 1980 Pam and Romar were married on her parent's 39th wedding anniversary; years later our Son Tyler was married on the same date.  Three generations married on the same day.  In 1982 Tyler was born and in 1983 Samuel was born.  July of 1984 we loaded up the big blue moving truck and headed to Alaska.
We stayed in Alaska for 15 years.  Alaska was good to us; Romar worked and retired from the State of Alaska.  We made so many wonderful friends.  On November 28, 1985 Romar became a friend of Bill W.  This month he would have had 36 years of sobriety.  While in Alaska, we welcomed exchange students into our home.  They came from Spain, Finland, Iran, Germany, and Japan.  Romar even taught two of the students how to drive.  Life was full and we had so much fun.  As the years passed we found we needed to move back to Washington State, we had grandkids that we wanted to watch grow up and we moved to Richland in June of 1999..  We watched a lot of T-ball, little league, select baseball, high school baseball, Volleyball and football, and Young Marines.  Romar was a very proud Grandpa.
In 2003 his son Tyler went to war in Iraq.  That is when Romar acknowledged that he was a Veteran and that kids of this era would not be treated like he and the other Veterans were treated.  And that, began our life of working with Vets.  We were active in Operation Thank You, Time of Remembrance, Swim to Live, VFW, American Legion, and the VFW Honor Guard.  Our life was full and we did everything together.  He was the Co-Commander of the VFW Honor Guard.  It was so important to honor Veterans and give them full military honors at the time of their death.
In 2017 we bought a Motor Home and traveled all over.  We had so much fun meeting new people and cranking up the music and singing songs from the 60s and 70s.  We laughed so hard and made so many wonderful memories.
Our life was so full and our family kept growing and we were proud to have all of them in our life.  Then Covid 19 hit and life changed forever.   Romar and I had made the best of the time at home.  We talked, we laughed, and we tried to keep in touch with everyone important in our lives.  Romar was a man with a heart of gold, very loyal and very protective of his family.  You never knew if he was telling a story or was telling the truth.  People would look at me to see what expression I had on my face.  He was a wonderful husband, father, grandpa, and great-grandpa.  He loved his sister and brothers.  He loved my sisters and their husbands.  He was the life of the party.  Life was lived full, no regrets, he left a legacy that will never be forgotten.
He was preceded in death by his Father and Mother and his brothers Dick and Loren.
Romar is survived by his wife Pam of 41 years, daughters Billie (Dave) Wensveen and Tara Cullinan.  Sons Tyler (Anna) and Samuel (Nichole) Swarner.  He had 10 grandkids, Shania, Sierra, Garrick, Jackson, Easton, Kaylee, Lilly, Joani, Isaac, and Leah. One great-granddaughter Presley.  His brothers Don (Jo) and Dennis (Phyllis) Swarner and Sister Marcine Mullen.  And lots of nieces and nephews.
In lieu of flowers, it would mean a lot if you would thank two people that were willing to die for us:  Thank God for a life well lived and the American Veteran for our freedom that we have today.
HAPPY BIRTH DAY GRAMPA
Pam,
Our hearts were broken when we heard about Romar's passing. We love and admire you both so much. I loved the witty comments Romar would leave us on Facebook posts and pictures. The service you have both done for us, the Veterans and funerals in the community are remarkable. When we moved on in our careers, we thought of you often and will continue to think of you. Much love to you.
Romar will always be remembered for the smile on his face! I never saw him without it. His service to the nation both his military time and the countless hours he devoted to local Veterans org was priceless. You will be missed by many.
CDR Mill Lewis USNR (RET)
Romar was a friend and mentor to many young people in the United States Naval Sea Cadets. Always ready to assist our cadets.
Columbia Basin Battalion
USNSC
I am so very sorry to hear of Romar passing he will be missed what a good Man and a great inspiration.. Thanks Romar for the years of friendship…
One of the greatest legacies a person can leave is to make a difference. Romar made a difference to so many people. He practiced acts of kindness often and tried to make things better with a joke, a smile, or with whatever else he could do. We were honored to have met him and he will be missed.
I just heard of Romar's passing and it's with a heavy heart that I sit down to write this tribute.
I arrived in Fairbanks in August 1972 fresh out of college and not knowing anyone. Someone asked if I'd be interested in playing on a Rec League basketball team and I immediately said "Yes"! Low and behold, Romar was one of the players on the team and we became best of friends. We ended up sharing an apartment over in the Graehl area of Fairbanks and had many great adventures together with the likes of Randy Frank, Dennis Dimmich, Wayne Wilkens and many others. As mentioned in his lovely obituary, Romar had a way of going off on tangents while carrying on a conversation and you never knew whether he was telling the truth or just "pulling one over on you" and then laughing hysterically when you caught on. I remember one guy on our team from Mississippi that was in Fairbanks for the Pipeline work. He was probably more "braun than brains" and was an ideal subject for one of Romar's convoluted conversations. He told this guy how the Alaska State Bird, the Ptarmigan came to be. He told him that when the first equipment was shipped north for the pipeline, workers had a hard time because of the deep snow. Just like when the seagulls helped out the Mormons with their locust invasion, the Ptarmigan came to the rescue for the Pipeline workers. They swept down from the heavens and flying very low to the snow cover, flapped their wings and cleared the snow so that the Pipeline could begin work! The next day, the guy asked me if that was really true!! I said you'd just have to trust Romar because he's the Sourdough on the team and he'd be the last guy to "pull your leg"!
I cherished our friendship and he ended up being one of the groomsmen in my wedding. Thanks to him, I met lots of people and he made me feel right at home in a "far away land". Romar…may you Rest In Peace knowing you made this world a better place for all of us!
We feel so blessed to have known Romar and spent time with the two of you while we lived in the Tri Cities. Such special memories; such a special man. He will be so missed, especially by you Pam. Our hearts are heavy for you as you navigate life without your beloved Romar until you are together again.
Funny how you can tell you have met a good person the first time you meet them. Romar was one of them.
Romar was such a gem. He was so helpful when we needed it. I am so grateful to both Romar and Pam for the honor they bestowed on my father when we lost him. Romar will always be in my memories of honorable and humble men I have known in my life.
Dear Pam,
Your husband sounds like a wonderful man, husband, dad and grandfather. I am so sorry for your loss. My heart goes out to you and to all who loved him.
We met Romar through Bill W. It's been an honor to know him. We lost track of them when they left Alaska, but for a post in Facebook, they were in Arizona traveling around. That happened to be where we moved from Alaska. It was a pleasure to renew our contract.
The world is a lesser place without Romar. God bless Pam & family.
Sounds like a wonderful man and you and your family were blessed.
Romar was so much fun to visit with and "talk shop" about our times serving in wars for our Nation! He leaves a giant void behind that should never be filled in, only remembered fondly by all who knew him.
I will miss buddy it's good to be meet you and family
Beautiful tribute. So happt I gad the privelge if kniwing him a short time.
Such a heartbreaking news of a wonderful soul! John and I pray for God's comfort, peace and love.. Fairbanks hold precious memories and blessings for our family.. even more having known "The Swarner" family two doors down..Love you all
Thelma and John Hotzfield
I only knew Romar for a short while, but I knew enough to know he was a wonderful person. Did an awful lot for those in the service and those that had served. He was very proud of his fellow solders and told you so. May god bless the family.
Jack McIntosh
We sure enjoyed Romar during all our years of baseball with the Wensveen's. Romar and my dad were always so good at getting on the umpires when they felt they were not making good calls! Such a fun guy to be around! Lots of love to his family 💙
Tom and Erica Nix
What a great man! We were honored to call him a friend. Romar will be missed dearly. Love and prayers for you and your family.
God Bless you Pam. A wonderful tribute to Romar. I shared many late night conversations with Romar at the Northward building. I'll never forget when you guys visited me in jail. Romar was a good mentor to me and I'll always remember him telling me, You know Alfredo, I used to think like that. As the years went on he didn't say that so much. He taught me so much. RIP Romar.
I will always remember Romar for that "twinkle" in his eyes and his love for people. He always had something humorous to inject into conversations that made him so endearing to our family. His legacy so clearly marked him as one who lived what he believed. May the Lord he served comfort your hearts in his departure and carry you forward by His amazing Grace.
It was a pleasure knowing Romar you never knew what he was going to say or do.
The one thing that comes to my mind was at a fast food place in Yuma Az when he asked the young lady taking his order if the ice was gluten free she was so flustered that she had to.ask her manager. Romar just smiled and continued with his order.
He will be surely missed by all who knew him.
RIP my friend!!
I only met Romar once at our class reunion but I have watched him through face book he was one of a kind I wish we could have known him better. May God bless you Pam and give you strength
Pam, it was such a privilege to share the Bill W lifestyle with you and Romar. You sending care packages to all those people serving really meant alot to me and to everyone else who had loved ones serving overseas. I'm so sorry he left so soon, and just know you are in my thoughts and prayers. Anna P.
Thank you for teaching me about responsibility and accountability, in a very positive manner, Romar. You will be sorely missed, and I never met anyone who had a bad word to say about you. What a great legacy!
Beautifully written for a remarkable man who will truly be missed!