The time following a loss can be filled with a whirlwind of emotions and tasks to undertake. Among those tasks is planning how to honor your loved one in a way that truly captures their spirit. Cremation services in West Richland, WA offer innovative ways to memorialize those who have passed on. This article explores unique methods that go beyond traditional memorials, allowing you to remember your loved one in a truly special manner.
Create a Living Memorial
Planting a tree, or a garden, in memory of a loved one can serve as a lasting tribute that literally brings new life into the world. This living memorial can be a place to visit and remember the deceased, all while nurturing life and growth.
Personalized Jewelry
Personalized jewelry is a subtle yet meaningful way to keep your loved one close. From lockets containing a photo, to custom pieces that hold sentimental value, such keepsakes can provide comfort and serve as a constant reminder of your loved one.
Memorial Artwork
Art has long been a medium for expressing the spectrum of human emotions. In remembrance of a loved one, you can commission a piece of art or create one yourself. It could be a portrait, a sculpture, or any form that speaks to you and represents the deceased.
Legacy Projects
Legacy projects are an excellent way to honor a loved one's life and keep their memory alive. This can include setting up a scholarship in their name, creating a community service project, or even writing a book about their life.
Healing Retreats or Gatherings
A healing retreat or gathering is an innovative way to honor a loved one. This can bring together family and friends in a peaceful environment, often involving activities that encourage reflection, bonding, and healing.
Digital Memorials
The digital age has allowed for a new type of memorialization. Digital memorials, such as online memorial pages or social media tributes, offer a unique space for sharing memories, photos, and messages of love and condolence.
Memorial Tattoos
Memorial tattoos have gained popularity in recent years as a very personal way to honor a loved one. A tattoo of something that symbolizes your loved one can serve as a constant, personal reminder of their impact on your life.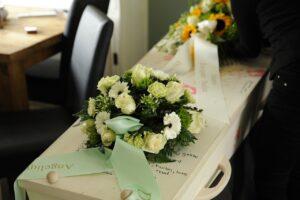 As we navigate the journey of grief, it's essential to honor our loved ones in ways that are most meaningful to us. These innovative approaches can complement traditional services offered by cremation services in West Richland, WA, making the memorial process more personal and impactful.
Einan's at Sunset Funeral Home, located at 915 By Pass Hwy Bldg H, Richland, WA, understands the importance of unique and personal memorials. They offer a wide range of options tailored to individual needs, allowing for memorable and heartfelt commemorations. Contact them today at (509) 943-1114 to explore these unique ways of honoring life after death. They are ready to support you in this journey, helping you create a tribute that truly captures the spirit of your loved one.