FIND AN OBITUARY
Service information is posted on our website only with approval from the family.
If you are seeking information not listed below, please contact us.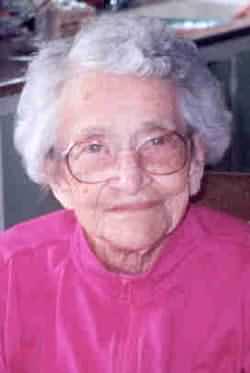 Rachael Lucille Knight
05/03/1905 — 05/18/2001
From Benton, City, WA, US | Born in Spring Green, Wisconsin
Rachael Lucille Knight
 After 96 years and never a cross word toward another, Rachael Lucille Knight of Benton City passed away on May 18, 2001, surrounded by her children.

 Rachael was born in Spring Green, Wisconsin on May 3, 1905. Her parents were Adelaide and Hannibal Hatch. In 1926, she married her high school sweetheart, Kenneth Knight, and they farmed in Knight Hollow near Arena until 1937, when they struck out for Washington State, settling in White Bluffs. After moving back

to the Wisconsin farm for several years, they returned to Washington, settling in Benton City in 1944. There they established a small working farm and raised their five children.
 Rachael was a tiny woman whose fragile appearance belied an astounding inner strength.  She was an old-fashioned Christian lady who lived her life by the Golden Rule, shared generously with others even in the days when she had little herself, and centered her life around her family. Her friends and family knew her as a kind, gentle, and extremely witty woman whose

self-effacing sense of humor stayed with her until the very end.
 She was an active member of the First United Methodist Church of Benton City, the Women ' s Society of Christian Service, and the Highland Ladies' Club, whose lively members gave her many fond memories and lasting friendships.

 The youngest of seven children who preceded her in death, Rachael joins a large, loving family, including Ken, her husband of 63 years.

 She is survived by her five children, Carole Don Dvorak of Benton City; Kerwin Joyce Knight of Sacramento, California; Craig RaNae Knight of Richland; Claudia Michael Alongi of Winlock; Mimi Steve Reidel Knight of Benton

City; and surrogate son Kay Patterson of Benton City. She also leaves five grandchildren, three great-grandchildren, and a great-great grandson. She was also helped greatly in her later years by three loving caregivers: Cathy Peterson, Jessica Johnson, and Linda Niebuhr.
 A memorial service will be held Thursday, May 24, at 2 p.m. at the First United Methodist Church in Benton City. Memorial contributions can be sent to the First United Methodist Church in Benton City .

 Rachael took up such little space on this Earth, but her passing leaves a huge void.

Steve & Mimi, How nice to see a picture of your mom. She was such a lovely lady and I have such fond memories of spending time with her. How thoughtful and such kind words of her caregivers in the obituary. I felt grateful to have been to the memorial service and share our memories of dear Rachel. Hope you folks have been well. You've been in my thoughts through the years.
Dear Great Grandmother,
I miss the days past, family gatherings, being young at the farm. I wish I knew more of both yours and great grandfathers life growing up in Wisconsin. Miss you always.
I remember Aunt Rachel fondly from my younger years when she and Uncle Ken were living in Wisconsin. We always had fun playing at her house and I know we made plenty of messes! I am so grateful that I had a chance to visit with her this past spring. I have many memories of a lovely lady with a great sense of humor.
RACHAEL WAS SUCH A HUGE PART OF MY LIFE THE LAST THREE YEARS.I AM GOING TO MISS HER SO VERY MUCH.HER CHILDREN WERE THE MOST IMPORTANT PART OF HER LIFE.GOD BLESS YOU ALL
Rachael was the sweetest lady. I'll remember her smile always. She did more for me then I could ever have done for her. I will miss my friend.
Dear Family of Rachael,
We will miss her too!!
With love and prayers,
Don & Liz Thayer
To Rachel and her family, I do not know you but as I was reading my Sister Shelley Jean's Obit I saw her name and said lets have a look. You are my kind of lady! Smart and wise ans smile that lights up your heart. Rest in his arms sweetie. There you will find peace. God bless us all….Angel Jackson
To Mike & Claudia and family,
How wonderful to see a picure of your Mom she is beautiful. Life is challenging but will always continue with love in our hearts, just by seeing your Mom she did that through out her whole life. My heart is with you and Mike and Shelley and DeeAnn.
Sincerely Bonnie