FIND AN OBITUARY
Service information is posted on our website only with approval from the family.
If you are seeking information not listed below, please contact us.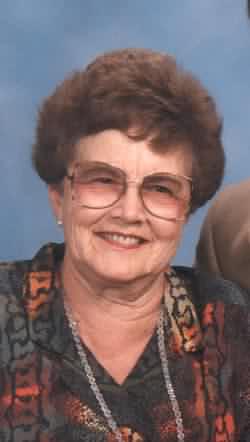 Lorraine H. Erlandson
04/02/1919 — 11/27/2001
From Richland, WA, US | Born in McVille, North Dakota
Lorraine H. Erlandson
Lorraine H. Erlandson, 82, of Richland, Washington died Tuesday, November 27, 2001, at her home surrounded by her family.  She was born April 2, 1919, in McVille, North Dakota and had lived in the Tri-Cities since 1952.

Mrs. Erlandson worked in new accounts and customer service at Bank of Richland, National Bank of Commerce, and Seattle First National Bank before retiring.

She was a member of Richland Lutheran Church and in her youth, Sigdahl Lutheran Church.  She enjoyed singing at church and at weddings.

Lorraine is survived by her son and daughter-in-law, Jon and Norene Erlandson of Richland; daughter and son-in-law, Nancy and Roy Ballard of Richland; four grandchildren:  Greg and wife, Katie Ballard of San Diego, CA, Charles Ballard of San Jose, CA, Jon and wife, Kellie Erlandson of Redmond, WA and Lara and husband, Philip Naugle of St. George, UT; three great grandsons: Ryan Naugle, Benjamin Naugle and Nathan Erlandson; two brothers, Melvin Flaagan of Grand Forks, ND and Leonard and wife, Daisy Flaagan of Tolna, ND.

She was preceded in death by her husband of 51 years, Clifford J. Erlandson, in 1997, and by grandson, Scott, sister, Ida and brothers, Gehard and Odien.

Funeral services will be held at 11:00 a.m. Monday, December 3, 2001, at Richland Lutheran Church.  Entombment will be in Sunset Memorial Gardens.

Visitation will be at Einan's Funeral Home from 1 to 5 p.m. Sunday.

In lieu of flowers, donations may be made in her memory to Richland Lutheran Church, 901 Van Giesen, Richland, WA 99352

I will really miss you.You touched my life in the short time we knew eachother.God Bless You! Love, Nora Gonzales
What a little lady. We will miss seeing her out in her front yard puttering in her flower beds. I can't help feeling that she is at home now with Cliff. He always honked and had a friendly wave if we were outside when they went by. I know that your faith will see you through the days ahead. God keep you in his loving care. Love, Jim and Jean
Jon and Nancy,
So sorry to hear about the loss of your mother. We lost our own Mom on Nov. 15, so know your feelings of grief even though it is a blessing for them to be out of their suffering. I saw your Mom a few months ago when I played the piano at Columbia Edgewater. We had such a nice visit. I am so glad now that I had that time to see her and talk over "old times." I have very fond memories of your Mom and Dad and our old neighborhood. Be at peace – as your Mother is now.
Love,
Marsha
Dear Jon and Norene,
We are so sorry to hear of your loss. We know this is a time of sorrow for you and would like you to feel free to count on us to be there for you. We would like to help out in any way we can. Team Lightning has made arrangements to attend the memorial service on Monday. Cindi wishes she could attend also but will be covering classes for us…. Our hearts are with you both.
Your friends, Allen & Cindi
Dear Jon & Nancy,
We were so sorry to hear of your mother's death. But there are so many happy memories. Love, Sue & Jim
Dear Nancy and Roy
We were saddened when learning of the passing of your mother. Please accept our condolences in you and your family's bereavement.
The memories of your Mother will always comfort you.
"Earth has no sorrow that Heaven cannot heal"–Thomas Moore.
Love
Dale and Carol
Jon and Nancy,so sorry to see the passing of your Mom,
I do remember you all from a long time ago. We all are
growing older and we to will soon join those love ones
that have gone befor. We lost my Dad the end of July,
Our Mom goes in this week for open heart surgery so
anything can happen. Our prayers and blessings are with
you . May God Bless.
Mike, Carol, Kim and Michael Tesky
So sorry about aunt Lorraine. Will always remember when they came to visit in ND, she always had to dress up, with her black patent high heels, and purse when she went visiting.