FIND AN OBITUARY
Service information is posted on our website only with approval from the family.
If you are seeking information not listed below, please contact us.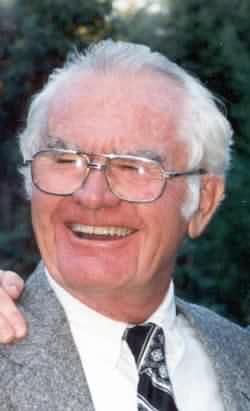 Maurice Francis Sullivan
02/16/1922 — 11/27/2001
From Richland, WA, US | Born in Butte, Montana
Maurice Francis Sullivan
A very special man, Maurice Francis Sullivan died November 27, 2001, after a six-year battle with malignant melanoma cancer.  Maurice left this world only after providing his family and friends with more fond memories than they could have ever wished.

Born February 16, 1922, in Butte, Montana, Maurice was the son of Irish immigrants, Abigail and John G. Sullivan.  Maurice spent most of his childhood on a family ranch north of Dillon, Montana where he lived with his father and brother, Neal.  He graduated from Beaverhead Co. High School in 1940 then worked at the ranch until he entered the U. S. Army Infantry in 1943.  Following his military service, Maurice entered Montana State University and received a B.S. degree in Chemistry in 1950.  He then entered the University of Chicago on a U. S. Atomic Energy apprenticeship working toward a Ph.D. in Pharmacology, which he received in 1955.

Maurice married Sheila Hamill in October 1951.  Although Maurice's Ph.D. was awarded in pharmacology, he longed to return to his native state of Montana.  Since few pharmaceutical companies were located in the west, he resorted to his training by the U.S. A.E.C. to obtain a scientist position at the Hanford Site.  He worked for General Electric GE under Dr. Roy Thompson and Dr. Harry Kamberg.  He became extensively involved in research on the sensitivity of the gastro-intestinal tract to radiation.  He also studied the vulnerability of that organ system to radioactive materials such as plutonium and radioactive fission products that might enter the environment and food chain.

In 1961, Maurice and his family moved to England on a National Institute of Health postdoctoral fellowship and worked in the Medical Research Council under the guidance of Dr. Robin Mole, a well-known authority in Radiation Biology.  They returned to the United States in 1963 where they were fortunate to purchase the first privately built house in north Richland where the family has resided for almost 40 years.  Maurice transferred from GE to Battelle in 1965.  He was able to apply his background in Radiation Biology and drug research to studies on the medical effects of marijuana and narcotic antagonists.  After 30 years with Battelle and the publication of over 200 papers in peer-reviewed journals, Maurice retired in 1985 to his two-acre homesite/garden in north Richland.

Throughout his life and especially following retirement, Maurice drew his greatest pleasure from spending quality time with his family and friends.  He enjoyed gardening, boating on the river, traveling, relaxing alongside his backyard pool, and frequent retreats to their cabin near Hood River, Oregon.  It was clear to those closest to him that Maurice valued their precious company more than any other treasure life had to offer.

He is survived by his wife, Sheila; their daughters, Ellen and husband, Gregg, Kathleen and husband, Darryl; and sons, John, Kevin, Neal and wife, Diane, and Brian.  He was also blessed with grandchildren, Corinne, Danielle, Mason, Riley, Ryan, Michael and Katherine.  He was preceded in death by his parents, John and Abigail Sullivan; his brother, Neal; and his grandson, Conor.  His memory will live on in the hearts of those who loved him.

A memorial Mass is scheduled for Saturday, December 1, 2001, at 10:30 a.m. at Christ the King Catholic Church in Richland.  In lieu of flowers, charitable contributions may be made to Tri-Cities Chaplaincy Hospice at 2108 W. Entiat Ave., Kennewick, WA 99336.

Hello my dear friend,
These words cannot express the complete feeling of
gratitude I have for you. So many things have I learned
while in your presence will never be forgotten…
How to build a boat dock in your front yard,
what it's like to be a castaway on a nearly deserted island,
how to enjoy a cold beer on a hot roof in July,
understanding the finer points of garden pig roasting,
and never ever giving up on those Mariners. Most importantly
I've learned how to kiss and embrace another male human
being without any embarrassment or regret knowing that
I truly am loved and appreciated.
For my final words, I have to let you know that those
pruning shears were cold in my hands every time you met
Neal and I while coming home from work but somehow
I'm sure you knew that.
Godspeed to Heaven Maurice Francis Sullivan!
All of our love,
Matt Shelley and Colin Filip
What a beautiful man! "Sully" as he was affectionately known was a dear friend, a teacher and a mentor.
I have many many fond memories of a man who was such a positive influence in my life over the past thirty years.
My deepest sympathies at this time of your loss; may your memories make you smile and laugh as do mine.
Kevin – My thoughts go out to the Sullivan Family. Your dad helped raise fine sons and daughters. He was an anchor in North Richland and he will always be remembered by the Pettees.
We were very said to hear of the passing of our dear friend Maurice Sullivan. We will always remember the good times we spent with him, especially at our wedding in 1962. The silver dollar that 'Sully' presented to Di on that day is one of our family treasures. To Sheila and all her family, we send our condolences and sincere best wishes.
Tony and Diana Law, 'Fernside', Stoney Lane, Ashmore Green, Thatcham, Berkshire, RG18 9HE, United Kingdom.