FIND AN OBITUARY
Service information is posted on our website only with approval from the family.
If you are seeking information not listed below, please contact us.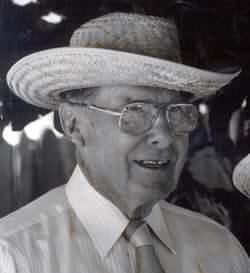 Thomas Malcolm Clement
09/26/1915 — 07/14/2002
From Richland, WA, US | Born in Street, Maryland
Thomas Malcolm Clement
Thomas Malcolm Clement, 86, longtime resident of Richland, WA, was called to heaven by his Lord and Savior at 9 pm on Sunday, July 14, 2002 surrounded at home by his wife and children. Our dear husband, father and friend is "with Christ which is far better''. This gentle man has returned in spirit to God, and is now in the joyful presence of the Lord Jesus Christ.
Tom was born in Street, Maryland in 1915 to Thomas and Mabel Clement, grew up near Kennett Square, PA and graduated from Swarthmore College in electrical engineering. He began his life work with Dupont Co. and came to Richland during WW II to help with the construction and maintenance of the Hanford B reactor. He married his beloved wife, Anne Davison in 1944, and worked at Hanford for 44 years. Tom received the Lord Jesus Christ as his personal Savior about the time of his retirement.
We will miss this quiet servant of God, a ''royal priest'', who daily showed forth the ''meekness and gentleness of Christ'', and exemplified these virtues of Him ''who came not to be ministered to, but to minister, and give His life a ransom for many.'' Tom was a happy and helpful man who lived not in the spirit of ''can I tell you'', but in the merit of ''can I help you.'' Tom liked the outdoors, and passed this appreciation on to his children and grandchildren with long walks, fishing and hunting trips, and an occasional camping trip.
Tom is survived by his faithful wife of 58 years Anne, his three sons, Thomas Jr., John, and Paul; his two daughters, Barbara Clement Klassen, and Kathi Clement Harty: his two sisters in Pennsylvania, Mabel Clement Lee, and Elinor Clement Kirk, and 11 grandchildren whom he loved and prayed for daily. Tom was preceded in death by his parents, Thomas and Mabel Clement of Kennett Square, PA, as well as an infant daughter, Mary Clement.
There will be a public viewing at Einans Mortuary in Richland, on Thursday, July 18, from 2-7 pm.
Memorial and graveside services will be at Einans on Friday, July 19, at II am. In lieu of flowers, memorial donations may be sent to: Tri-Cities Chaplaincy, Hospice House 2108 W. Entiat Ave. Kennewick, WA.
Dear John and family,
We are so sorry for your loss. We will always remember the sweet man who always had a smile and a nice word or conversation while helping you at SideWalk Show. God must be happy to receive him!
Joe and Eve
Dear Tom & Clement Families…Please accept my condolences in this time of your loss but I also share your joy in knowing that your father is with the Father.
Gary Behymer
Col-Hi Class of 1964
Dear Tom and family: I read the memorial about your father in today's newspaper; he sounded like a wonderful man … you were very lucky. I am sorry for your loss.
My condolences to the Family. I had the privilege of knowing Tom as a fellow employee at N Reactor. He was always friendly and considerate. I didn't realize, though, that he had a connection to Kennett Square, PA, which was my home town, too.
Dear Kathi and family,
I just wanted to add my sympathy at the passing of your dad. I'm sure your great family provides each other with lots of support and love but it is never easy. God bless all of you and may he provide you with strenght during this time.
Tom was a great guy, a friend and a fellow Hanford Engineer. There were about six of us that met during lunch for a very high level hearts game out at 100-N. When you go through Tom's personal things, you will find packages of five pennies wrapped in scotch tape. Most of these will have dates before 1985. The winner got a package from each other player in the game. Never a nickle, always a package. Tom won his share of the games, but Tom was better known as the guy that kept everyone else honest. He would sacrifice his chance to be the winner just to be sure that no one else would "shoot the moon". I guess this sums up what was Tom Clement. Willing to sacrifice himself for the good of the rest. May he rest in peace!