FIND AN OBITUARY
Service information is posted on our website only with approval from the family.
If you are seeking information not listed below, please contact us.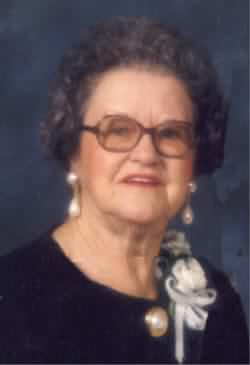 Bill Cotton
07/13/1909 — 06/24/2003
From Richland, WA, US | Born in Wiley's Cove Township, Arkansas
Bill Cotton
Bill Willie Kimbrell Cotton passed out of this life on June 24, 2003, in the loving presence of Willis, her husband of 69 years, Nancy, her only child, and Connie, a friend and caregiver at Life Care Center of Richland.

Bill came into this life on July 13, 1909 in Wiley's Cove Township Leslie, Arkansas, born to Riley and Nancy Jane Kimbrell and embraced by her older siblings, her brother Dick and her sisters Verlie and Rue.  The family story is, Bill was born with a fishing pole in one hand and a deck of cards in the other.

Across her life she fished with family and friends in creeks, rivers and lakes in Arkansas, Alabama, Montana, Canada and in the Pacific Ocean.  She especially cherished the fishing trips with Willis and their grandchildren, Greg and Jill.

Her brother-in-law, Charles, named her "the bridge player."  Like fishing, she sat at many bridge tables in various parts of the U.S.A. and Canada.  She was one of the founding members of ACBL Unit 442 in the Tri-Cities in the late 1940's.  She attained the rank of Silver Life Master, having amassed 2,329.81 points.  She won many regional events, was a certified director, club manager, membership chairman, teacher and encourager of newcomers, and promoter of the game she loved.

As a girl, she was a top student.  Right after graduation from Leslie High School, she challenged the Arkansas State Teachers exam, passing with highest marks.  At age 16 she was granted a provisional teaching certificate and taught briefly in a one-room country school.  When her mother suffered a serious stroke, Bill was called home and lovingly cared for her mother and was at her side when she died the winter of 1932.  Bill did not pursue teaching after that, but greatly valued higher education and has given financial assistance to 9 members of her family towards their college education.

Bill married Willis Cotton June 2, 1934 and was a life-long, loving companion.  They, along with their daughter, moved to Hanford, then settled in Richland in 1944.  In all of their years together, Bill as wife, mother, grandmother and great-grandmother has been known as a "20-hour-a-day-woman."  She held various jobs – grocery clerk, central supply at Kadlec hospital – before her long-term employment with the Benton-Franklin County Health Department.  Every day she rose early to work, garden, cook, sew, and play bridge.  The joy of living fully found its way into everything she touched and turned out beautifully – doll clothes, formal dresses, baby clothes for her grandchildren, holiday desserts, fried apricot pies, rhubarb cake, Texas Pecan Cake, Karo-nut pie, jeweled Christmas ornaments, and her flower garden filled with plants named after the person who had given them as a gift.  Granny Bill especially loved giving her great grandchildren money for their piggy banks.

Of all that she touched and did in her life, it was the others she loved and the doing for them that gave her the greatest happiness.  She will be missed, remembered and celebrated by everyone she loved.

At the time of her death, she was a member of the Eastern Star Lodge in Leslie, Arkansas and was still on the membership role in the Methodist Church in Leslie.

She is survived by her husband, Willis; daughter, Nancy Jane and son-in-law Paul Winklesky; grandson Greg, his wife Pam and their daughters Erika Jane and Katrina Kimbrell Winklesky; granddaughter Jill, husband Brian, their children Conor and Darby MacKenzie; sister Rue Manes; brother-in-law Charles Cotton and his wife Mary Evelyn; sister-in-law Willene Cotton; grandnieces Barbara Manes and Jan Fletcher.

Bill was preceded in death by her mother, her father, her brother Dick, her sister Verlie, her nephews Robert Norman and Billy Lee Manes.

The family is deeply grateful for the friendship and care given to Bill by Lynne Paasch, Zita and Jerry Dilger and the many employees of Life Care Center of Richland.

Funeral services will be held at 1:00 p.m. Saturday, July 28, 2003, at Einan's Funeral Home.  Interment will follow in Sunset Memorial Gardens.

Visitation will be at Einan's Funeral Home from 8:00 a.m. to 5:00 p.m. Friday.

I regret that I will miss the service on Saturday. Bill used to say that I would go to Kalamaszoo to miss our regular bridge game. So please tell her that I will be in Kalamaszoo! Bill will be missed by many and none more than myself. She was a mentor, friend, partner, confidant, and generally good person at the bridge table and away. She coached me through the director exam, she gave her club to me when she could no longer run it, and she was a very dear friend! How did I know she was my friend? I knew it every time she called me a "Peckerwood." I really never knew what a Peckerwood was, but I knew it was good! We are all going to miss you Bill. Love, Tom
I have had the real pleasure of knowing Bill for over 50 years. I worked with her for over five years and what a joy she was all her life. She was very devoted to her family and for being raised in Arkansas. I am real sorry that her health deteriated the past few years. God Bless Her