FIND AN OBITUARY
Service information is posted on our website only with approval from the family.
If you are seeking information not listed below, please contact us.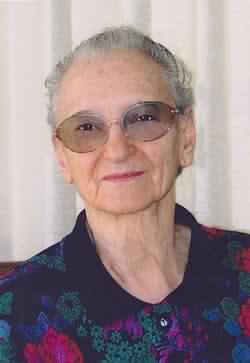 Edna Regina Adams
09/04/1920 — 06/09/2003
From Pasco, WA, US | Born in Emerson, Nebraska
Edna Regina Adams
Edna R. Adams, 82 passed away peacefully on June 9th, 2003. Edna was born September 4, 1920 in Emerson, Nebraska to Michael & Anna Skow. Edna was one of the rare precious souls on this earth who dedicated her life to helping others. If you had the pleasure of knowing Edna you were touched by her kind, helpful and humorous spirit. Shortly after graduating from high school she enrolled in Nurse's training in Sioux City, IA. In August of 1941, Edna married Loyd Baker of Pierson, Iowa. Edna and Loyd spent their years farming and logging in Nebraska, Minnesota and Montana. In 1951, Edna was handed her first tragedy, Loyd was killed in logging accident.
Edna's dedicated and optimistic spirit was what kept her going. She continued with her passion of helping others and re-entered the nursing profession again. In July of 1952, she married Harry Nesseth of Alvwood, MN. They were married in Livingston, Montana. Edna and Harry shared a beautiful life together. Harry was employed in the road construction industry as a "blasting man", so they had the pleasure of living in various communities around the Pacific Northwest. Edna and Harry were blessed with two children, Curtis born in 1957 and Holly born in 1959. Once again tragedy entered Edna's life in 1962 when Harry was killed in construction accident. The same passion and drive for living and helping others is what kept Edna going. Edna was still in the nursing profession and was acting as the primary caregiver for her aging parents. She balanced the challenges of single parenthood as a working mother, and serving as the caregiver to her aging parents. After the death of her parents, she and her children moved to Missoula, Montana, Wakefield, Nebraska and finally to Pasco, Washington in 1966. In the Tri-Cities community Edna worked at Kadlec Hospital in Richland as a Registered Nurse.
In 1970, Edna married Harold Skip Davis. Edna and Skip resided in Richland and enjoyed spending their spare time traveling around the country in a travel trailer. They shared 13 years together until Skip passed away in 1983. Edna had retired from the nursing profession but still continue to serve her community. She dedicated her spare time to assisting with the Tri-Cities Food Bank. This is where she met Ernie Adams. She and Ernie were married in 1985, and they continued to dedicate their time to the needs of others. Both were very active in the Tri-Cities Food Bank, Northwest United Protestant Church, and many other service agencies in the Tri-Cities area. Ernie passed away in 1999.
Edna spent her final years at the Alterra Retirement Home in Richland and Tri-Cities Retirement Home in Pasco.
As noted above, Edna's passion in life was helping others, if she met you, she knew you, if she knew you, she cared about you, if she cared about you, she would do anything for you. Those of us who knew her feel truly blessed to have been so fortunate to be a part of her life.
Edna is survived by her children, Curt Nesseth of Fremont California, Holly Vermeulen and her husband Jim of Bear, DE. Her extended family of children include Terry Davis – Richland, Larry Davis – Los Alamitos, CA, Duane Adams – Kennewick, Rick Paulson – Kalispell, MT, Mark Paulson – Kalispell, MT, Pat Ruane – Richland. Special friends included Jeanne Peterson and Marshall Helsey. She is also survived by her grandchildren of Jeff Ruane, Mikey Ruane, Mitch Davis, Tricia Davis, Troy Davis, Sherri Krough and Kristin Paulson.
Memorial Service will be at Einan's Funeral Home in Richland WA, Saturday, June 14th at 10:00 a.m. Visitation will be held on Friday from 5:00 to 8:00 p.m. Donations can be made in Edna's honor to the Tri-Cities Food Bank.
To Edna's family,Larry and Terry Davis. We share your loss and know your pain. Have just gone through it ourselves and fully understand.
We will be out of town Sat. but will have you and the family in our prayers.
Edna nursed some of our family members and know her very special caring ways. She was a very special lady and will be missed dearly by all who crossed pathes during her lifetime.
Love to you all..Ron and Carole Mudd 1202 Symons St.,Richland, WA 99352
I was one of Edna's instructors when she was a nursing student. I remember her especially for her compassion and kindness to all her patients. She was especially good with the elderly and those who were frightened by their illness, often spending extra time and effort with them to ease their fears and make them feel worthwhile. They loved her because she loved them. I never heard a cross word from Edna; she always saw the best in people.
Edna was a wonderful person and mother. I enjoyed seeing and talking with her from time to time. Edna truly was the salt of the earth. I remember as a teen going over to Curt's house and Edna always offering refreshments. As I got to know her in my adult years I really appreciated her soft and gentle nature.
I last saw Edna the first week in May and she expressed that she was ready to leave this earth. She had a successful and fulfilling life and let that be a comfort to those who mourn her.
My sincere sympathy to Edna's family. I had occasion to work with her and she was such a neat lady. She once gave me a ring for a gift which I still have and remember her by it. Blessings to all!
miss you.
Edna is the mother of one of my best friends Holly in High School. She always laughed and egged us on a bit at all of the "antics" that we were up to. She could always put a positive spin on whatever bad thing that was happening. She also could laugh at herself and the things she got herself into—-like the time she locked herself out of the house and the way she got herself back inside!! She truly was a person who cared and always remembered you. I will always remember her!!
I know Holly and Curtis will miss her. God Bless Edna and her family.