FIND AN OBITUARY
Service information is posted on our website only with approval from the family.
If you are seeking information not listed below, please contact us.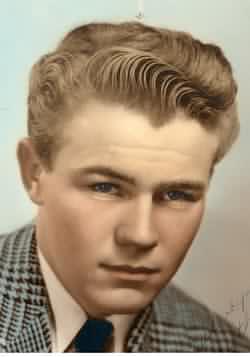 Don Aaron Williams
01/10/1931 — 07/19/2003
From Pasco, WA, US | Born in Mountain Home, Idaho
Don Aaron Williams
Obituary of Don Aaron Williams
I was born on January 10, 1931 in Mountain Home, Idaho to Lon and Emma Kelso Williams at a time when my family was ranching near Hill City on the Camas Prairie. I died at home in Pasco, Washington surrounded by my wife and children on July 19, 2003.
I lived on the Camas Prairie until age 12, when my family moved to Hanford, Washington in 1943. I graduated from the eighth grade in 1944 and rode the school bus to Richland until we moved to Richland in 1945. I graduated from Columbia High School in 1948.
I entered the U. S. Navy in 1948 and served as an aircrewman aboard TBM's and AF's in Squadron VS-31. At discharge, I was an AT-2 E-5 and had valiantly served during the Korean War in the Atlantic, the Mediterranean, and the Caribbean. The closest I came to Korea was when I came home on leave in March of 1951.
I married my sweetheart, Edwina Overstreet, in Richland on November 29, 1952 and had three children. I graduated from Washington State College in 1958 and began working for the U. S. Government with assignments throughout the West. I retired from the Bureau of Indian Affairs in 1978 as Director of Training for the Pacific Northwest.
My survivors include my wife, Edwina, and three children; Lin Karen LaRoe of Pasco, Mark Brenda of Kennewick, and Lori Sato of Pasco; four grandchildren, Ginger Matheson, Patrick Williams, Brendon Sato and Alison Sato; two sisters, Jackie Burns of Kennewick and Maisie Jones of Benton City, and numerous nieces, nephews, and cousins.
I was preceded in death by my parents, my brother, Everett; my three sisters, Dottie Lanman, Fairy Taylor Jones, and Margie Williams; my favorite son-in-law, Dennis Sato; and numerous nieces, nephews and cousins.
A graveside service will be held on Saturday July 26th at 10:00am at Sunset Memorial Gardens in Richland. There will be visitation on Wednesday July 23rd from 5-8pm and Thursday July 24th from 8-11am, at Einan's Funeral Home.
I met Mr. Williams when I was
16 or 17 yrs. old when I was
working for Bureau Of Indian
Affairs, Dept of Property & Supply as a student.
He was always really nice to me when he had to talk to me.
I am totally shocked that I have lived in Pasco for 23yrs.
and never ran into him.
My thoughts & prayers are with
each & everyone of you.
I was very sad when I heard that Don had passed away. I always think of the family when I'm on the way to my parents. I remember his bright smile and the love he had for his family. I'm very glad that I got to spend a little time with him while Lori and I were in High School.
Please know that my thoughts and prayers are with all of you during this difficult time.
With sympathy and love,
Kim McCarthy
We are so sorry to hear the news about Don. Time seems to fly by so quickly and yet it seems like not long ago we visited with Don at Dottie's when George was here for a visit. But then again it was years ago that we had that visit. I pray that you find comfort in your loss.
Sincerely,
Duane, Nola, Keith & Sarah Kelso
Edwina and Family,
Our heltfelt sympathies go out to you. Don was a good man and I was proud to know him. I always enjoyed chatting with him when I would visit while growing up in Benton City. I'm sorry we missed his service but send our prayers your way.
Love, Doug Miller