FIND AN OBITUARY
Service information is posted on our website only with approval from the family.
If you are seeking information not listed below, please contact us.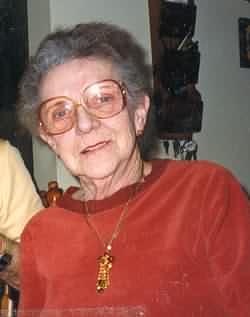 Stella M. Eckholm
01/30/1912 — 08/22/2003
From Kennewick, WA, US | Born in Bedford, Indiana
Stella M. Eckholm
Stella M. Eckholm of the Tri-Cities passed on Tuesday, August 22, 2003, at the Life Care Center of Kennewick, WA at the young age of 91 ½ years. She was taken by the Lord very peacefully with her daughter-in-law, Mary K. Mickey and son, Ray E. Hubbard of Kennewick at her side.
Stella was born in Bedford, Indiana on January 30, 1912.
She was preceded in death by her two husbands, Ray C. Hubbard 1962 and Leo W. Eckholm 1994, both of Richland, WA.
From her marriage to Ray C. in 1926, she is survived by two daughters, Rhea C. Gately of Edmonds, WA and Loretta Gemmell Young of Porterville, CA and her son, Ray E. Hubbard and daughter-in-law, Mary K. Hubbard of Kennewick. She had 14 grandchildren and countless great-grandchildren and several great-great grandchildren.
There are no surviving children or grandchildren from her marriage to Leo W. Eckholm in 1966, but all of her children, grandchildren, etc. of her earlier marriage to Ray C. dearly loved Leo W. Eckholm.
Stella was one of Richland areas earlier atomic age migrants arriving in January 1945. She was originally a Methodist, but since her marriage to Leo in 1966 had been a Lutheran until her passing.
She was very proud of all of her grandchildren and was especially enamored with the earliest great grandchild, Tim J. Gately of Bothell, WA, who called her the nickname "G.G." which has passed thru all generations since. He showed signs of becoming a pianist. She would be doubly proud to learn that he attended her services now as a Washington State Trooper. Tim J. is the son of James J. and wife, Virginia Gately, also of Bothell, WA.
Another of her earlier favorites was Janice Gately, great granddaughter, from the Seattle area. She was unable to attend G. G.'s final burial but was there with "G.G." in spirit.
G.G. would be so proud to know that another grandson, Ty Ray Gemmell of Pasco, WA is the minister of record as an ordained minister of the Jehovah's Witnesses and was in charge of her final service.
How proud would she be to learn that she left behind banking officials, Janice Gately, Seattle area and Gina Gately, Bothel, WA; teachers, Jennifer Hubbard of the Tri-Cities, Sandra Spivey of Long Beach, WA; accountant, Keri Rutledge of Anchorage, AK; doctor, Jamie, nurses, Mary K. Hubbard and Jill Spivey; construction manager, Tim J. Hubbard of Kennewick; teamster, Ray E. Hubbard of Bend, OR; mortgage specialist, Cathy Hubbard of Portland, OR; Washington State Trooper, Tim Gately of Bothell, WA; minister, Ty Gemmell of Pasco; fireman, Justin Spivey currently with US Navy; two budding piano students, Allyssa and Michael Hubbard of the Tri-Cities.
G.G.'s life was full of both hard times and good times, but she never wavered and always was truly happy, and I know that she will be remembered that way by all who knew her.
Final services were handled by Einan's Funeral Home of Richland on August 30, 2003.
No cards or flowers are necessary.