FIND AN OBITUARY
Service information is posted on our website only with approval from the family.
If you are seeking information not listed below, please contact us.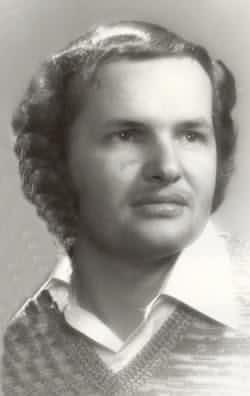 Tom Lee Edvalson
08/18/1948 — 08/23/2003
From Benton, City, WA, US | Born in La Grande, Oregon
Tom Lee Edvalson
Tom Edvalson, beloved son, husband, friend and father died Saturday afternoon, Aug 23, 2003 after a long battle with Fredric's Ataxia, a rare neurological disease. His courageous example will live on in the minds and hearts of all who knew him.
Tom was born in La Grande, Oregon, on August 18, 1948 and grew up in near-by Union, Oregon, a small logging community in the Blue Mountains. His early years were spent on a farm milking cows, herding swine and doing other chores to help his family. He participated in the local 4-H club and was especially fond of his pigs who won several ribbons at both county and state fairs. One year his pig won grand champion at the county fair and then he traveled with his team and their pigs to win the Oregon State Fair Championship. Tom was a great athlete and competed in football and track during his High School Years. He loved to go fly-fishing with his family and friends and loved the outdoors.
After high school, Tom served a full-time mission for The Church of Jesus Christ of Latter-day Saints, in the Dublin, Ireland mission. After his mission, Tom married Linda Jackson at the LDS temple in Provo, Utah in March of 1976. The first years of their marriage were spent in Pasco until he later bought a house in Benton City where he lived until his death. Tom worked 10 years as a technical operator in the nuclear fuel industry
Tom was a great worker and devoted much of his spare time to his yard; his efforts were often admired by friends and neighbors. Tom loved to play football and other sports with his sons in the backyard, and he never forgot to include the other neighborhood kids. He quickly became one of the more popular Dads on the block. Tom continued this tradition until he was barely able to walk, calling plays to the kids from the picnic bench on the patio.
Tom was always willing to help people in need. His generous nature was returned to him by friends and family members who helped him the last few years of his life. He never complained about his condition and stubbornly fought it to the end. We love and miss him.
Tom was preceded in death by his brother Allen and sister Janel Taylor. He is survived by his wife Linda, and sons John and Michael Benton City, WA. Parents, Elmer and Glenda Milton Freewater, OR; sister Loraine Maughan and husband Brent Spokane, WA, sister Sherri and husband Kent Walton Tigard, OR; sister Kelly Campbell and husband Kevin Spokane, WA, and other family and friends.
The Funeral will be held at 2:00 pm at the LDS Chapel in Benton City on Wednesday August 27. Visitation will be held today at Einan's Funeral Home from 6:00-8:00pm.
Families are forever…
I was so sorry to hear of Tom's death as well as shocked. I didn't know that he had been ill or had health problems. Our thoughts and prayers are with you.
To John and his family I really wish them a lot of peace in their hearts and souls and all my support.
Tom was the best home teacher we ever had. We will miss him greatly.
You're not alone.
Thoughts, prayers, and sympathy,
Angela
Our sincere condolences to Linda and kids. Tom was a good man who will be missed.