FIND AN OBITUARY
Service information is posted on our website only with approval from the family.
If you are seeking information not listed below, please contact us.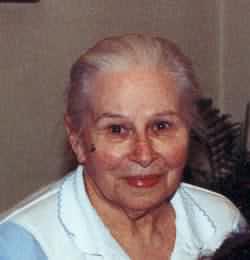 Virginia D. Laurence
03/26/1911 — 08/29/2003
From Spokane, WA, US | Born in Abbott, Arkansas
Virginia D. Laurence
Virginia Claire Alta Durman Laurence went peacefully to the Lord's side on August 29, 2003.  She was 92 years old.

Born on March 26, 1911, to Eban and Susan Van Nest Durman, in Abbott, Arkansas, she was raised by her maternal grandparents in Yuma, Colorado, after the death of her mother.  She attended nursing school in Nampa, Idaho, and worked as a Public Health nurse in Oregon, Idaho, and then in Richland, Washington, after moving here in 1947.  She was the first school nurse at Spalding Elementary School when it opened in 1948 and later was the nurse for Dr. Albert G. Corrado in his Richland practice for 35 years before retiring in 1990.  Many patients of Dr. Corrado's remember the small white-haired lady, her hair in a French twist, who gave them their allergy shots.  She lived in the Tri-Cities until 2001 when she moved to Spokane.

She was active in Girl Scouts with both daughters, Mary and Fran, and later with granddaughters, Jerry and Janet.  She belonged to Christ the King Church in Richland.  She was highly interested in genealogy and was able to find in her later years many of her relatives on her mother's side.  She enjoyed traveling, making trips to see family, was an avid reader, but most of all thoroughly loved her work.

She was preceded in death by her parents, daughter Mary Laurence Purtell, her brother Tipton Durman, his wife Babe, and ex-husband, John Lawrence.  She raised Mary's daughter, Jerry, after her untimely death in 1959.  Her wish was to be laid to rest with Mary.

She is survived and will be greatly missed by daughters, Vivian Pappas, her husband, Louie, of Renton, and Fran Sleater, Richland; nephews, Ronnie Durman Mary of Homer, Alaska, and Doug Durman Bonnie of Tulsa, Oklahoma, and their children; grandchildren, Vicki Miskin Norm, Steve Pappas, Lara Shannon Joe, Sandi Frank, Linda Stallman Gary, Lonnie Pappas, all in the Seattle area, Jerry Purtell Kilmer Ralph of Spokane, Janet Sleater and Dave Sleater Deidre, all of Richland; and at last count 14 great-grandchildren and 10 great-great-grandchildren.

A memorial service will be 11:30 am, Saturday, September 20, 2003, at Einan's Funeral Home in Richland.  Those attending are requested to write a favorite memory of Virginia to be included in the family's memorial book.  In lieu of flowers, memorial contributions may be made to Hospice of either Tri-Cities or Spokane.

Mom gave me the gift of family and love. She took me in even though it changed her life dramatically. She taught me how to be the best I could be and gave me the confidence to succeed at anything I tried. I love her and miss her.
I loved grammie the most. This is me getting the last word, even though she always let me win.
I was to young to remember much, but I know she meant alot to my mother. She was a kind and wonderful lady. She will be very missed by those of us still here. May she journy in peace.
Dear Jerry – I remember your mother fondly, both from Dr. Corrado's office and from meeting her with you. My thuoghts are with you now. Having lost my father two years ago, I know the catch that comes with this loss.
I joseph Bishopam signing this by proxy for my mother. She does not have access to the internet. But I know she loved Virginia very much and would want to pass on her condolences to the family. She is hand writing a letter to Jerrysue and family. Virginia, restin peace.
Virginia came into our lives in 1980. It meant alot to my mom to find her. We did not get to know her the way you did but even in our short time of knowing her she became very special to us. She will be missed!