FIND AN OBITUARY
Service information is posted on our website only with approval from the family.
If you are seeking information not listed below, please contact us.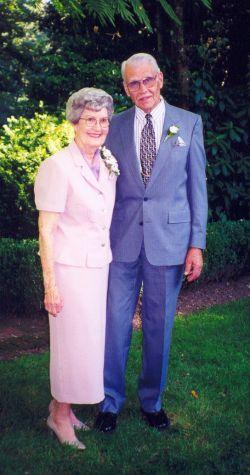 Rudolph "Rudy" DeJong
04/08/1915 — 09/08/2004
From Richland, WA, US | Born in Salt Lake City, Utah
Rudolph "Rudy" DeJong
Rudolph Dejong 1915 - 2004
Rudolph DeJong, aged 89, died peacefully on September 8, 2004. A grave-side service will be held at Sunset Memorial Gardens in Richland on Friday, September 10, at 10:30 a.m.
Rudy is survived by his loving wife of 63 years, Mary Ann Robins DeJong; son Norman & his wife Melanie of Prairie City, OR; son Lamont R. DeJong & his wife Carolyn Roe DeJong of Gresham, OR; and son Robin DeJong & his wife Mari Jilbert of Portland, OR.
Rudy is also survived by six grandchildren: Mathew Wayne DeJong of Richland, WA; Kendyl DeJong of Kelso, WA great grandchildren Melanie & Garrett; Catherine Johanna DeJong of Boise, ID, great grandchildren Rustyn & Soraya; Hettie DeJong and husband Troy Wright great grandchildren Emily & Ethan; Mick Hokanson and wife Emily of Gardendale, AL; and Christopher DeJong of Provo, UT.
Rudy was a life-long member of the Church of Jesus Christ of Latter Day Saints. He married Mary Ann Robins in the Salt Lake Temple in 1940. He was one of the atomic pioneers, moving to Richland in November 1943 as part of the Manhattan Project with the Dupont Company. Rudy helped the surveyors set the ''target'' for the first reactor 100B built at Hanford. Rudy created ''Rudy's Little Wagon'' to expedite and organize services on Hanford site projects. He designed hydraulic pumping systems for the Hanford project that earned him the General Electric Manager's Award in 1964. During his years at Hanford, he worked for Dupont, General Electric, Atlantic-Richfield, and Rockwell. He retired in 1977 as General Manager of the 200 East and 200 West Area Shop. After retirement, he and Ann enjoyed traveling in the United States and Europe.
Rudy was a gentleman and always a dapper dresser. He was proud of his family, his home, and his community. He had a smile and hug for everyone. He enjoyed playing tennis in his early Richland days and loved to walk every day.
Rudy was the oldest of five brothers and sisters. He was born to Catherine Johanna Van den Aker and Roelof DeJonge in Salt Lake City, Utah on April 8, 1915. He was preceded in death by his two sisters Catherine Kate Bloomfield and Laura Woodward. He is survived by his two brothers Joe DeYoung Centerville, UT and Dave DeYoung Fullerton, CA.
The family extends special thanks to Valorie and Roger Johnson, who provided special care to Rudy during his illness. In lieu of flowers, memorial donations may be made to the Boy Scouts of America or Tri-Cities Chaplaincy.
Dear Anne,
I wish to add my condolences to the many I am sure you have received. I know this is a difficult time to get through, and keep you in my prayers daily.
With warmest regards,
Maxine
Dear Ann:
Just wanted you to know I'm thinking of you. Even though Rudy is finally at peace, you still have to adjust to losing your life-long partner. You've been very supportive and loving. I'm sure Rudy's last days were less stressful because you spent so many hours at his side.
I admire your strength and appreciate the role model you've been to me. Take care.
With affection, Kathie