FIND AN OBITUARY
Service information is posted on our website only with approval from the family.
If you are seeking information not listed below, please contact us.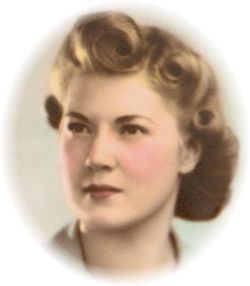 Ruth Elizabeth Waltman
06/04/1918 — 09/12/2004
From Vancouver, WA, US | Born in Denver, Coloarado
Ruth Elizabeth Waltman
EINAN'S FUNERAL HOME Ruth Elizabeth Johnson Waltman, age 86, died on Sunday, September 12, 2004, following a long battle with Hodgkin's disease. She was born on June 4, 1918 in Denver, CO., to Amandus Elof and Svea Amanda Johnson. She was a child of God, raised in the Great Depression and a member of the Greatest Generation. She spent her early years in Denver, graduating from West High School in 1935. She attended Central Business School, worked at the Brown Derby Restaurant, and the Mountain States Phone Company until the beginning of WWII. She married her childhood sweetheart John Thomas Waltman on November 9, 1941. During WWII she followed her husband to various Army Air Force bases across the United States, in San Diego, CA, Lake Charles, LA. and Wooster, MA. After the end of WWII she moved with her family to Richland, WA. in 1948. She worked as a secretary for General Electric, the Richland Police Department, Westinghouse, and Batelle Northwest. She was the audio-visual librarian for the Richland Public Library and a library assistant at Hanford High School. Ruth was a life long Scandinavian folk and square dance enthusiast, joining groups in Denver and in Richland. She was an avid reader of classical and mystery books and shared her love of literature with her children and grandchildren. She was a long time subscriber of the Tri-City Community Concert series. She enjoyed watching old movies and doing crossword puzzles. She enjoyed hiking and camping and felt most at home in Yellowstone National Park, where she never tired of seeing the beauty and awesome power of God's creation. She enjoyed traveling, visiting old friends, meeting new people, and having "little adventures" throughout her life. She was a member of the Richland Lutheran Church for over 50 years. She was active in church activities as a Sunday school teacher, member of the altar committee, kitchen volunteer, and a member of a sewing circle. It was here she met the Reverend Tomas Anderman of Stockholm, Sweden, when she opened up her home to him during his internship in the United States. Years later she visited Tomas, whom she considered her "Swedish son" and his family in a visit to her family and friends in Sweden in 1982. She enjoyed bible study groups and her Christian friends in Richland and Vancouver, WA. Ruth and her husband Jack were proud members of the 409th Army Air Force Group and attended many local, regional and national reunions with many close old friends including, Wally Reed, Hassel Barton, Art and Betty Milo. She was proudest of her church activities and her family of three children, seven grandchildren and one great-grandson. Ruth was preceded in death by her parents Amandus and Svea Stenberg Johnson; her husband John; her sister Dee; and her niece Bonnie Cunningham. She is survived by her son Dennis and his wife Cindy and grandchildren Amanda, Tracy, Daniel, Jennifer, and Jamie Waltman of Redmond, WA. by her son Terry and his wife Nancy Waltman of Federal Way, WA.; by her daughter Amanda and her husband Robert Dana and grandchildren Sarah and Laura, and great-grandson Mason of Vancouver, WA.; by nephew Larry and his wife Diane Franson of Littleton, CO.; by niece Patty Franson of Denver, CO.; and by niece Marianne Headrick of Napa, CA. Visitation will be at Einan's Funeral Home from Thursday, September 16, 2004 from 5-8 pm and Friday, September 17 from 5-8 pm. Following her internment at Sunset Memorial Gardens, a memorial service is to be held at Richland Lutheran Church on Saturday, September 18, 2004 at 12:30 pm. All memorial contributions may be made in her memory to Good News Media Ministry c/o Richland Lutheran Church, 901 Van Giesen, Richland, WA. 99354.
Dear Terry:
I was so sorry to read about the passing of your sweet Mother. Her wonderful smile was an outward sign of her warm and beautiful spirit. She was a very special person, and I remember her fondly.
I'm on my way to Seattle so will miss her service. You all will be in my prayers.
Take care. Kathie
Waltman Families:
Our sincere condolences on the loss of your most treasured Mom.
May you remember all of the good times.
Gary & Janis Behymer
Dennis and I were in sixth grade together at Lewis & Clark. That year, Valentine's Day fell on a Saturday so the class exchanged cards on Friday. Friday the 13th. I had a crush on Dennis but didn't know he felt the same until he walked up and gave me a red heart full of candy. To this day, I consider Friday the 13th lucky, not unlucky, because of that day in sixth grade.
God be with you, Ruth. You raised a good son.
Terry, I am so sorry you have lost your mom. Of course I knew her slightly as you and I went through school together, but I was really fortunate to work with her when she was in the library at Hanford High School and I was teaching there. Such a sweet, wonderful lady—interested in so many things, and such fun to talk with.
I know you must have many great memories. Teresa DeVine Knirck