FIND AN OBITUARY
Service information is posted on our website only with approval from the family.
If you are seeking information not listed below, please contact us.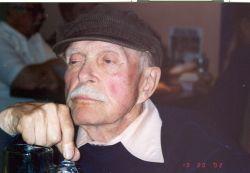 Edward William Tesmer
04/28/1911 — 01/09/2005
From Kennewick, WA, US | Born in Milwaukee, Wisconsin
Edward William Tesmer
EINAN'S FUNERAL HOME
On January 9, 2005, in the early evening, Edward W. Tesmer was taken to his heavenly home, passing peacefully in his sleep.
Ed was born April 28, 1911 in Milwaukee to John Tessmer and Elizabeth nee Dusek. He was the second child in the family of three sons. Ed was baptized and confirmed in the Wisconsin Evangelical Lutheran Church. Ed was proud of his German and Hungarian heritage and the hard work his parents endured to settle themselves in a new country. Hungarian speaking mother Elizabeth came to America thru Ellis Island in 1905 as an immigrant. The two met in a German Beer Garden owned by John's aunt Augusta.
In 1930 Ed graduated from Lincoln High School in Milwaukee. At 25 he met his beloved Genevieve. They were married December 5, 1936 in Milwaukee by Reverend John Brenner.1986 Ed and Gen, with family and friends, celebrated their 50th wedding anniversary.
Ed was a technical advisor and division supervisor for sales service in Wisconsin for A.O. Smith Corporation. During World War II when working for A.O. Smith as a machinist Ed helped make tank parts for the war effort. He was denied enlistment in the United States Armed services due to an injury that left him blind in his left eye. He was proud of the contributions he made in his civilian life for the war effort.
Ed was later employed as a chief executive officer and partner in a major merchandizing operation in sales of government surplus materials. His duties included supervision of 32 employees.
Ed was a regional sales representative and technical consultant for Triplex Supply Corporation of Milwaukee; a precision tool supplier to major Wisconsin industries. His career as a tool salesman was very successful. He made friends easily and enjoyed socializing with his clients and going out to lunch with them. Ed retired in 1983 and cared for his wife the next 6 years until she passed away. In 1995 when younger brother William became ill with cancer Ed brought him to his home to take care of him.
Ed was very active in civic affairs in his community. He was chairman of the Legislative Committee for Local #19806 of the US Steelworkers 1942-1945 and a member of a labor-management governing body which mediated and arbitrated disputes in industry where strikes of other work stoppages would jeopardize the public interest 1942-1945.
Ed was proud of his accomplishments in rebuilding an 1889 home he purchased in 1956 and lived in until 1999. Ed did most of the remodeling himself. The completion of college education for five of six daughters was a proud accomplishment for Ed and Gen. Ed was a great story teller and enjoyed cribbage with family and friends. An avid fisherman and hunter, he was a member of the St. Francis Sportsman Club.
Ed moved to Kennewick in August 1999 to live with his daughter Christine and husband Lloyd and family. He enjoyed watching Lloyd and Grandson Hollis work on house and car repair projects.
Ed was often present the past five years at Kamiakin girl's soccer events. He was well known to many of the soccer players and golfers from Kamiakin and enjoyed the outings to these activities and the young people involved in them. Ed attended church regularly at King of Kings Church in Kennewick and enjoyed this community of friends and fellow worshippers. He always had a smile and his own special greeting for those who addressed him and said hello.
Ed's gregarious nature enamored him to those who cared for him and helped him. Ed liked a good joke and a cold brew-ah-h-h. He will be greatly missed by family and friends.
A special thank-you to Hospice, for their love and support of Ed and his family. Ed is survived by 5 daughters, Sonja Sonju, Louise Tesmer, Elizabeth Weindorfer David, Christine Erikson Lloyd, and Arleen Tesmer; 8 grandchildren, Genevieve Barker, Tonia Sonju, Edward and Tiffany Weindorfer, and Travis, Hollis Ardeth, Meotis, and Deneille Erikson; great grandchildren Todd Mani, Alec Shafer, Marlon and Naomi Anderson, and Oskar Erikson; and other relatives and friends.
Ed was preceded in death by his wife Genevieve, daughter Suzanne Barker, son-in-law Ronald Barker, his parents and brothers John and William.
There will be viewing on Tuesday, January 18, 2005 from 4-6:45 PM and then a Funeral at 7:00 PM at King of Kings Lutheran Church at 5209 W. 5th Ave., Kennewick. There will also be a viewing on Thursday, January 20, 2005 from 4-8:00 PM and Friday, January 21, 2005 from 10-11:00 AM at St. Paul's Lutheran Church in Cudahy, WI with the funeral at 11:00 AM at the church.
In lieu of flowers please make contributions to King of King Lutheran Church at 5209 W. 5th Ave., Kennewick, WA 99336, St. Paul's Lutheran Church of Cudahy, WI for tsunami relief and Tri-Cities Chaplaincy Hospice House, 2108 W. Entiat, Kennewick, WA 99336