FIND AN OBITUARY
Service information is posted on our website only with approval from the family.
If you are seeking information not listed below, please contact us.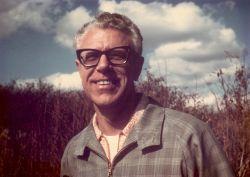 Robert S. "Bob" Miller
07/28/1926 — 02/22/2005
From Richland, WA, US | Born in Northport, Washington
Robert S. "Bob" Miller
Born in Northport Washington on July 28, 1926 to Henry G. and Gertrude Miller, Bob was the older of two children. He and his younger sister, Paula, were separated at a very young age during the depression, Bob staying with his mother when the family split up. His mother remarried, and Bob helped raise his two half-sisters Donna and Ruth "baby sis" while growing up in Metaline. After finishing high school in Metaline Falls a graduating class of 9 Bob joined the Army and shipped out to the Philippines. Honorably discharged in 1946, Corporal Miller attended Farragut College briefly, then Washington State College where he earned his Bachelor of Business Administration, and managed the Kappa Sigma Fraternity House. Following an early graduation in 1950, Bob was on his way to see his father in San Francisco when he stopped in Richland to "see about a job".
He never left. Never wanted to. He loved the climate, loved the people.
Richland was Bob's home. He started working for GE in 1951 in "personnel"; then ITT, then ARCO, then….well, you get the picture. His job duties over the years with Personnel, Wages & Benefits, Contract Negotiations, and Labor Relations, kept him in contact with an enormous number of people – seemed like he knew everybody – and most surprisingly, he rarely had a bad thing to say about anyone.
Along the way he met Peggy Benefiel, they married, and had a son. Times change, needs change – a divorce, then a second marriage - to Phyllis Moore. That one lasted 26 very happy years. Bob treated Phyllis' children as his own, and considered them family.
Ah, Sports. Bob played football, basketball and baseball in high school and college, softball after college, and bowled on a state championship team. Bombers, Cougars, Mariners, Seahawks. If he couldn't go to the games, he'd watch them on TV; if he couldn't watch, he'd listen on the radio.
He retired in 1988, and spent time with Phyllis traveling, following "his teams", working around the house, meeting with friends, caring for his aging father to the age of 96!, and was a Devoted supporter of "Meals on Wheels". He retired from that gig after over 12 years when he "….started delivering meals to people that were younger than I was!" Bob was on the board of the Hanford Retirees.
In the early 90's Bob was reunited with his "long lost sister" in a tale that made the newspapers. After 60 years of separation, they found one another just a precious few years before her death. Wherever he went, Bob made friends. He was a regular for the "Staff Meetings" Monday, Wednesday & Friday mornings @ the Spudnut shop ….where a band of a half-dozen "former executives" regularly solved the "world's problems".
Well, the world will have a few more problems now. Bob passed away on February 22, 2005 at about 7:00PM of a heart attack. His health had been good, with a recent cold the only exception. All are surprised and terribly shocked by his passing. He was 78.
Bob is survived by his wife of 26 years, Phyllis and her children Rick Moore Girdwood, AK, Chris Dudley Richland and her son Gary Franklin; Bob's son Robert Miller Kirkland from the previous marriage; Bob's grandchild Mackenzie Miller Edmonds; and by his sisters Donna Lozar Moses Lake, and Ruth Semanko Post Falls, ID.
Services will be held at Einan's Funeral Home on Saturday, February 26 at 10:00am. A private inurnment will follow immediately after.
The survivors request any donations be made in the name of Robert S. Miller to "Meals on Wheels" – a charitable organization to which Bob donated countless hours.
Bob will be so very dearly missed by friends, family and all who knew him. Rest in Peace, Pop….we Love you.
We will miss our buddy at the "Last Tuesday at Sterling" monthly get-together. Delivered "meals/wheels" alongside Bob, but he lasted longer at it….was truly dedicated to the task. At our "Last Tuesday" lunches, he and I envariably ordered similar breakfasts, even tho it was the hour of noon,ha.
Knowing that you and Phyl loved traveling as much as Aleene and I, we wish you ONE LAST GRAND TRIP BOB !!!
Love Aleene & Bob
Bobby was a great guy, I graduated with him from the 8th grade in Metaline, WA., and saw each other at the reunions in Metaline.
Bob, you were a super aquaintance and we shall very
much miss our infrequent
visits. RIP
Bob was a very much loved member of our family. He will be missed by all of us. We send our sincerest condolences and sympathies.
You will be sorely missed, old friend. Seems like only yesterday we were kids playing marbles in the mud in Metaline.