FIND AN OBITUARY
Service information is posted on our website only with approval from the family.
If you are seeking information not listed below, please contact us.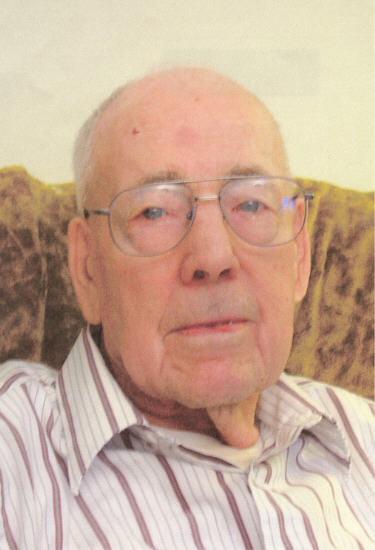 Ronald Franklin Sturgeon
12/12/1914 — 06/22/2005
From Richland, WA, US | Born in New Brighton, Pennsylvania
Ronald Franklin Sturgeon
Ronald Franklin Sturgeon, 90, of Richland, died Wednesday, June 22, 2005 at Tri-Cities Chaplaincy Hospice House. He was born December 12, 1914, at New Brighton, Pennsylvania the son of Marvin and Clarabelle McCool Sturgeon. With his sister, Beulah and adopted brother, Dick, he was raised on family farms near Hugo, Colorado. His father was also cook for the local hotel in Hugo.
In 1933, Ron joined the U. S. Navy and was a gunner's mate on the USS California.  His job was to pull the trigger that fired the main 14-inch guns.  He left the Navy before the California was sunk in the Japanese attack.

After his discharge in 1937, Ron later enrolled in the United States Maritime Service  and was on a transport ship headed toward Anchorage, Alaska when he heard the news of the attack on Pearl Harbor.  He helped to construct Elmindorf Air Force Base and other military facilities in Anchorage.

Then he married Elizabeth Katherine Sproed whom he met while visiting his sister, Beulah, and her husband, Carl Shelby, in Cut Bank, Montana.

Ron did many jobs as a carpenter, and later as a millwright, mostly in California.  He helped to build Grand Coulee Dam, many plants and facilities in California, and some of the nuclear facilities at Hanford during the last years of World War II.  After that he went back to California for more "construction boom" work then moved to North Richland in around 1951 or 1952.  He got work as part of the maintenance operations crew at Hanford where he worked until retiring from ARHCO in 1977.

In 1950, Ron and Betty adopted her niece's son, who had severely deformed feet, and nurtured the boy through many operations at Shriner's hospitals in Spokane, Portland and Seattle, and sometimes through weekly doctor and podiatrist visits, until he could walk.

Around 1954 or 55, he moved his family from a trailer into one side of a one-story duplex in the north end of Richland.  When all the U. S. Government owned houses in Richland went for sale to the public in 1958, Ron bought the duplex he had been living in.  He fixed and maintained the house, and rented the other side, until he sold it 2 years ago just before moving into Alterra.

In about 1958 or 1959, he answered a knock at his door and met Charles Wagner, the newly arrived pastor of the First Baptist Church of Richland.  Over the next year, he accepted Jesus Christ as his personal savior and joined that church which he has helped build and maintain and has provided financial support to for the past 40+ years.

Ron was a 66-year member of Millwright's Local 2403.  He enjoyed hunting and gardening.

He is survived by his son, Marvin C. and wife, Merrie of Portland, OR.; grandsons, Nathan, Darrick and Jonathan; brother, Richard Gromer and wife Wilma of Ft. Bragg California; and sister, Beulah Shelby of Hamilton, Montana.

Ron was preceded in death by his wife, Betty on June 16, 1995.

Memorial services will be held Friday, July 1, 2005 at 10:00 AM at the First Baptist Church in Richland.  Graveside services will be held at Sunset Memorial Gardens in Richland at 9:00 AM, prior to the memorial.

Visitation will be Thursday, June 30th at Einan's Funeral Home in Richland from 5:00-8:00 PM.

In lieu of flowers memorial contributions may be made to First Baptist Church, 1107 Wright Ave. Richland, WA 99354, or to Tri-Cities Chaplaincy Hospice House, 2108 W. Entiat Ave., Kennewick, WA 99336.

Ron's family would like to acknowledge the wonderful care and attention he received from the staffs of both Alterra and Hospice House, as well as the kind people of First Baptist Church in Richland.

Our thoughts and prayers are with the family.
Marv and Family, Thoughts and prayers are with you all at the loss of your Dad. He was a Fixture of the neighborhood where the only one left is Mrs. McDonald. My folks have been gone for over 3 years now. Your Dad was a welcomed site at both of thier funerals and our Sons also. They are all togeather in a different neighborhood. He is in a much better place now. You take care and God bless
Mike & Carol Tesky