FIND AN OBITUARY
Service information is posted on our website only with approval from the family.
If you are seeking information not listed below, please contact us.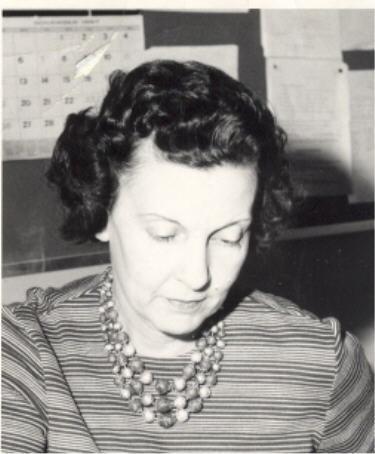 Julia Elizabeth Davis
10/08/1914 — 08/04/2005
From Pullman, WA, US | Born in Pace, Mississippi
Julia Elizabeth Davis
Julia Elizabeth Brown Davis, retired Richland High School English teacher, passed away Thursday evening, August 4, at the grand old age of 90.
Julia was born to Edward and Alma Brown on October 8, 1914, in Pace, MS. She spent most of her childhood in Memphis, TN where she excelled as a student. With the financial help of an aunt and uncle, Julia attended Delta State Teachers College, now Delta State University, in Cleveland, MS, graduating in English and History.
Julia was teaching in Belzoni, MS when she married E. "Shirley" Davis, her husband of 63 years, until his death in 2001. The couple married in 1937 in Hernando, MS, and later, Julia taught a short time in Sylacauga, Alabama. In the winter of 1943, Shirley came to work at Hanford, with Julia and their two daughters, Shirley Anne and Gloria, joining him in the spring of 1944. They grew to love Richland, and it became their home for more than 50 years.
In Richland, Julia is best known as one of Columbia High School's now Richland High toughest English teacher. She taught there for 25 years, from 1955-1979. Teaching was her passion, and she was thoroughly devoted to her profession and her students. She never forgot a student and the grade he or she received!! Many students have written her through the years, thanking her for what they learned in her classes, such as grammar, writing, mythology, and the Bible as literature. Julia received several honors throughout her teaching career, including recognition by the Superintendent of Public Instruction upon her retirement in 1979. Julia inspired her students and her family to always be the best they could be and to continue to be life-long learners. Julia was truly an intellectual and definitely a woman before her time!
Julia absolutely devoured books, both fiction and nonfiction, and loved sports, politics and traveling. She and Shirley traveled the world together, including 13 trips to Puerto Vallarta, Mexico. She always kept in mind how she could use these travels to enhance her classes. Julia's family can still picture her grading papers until the wee hours of the morning, on weekends, and during vacations. She always asked her grandkids for red pen fillers for Christmas!
Julia spent the last seven years of her life in Pullman, WA, close to her daughter, Gloria. Since 2001, she has been in the loving care of her Kenyan family at Glen Haven Adult Home in Pullman, under the tender watch of Lorna and Patrick Shompole.
Julia was an active member of Central United Protestant Church since 1947 and belonged to Tri-Cities Retired Teachers Association, Delta Kappa Gamma, Wesleyan Service Guild, and P.E.O., chapter FX.
Julia was preceded in death by her husband, her parents, her sister Olive Brewton and her brother Jesse Pace. She is survived by her daughters and their husbands, Shirley Anne and Bob Lawrence-Berrey of Parkersburg, WV and Gloria and Rich Tinder of Pullman, WA; grandchildren Ruth and Ray Beckwith, Rob and Kristi Lawrence-Berrey, Julie Snow, Scott Tinder, Rusty Tinder, Elissa Tinder, and Sean and Renee Tinder; great-grandchildren Andrew, Lauren, Mike, Katie, Raeanne, Alyssa, Jessi, Erik, Nikki, Alexander, Zachariah, Paige, and Davis.
Julia will be terribly missed, but her family and friends know she is now reunited with her husband and finally home in Richland!
The family suggests memorials be sent to Wesleyan Service Guild for prospective pastors, C/O Janis Kittle 1925 Forest Dr., Richland, WA 99352; Tri-Cities Retired Teachers Association for future teachers C/O Marlys Mayer, 2304 Enterprise Dr., Richland, WA 99354; Glen Haven Adult Home, C/O Lorna Shompole, 352 Johnson Rd., Pullman, WA 99163; or to your charities of choice.
Private burial will be Thursday morning at Sunset Memorial Gardens in Richland, and a celebration of Julia's life will be held Thursday, August 11 at 1:00 PM at Central United Protestant Church with Pastor David Parker officiating.
Best teacher I had. I learned to write concisely from her.
I'm afraid they don't make them like Mrs. Davis any more. I graduated in 1969. She taught me so much that I could hold my own, reading and writing at Stanford University and then at Yale Law School. And I still devour books. I remember her fondly and know that you will miss your beloved mother. Anna Durbin
From a grateful student who got her love of books and will never lose it
My sympathy and prayers are with you, Shirley and all of your family.
Dear Gloria,
My sincere sympathy, thoughts and prayers are with you and your family. Your precious memories will live on forever in your heart.
With love and fond memories ~
Jeanie Hutchins Simon '62
1971.0
Mrs. Davis was absolutely the best teacher I ever had. Until I got to her class I had made a habit or tormenting English teachers, but when I met Mrs. Davis there was no doubt that she was much smarter than I, and she had my respect instantly.
I have always been amazed at the ability of someone as tiny as she was to control a class without raising her voice.
Mrs. Davis will continue to be one of my role models as a teacher. I will be forever grateful for the love of reading and literature that she inspired.
Sincerely,
Greg Kelly, '01
One of our greatest educators. Our thoughts and prayers are with you and your family.
We wish to convey our condolences to the family of Julia Davis. She was a grand teacher to our oldest son in Col.High. Shirley was an acquaintence at work from GE days forward. In later years we'd see them at local restaurants; particularly at SHARIs, where we last saw them with Gloria. In fact, for a brief period I delivered "meals on wheels" to their home. We would always see their smiling faces at CUP. God Bless a fine Lady, as she joins her beloved Shirley.
One of my lasting memories of high school was the day Mrs. Davis read my essay aloud in class. To have my writing reconized by her was an honor. Years later in Richland, I was able to tell her how much I'd learned in her Grammar and Composition class and thank her. I only hope it meant as much to her as it does to me when my former students return. She was truly a gifted teacher.
I was deeply saddened to read of Julia's passing. She was a very knowlegable person and was my SPR representative person when I worked at Cental United Protestant Church. She was a person who cared about people and was a joy to work with through the church.
I was very sad to read about Mrs. Davis' passing. The last time that I saw her was years ago, with her husband, enjoying brunch at the Hanford House. Mrs. Davis was an outstanding instructor. Her classes were so rigorous that my English classes later at WSU seemed effortless in comparison. In addition to being a stellar teacher she was a kind, dear person. My condolences to her family.
Kathy Soldat, Class of '78